|
Galvanized gutters are made from steel. They are economical, extremely durable, and can withstand all types of climates and weather conditions.
If you are ready to replace your old gutters, contact your local gutter installers for FREE ESTIMATES!
Cost To Install Galvanized Gutters
On average, installing 140 ln.ft. of galvanized gutters costs $990-1,750, depending on the complexity of the install as well as local labor prices.
Most People Spent:
$920 - $1,295
(For 110 ln. ft. of Gutters)
See costs in your area Start Here - Enter Your Zip Code
Half-round galvanized gutters are the cheapest option, as they cost $1.50 – 3.50 per linear foot (materials only).
Box steel gutters are double the price: costing $3.50 – 7 per linear foot. (materials only)
To estimate how much material you'll need, divide the square footage of your home by 10. For example, a 2,000 square-foot home with seamless galvanized gutters costing $8 per linear foot would need a minimum of 200 linear feet guttering.
Here's how you work it out:
2,000 square feet / 10 = 200 linear feet of material x $8 = $1,600
Cost of Professional Labor to Install Galvanized Gutters
Labor fees can total 50% to 60% of the installation fee or about $5 to $7 per linear foot for a seamless steel gutters system.
Multi-story properties will cost more as additional time and effort are required for installation. For a quick estimate, enter a search in Goggle for "gutters near me."
You can use our Gutters Cost Calculator to estimate the cost of installing galvanized gutters.
Did you know? You can have your old guttering removed and disposed of? Contractors typically charge around $100 for this service.

However, depending on how challenging the gutters are to remove or problematic to recycle, it may cost more.
Cost of Aluminum vs Galvanized Gutters
Overall, aluminum seamless gutters are 10-15% cheaper to install compared to galvanized steel seamless gutters.
On average installing 140 sq. ft. of seamless aluminum gutters is $860-1,450. Installing the same amount of seamless galvanized steel gutters costs $990 – 1,750
Part of the reason for the price difference is that aluminum gutters are easier to install as well as are more widely available.
Most People Spent:
$920 - $1,295
(For 110 ln. ft. of Gutters)
See costs in your area Start Here - Enter Your Zip Code
Benefits of a Galvanized Gutters System
The galvanized gutters system has been around for more than 150 years. It has been a popular choice for some time now and continues to be throughout the United States.
Galvanized gutters have an extra layer of coating for protection against rainwater, varying weather conditions, and other physical damage. Moreover, they are hard to dent to crack.
Their attributes make them one of the most long-lasting guttering systems around. When well-maintained, galvanized gutters last for at least 20 years.
They're available in different styles and colors in the standard shapes. Galvanized steel gutters can be seamed or seamless and fixed to any roofing design.
Galvanized gutters can also be painted, so they can easily suit the aesthetic needs of any home design.
Disadvantages of Galvanized Gutters
Its also important to consider some of the disadvantages that galvanized gutters have, which may make them less advantageous than other gutter materials.
– Galvanized gutters do not preform well in severe heat and prolonged heat, as they tend to expand and contract.
– They are more expensive than aluminum gutters as well as many other gutter materials.
– Galvanized gutters come in a rather limited range of colors and styles, compared to aluminum gutters.
– They are more difficult and costly to install, compared to other gutter materials
– Galvanized gutters are more prone to rust.
Sectional vs. Seamless Steel Gutters
Even though gutters are simple structures, they come in a variety of configurations and styles. All gutter systems are either sectional or seamless.
Sectional (Seamed) Gutters
Sectional or seamed gutters are sold in pieces that are joined and fastened together using an adhesive or snap technique. The portions are typically 10 to 20-foot-long and can be trimmed down to fit the measurements of your home.
If you're a DIYer, you may consider installing them yourself as the process is relatively straightforward.
They usually come in kits that include connectors, and everything else you'll need.
As long as you have the screws, a hacksaw (to adjust the pieces), a power drill, a good ladder, and an extra pair of hands. A modest-sized home should take no more than a weekend to complete.
Sectional galvanized gutters are also the most inexpensive. If an individual section is damaged, it can easily be removed and replaced without disturbing the remaining gutter system.
However, they're more prone to leakage due to the seams between the gutter pieces, and the trapped moisture can lead to rust.
Pro Tip: You'll need a carpenter's square and aviation snips or a hacksaw. Mark the cut-off-point using a pencil.
Rest the bottom of the carpenter's square against the top edge of the metal gutter to align the blade of the square with your marking. Then cut along the pencil line.
Seamless Steel Gutters
Seamless gutters are a continuous system often cut from a single coil of metal. They do not require fasteners or joints. The only joints they have are in the corners and on the downspouts, unless there are inside or outside corners.
Seamless gutters are better than sectional gutters. They are stronger and more reliable, as one piece of gutter provides extra rigidity and strength.
The cost of maintenance is another advantage, due to a longer life expectancy. Leaks will essentially be eliminated and the absolute minimum number of joints will never rust.
However, seamless gutters need to be professionally cut, measured, and installed which can increase the upfront costs.
Most People Spent:
$920 - $1,295
(For 110 ln. ft. of Gutters)
See costs in your area Start Here - Enter Your Zip Code
Steel Gutters Shapes
Guttering is also available in several shapes and sizes called profiles, but are typically limited to half-rounds, rounds, rectangles, and ogees.
Here are the two most popular shapes used for a galvanized system:
Half-Round Gutters
If you want guttering to add to the exterior attractiveness of your home without it looking too flamboyant, half-round gutters could be the right choice. They're extremely effective in channeling water away from your foundation.
However, due to their open shape, they are susceptible to clogging up from debris and leaves. Consequently, many homeowners install leaf guards.
K-Style Gutters
K-style gutters are not shaped like the letter "K." Its name originated from a national association that lists this type as option "K" in the common and available gutter types.
They can be installed flush against the fascia board and do not require brackets or hangers. The gutter is nailed directly to the board via the flat back, they offer an attractive ridged design that creates a stylish appearance that is appreciated by many homeowners.
Due to their flat base and straight outwardly angled sides, K-style gutters can carry more water than half-round gutters. This makes them particularly well-suited to rainy climates.
However, their inner angles are prone to collecting rotten debris and are more difficult to clean.
Galvanized Gutters Sizes
The most common gutter width is five inches, though you can find four and six-inch gutters. Generally, the larger the gutter size, the more expensive the materials will be.
Maintaining Galvanized Gutters
It's essential to perform routine maintenance and cleaning of your downspouts and gutters, as a preventative measure to look after your gutter system.
Twice a year or so, plan a thorough cleanout and check that the water is flowing through the system as expected.
Your gutters will face many hazards during every season:
Spring
Heavy spring snows can deteriorate joints and seams. Seams and gaps can be widened by freeze-thaw periods caused by fluctuating temperatures.
Summer
Persistent rainfall can seep through weakened seams and lead to rust.
Fall
Debris and leaves can cause blockages, leading to water build-up on the roof.
Winter
During freezing temperatures, ice accumulation can compromise seams and freeze-thaw periods can worsen destruction from accumulated ice. Continued freezing temperatures can produce ice dams and cause blockages.
Preventative Care For Your Steel Gutters
Here are a few ways you can avoid damage to your gutter system:
Clean Regularly
To prevent blockage and moisture build-up, plan to clean the gutters regularly. For most gutter systems, you'll simply need to remove any dirt and debris using a trowel or your hands, and flush downspout blockages.
Gutter Cleaning Tools
There are different methods you can use to clean your gutters when required. If it's safe to do so, you can use a ladder and use a scooper to physically remove debris.
Alternatively, using a hose extension with a washer attachment.
Trim Trees
If you can, trim any overhung tree branches on a yearly basis to decrease leaf debris come fall.
Install Gutter Guards
If your home is located in an area with lots of trees and other debris sources, you could consider a gutter guard or screen to block the majority of leaves, debris, and trash from gathering in your gutters.
They're also designed to make manual cleaning much easier to manage.
Keep Your Roof Clean
The more debris on your roof, the more will make its way into your gutter system. If possible, keep your roof clean.
Pro Tip: Apply a sealant. Use a quality rubber sealant to protect the gutter from rust, facilitate better drainage, maintain seam integrity, and reduce blockages.
Are Galvanized Gutters Worth It?
When thinking about buying galvanized gutters, there are several points to consider:
How effective they'll be at directing water away from your home, how they'll complement the aesthetic of your home, longevity, and cost.
Galvanized gutters can last for at least 20 years.
Did you know? The main metal material (steel) of a galvanized gutter is not susceptible to rust. The metal is galvanized due to an added layer of zinc. The zinc helps to extend the lifespan of the metal itself by protecting it against rust and corrosion.
In this comprehensive buyers guide, we'll help you to make an informed decision by sharing all you need to know about buying a galvanized gutter system.
Most People Spent:
$920 - $1,295
(For 110 ln. ft. of Gutters)
See costs in your area Start Here - Enter Your Zip Code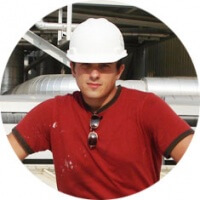 Author: Leo B
For over 20 years Leo has run a successful roofing business in New England, specializing in metal roofing, as well as cool flat roofing technologies. Having replaced and installed hundreds of roofs in New England, Leo has first hand experience with pretty much every residential roofing material and roofing manufacturer available in the US.