No roofing system is complete and safe from water leaks without high quality gutters. Among various gutter materials to choose from, aluminum gutters stand out for their durability, longevity and reasonable cost.
The average cost of aluminum gutters is $4 to $5 per linear foot depending on the style of gutter and thickness of the metal. Gutters are typically only placed along the bottom edges of each roof slope.
If you are ready to replace your old gutters, contact your local gutter installers for FREE ESTIMATES
How Much Do Aluminum Gutters Cost?
The cost to install a 150 linear foot of seamed aluminum gutters ranges from $1,010 to $2,770 with an average cost of $1,480.
For a home that needs 175 feet of gutter, installation costs for a 5-inch, seamless aluminum gutter are between $1,100 and $2,000 with most homeowners paying around $1,485.
You can use our Gutters Calculator to get a quick estimate on the cost of gutters for your house.
The table below provides installed gutter price estimates based on the material you select.
| Gutter Material | Price/Ln.Ft. |
| --- | --- |
| Vinyl | $3-6 |
| Aluminum | $6-14 |
| Steel | $8-12 |
| Copper | $15-30 |
Seamed vs Seamless Aluminum Gutter Costs
Most People Spent:
$920 - $1,295
(For 110 ln. ft. of Gutters)
See costs in your area Start Here - Enter Your Zip Code
All gutters are either seamed or seamless. Seamed gutters cost between $4 and $9 a linear foot installed for a 5-inch gutter, depending on length. Smaller lengths usually cost more per linear foot than longer sections.
Seamless gutters cost $6 to $14 a linear foot installed on average for a 5-inch gutter.
Aluminum Gutter Prices Based On Style
The second thing to know about gutters is that there are 4 main styles.
K-Style – $3 per linear foot
Fascia – $5 per linear foot
Half-round – $7 per linear foot
European – $7 per linear foot
K-Style Aluminum Gutters
This is the most common type of gutter. It is sometimes referred to as having an ogee profile which looks slightly similar to crown molding or the outline of the letter "K".
Fascia Aluminum Gutters
A fascia gutter, also called an eaves gutter, is combined with the fascia of your home so that the two materials blend together. If your home does not have a fascia board, the gutter is attached to the eaves.
Half Round Aluminum Gutters
This gutter style dates back to the 1800s and are often made of copper but can be made of aluminum, as well. They require a visible hanging bracket and are meant to be a separate feature of the architecture unlike the K-Style which are meant to blend in.
European-Style Aluminum Gutters
This style is very similar to the Half Round gutter but it has an upper bead or lip on the gutter that faces away from the house. It is installed the same way as Half-Round gutters.
Compare Gutter Materials Prices Per Linear Foot
Here is a closer look at how much you can expect to spend on various gutter materials, including aluminum.
| Gutter Type | 4″ | 5″ | 6″ | 7″ | 8″+ | Custom |
| --- | --- | --- | --- | --- | --- | --- |
| Vinyl Gutters | $1 | $1.10 | $1.50 | – | – | – |
| 0.27 K Style Aluminum | $1.30 | $1.60 | – | – | – | – |
| 0.32 K Style Aluminum | – | $1.75 | $3 | $5 | $9.40 | – |
| 0.27 Half Round Aluminum | – | $2.50 | $3 | $4.50 | – | – |
| Aluminum Box Style | – | $1.50 | $2 | $3 | $5 | $6+ |
| 26 Gauge Galvalume Steel | – | $2.50 | $3 | $4.50 | – | – |
| Galvanized Steel Box | – | $1.80 | $2.50 | $3.50 | $5 | $7+ |
| 16 oz Copper K Style | – | $11 | $14 | $23 | $37 | – |
| 16 oz Copper Half Round | – | $7 | $9 | $10 | $11 | – |
| 20 oz Copper Half Round | – | $8 | $11 | $12 | $13 | – |
| Custom Copper Box System | – | – | – | – | – | $35-50 |
Cost of Aluminum Gutters Enhancements and Improvements
When you install gutters, you may incur some additional costs for system improvements. Here are the most popular ones that many people choose to add on.
| Gutter Material | Approximate Price |
| --- | --- |
| Full Gutter Guard System | $1,900.00 |
| Downspout Screens | $6.00-$12.00 each |
| Gutter Heat Elements | $10.00-$25.00 per linear foot |
| Customizable Gutters | $10.00-$15.00 per linear foot |
| Removing Old Gutters | $50.00-$100.00 |
| Painting Aluminum Gutters | $1.00-$1.50 per linear foot |
| Gutter Repair | $75.00-$250.00 |
| Replace Fascia | $6.00-$8.00 per linear foot |
Seamed Versus Sectional Gutters
A seamed gutter is sold in pieces and installed as component systems, usually in specific lengths of 5-, 10-, or 20 feet.
The sections can be over 20 feet long or cut to any size with a hacksaw. They fit together with snap-on connector pieces that join the gutter sections to one another and to the downspouts.
All seamed sectional gutter systems have end caps, corner pieces and drop outlets for connecting downspouts.
The drawback to seamed gutters is that all of those seams can eventually leak. The seams require gutter sealant which usually has to be reapplied as part of regular maintenance.
Seamed copper or steel gutters are soldered together at the seams and do not need a sealant. Seamed gutters are slightly less expensive to purchase but may cost more to install because more labor is needed to cut and piece the sections.
Seamless gutters are the most popular gutter type since they won't leak at the seams. They are extruded to custom lengths on site so they fit the exact length of the roofline.
For this reason, they must be installed by a contractor. Since these gutters are one long smooth piece, there are fewer places where leaves and twigs can get caught and cause blockages.
The only seams are at the downspouts and corners, meaning the length of the gutter is seamless. While these gutters require caulking at the downspouts and corners to avoid leaks, they provide a better appearance and fewer leaks overall.
They are also faster and easier to install, going up in long sections.
Seamless gutters cost a little more for the material compared to sectional gutters, but the labor is usually less. The costs often even out unless you are installing the gutters yourself. In this case, sectional gutters will be cheaper since you are purchasing and installing on your own.
Most People Spent:
$920 - $1,295
(For 110 ln. ft. of Gutters)
See costs in your area Start Here - Enter Your Zip Code
Common Gutter Sizes
When choosing the size of a gutter system, a homeowner must consider the area's rainfall density. This information can usually be found on gutter supply websites.
A home that gets a lot of rain or has a steep roof pitch should have a larger gutter system. If there are tall trees around a house, it will also need a larger system to accommodate falling leaves without clogging.
Gutter channels are available in 4-, 5- or 6-in. diameters. Downspout sizes can either be rectangular and either 2"x3" or 3"X4" or round pipes that are 3" or 4" in diameter.
The primary cause of gutters not working is not the size but the improper maintenance. Screens and filters are meant to keep debris out of the gutters but do eventually clog and get dirty. Gutter covers must be cleaned and maintained as well as the gutters themselves.
Gutter Sizing For Water Capacity Based On Roof Pitch
The table below provides guidelines for sizing your gutters depending on the roof pitch you have.
These number estimates are based on the assumptions that the Max Roof Pitch is 6/12, that there are No Obstructions into gutter and that the Recommended Slope is no greater than 1/16″ per square foot.
| Gutter Type | Upto 6/12 | 7/12 | 8/12 | 9/12 | 10/12 | 11/12 | 12/12 |
| --- | --- | --- | --- | --- | --- | --- | --- |
| 5″K Style | 22 | 20.79 | 18.71 | 16.84 | 16.17 | 15.28 | 14.05 |
| 6″K Style | 34 | 32.13 | 28.92 | 26.03 | 24.98 | 23.61 | 21.72 |
| 7″K Style | 48 | 45.36 | 40.82 | 36.74 | 35.27 | 33.33 | 30.67 |
| 4″Box | 18 | 17.01 | 15.31 | 13.78 | 13.23 | 12.5 | 11.5 |
| 5″Box | 26 | 24.57 | 22.11 | 19.9 | 19.11 | 18.05 | 16.61 |
| 6″Box | 40 | 37.8 | 4.02 | 30.62 | 29.39 | 27.78 | 25.55 |
| 7″Box | 52 | 49.14 | 44.23 | 39.8 | 38.21 | 36.11 | 33.22 |
| 8″Box | 60 | 56.7 | 51.03 | 45.93 | 44.09 | 41.66 | 38.33 |
Gutter Downspout Capacity Options
The table below assumes proper pitch and no obstructions or turns. Reduce by 10% per 90 degree turn.
| Downspout Size | Maximum Area of Roof Draining to One Downspout |
| --- | --- |
| 2×3″ | 400 Sq. Ft. |
| 3×4″ | 650 Sq. Ft. |
| 4×5″ | 1,000 Sq. Ft. |
| 3″ Round | 450 Sq. Ft. |
| 4″ Round | 700 Sq. Ft. |
| 5″ Round | 1,200 Sq. Ft. |
Gutter Shapes
Homeowners will have two main gutter shapes to choose from: Half-Round and K-Style. A smaller K-Style gutter will drain the same amount of water as a larger Half-Round gutter.
Half-Round (also called U-shape) gutters are typically considered a traditional shape, as this was the original gutter shape dating back to the early 1900's. K-Style gutters didn't emerge as an option until around the 1950s.
Downspouts generally come in round or rectangular shapes.
Should I Get Oversized Rain Gutters?
Most People Spent:
$920 - $1,295
(For 110 ln. ft. of Gutters)
See costs in your area Start Here - Enter Your Zip Code
Although 5-inch gutters are considered to be the standard size for residential applications, seamless gutters, oversized, 6-inch commercial gutters are available to homeowners. Although a 6-inch gutter is only one inch bigger, it can handle 40% more water.
The oversized downspout installed with these gutters can also handle more debris passing through them.
The most basic factor in choosing oversized gutters is the size of your roof and the pitch.
The steeper the pitch, the faster the water runs down it.
Metal roofs also shed water at a much faster rate than an asphalt roof.
Complex roof lines, where there are valleys and areas where large amounts of water can collect may also benefit from an oversized gutter.
Half-Round gutters are shallower than K-Style gutters so a 6-inch gutter may be preferable. Other times when a 6-inch gutter can be recommended is if the gutter is over 40-feet long and can only accommodate one downspout, or if there are upper gutters that drain into lower gutters.
Are Heavy Gauge Aluminum Gutters Worth It?
The term "gauge" is used to describe the thickness of the aluminum. The industry standard for professionally installed aluminum gutters is .027 gauge.
This is a medium-weight aluminum compared to the .025 gutter systems sold in home supply stores. Upgrading to .032 gutters is recommended for maximum strength but not needed for every home. If you live in a region that experiences harsh, snowy weather, you may want to consider the .032-gauge aluminum.
Heavy gauge aluminum has greater durability and an extended lifespan. Although tempering has an effect on metal strength, thick aluminum will usually be stronger.
A properly installed heavy gauge gutter system can have a lifespan of over 20 years. Thinner gutters may begin to dent, sag and even splay outwards, especially if leaves and debris are not removed regularly.
Aluminum is an excellent gutter material since it's resistant to rust, requires minimal maintenance and is fairly lightweight compared to other materials. Heavier gauge aluminum maintains a straight, clean appearance for longer.
Proper Gutter Installation Is Important For Drainage
Gutter installation should follow a couple of basic rules. Gutters must be pitched so water will flow to the downspouts. The rule of thumb for this slope is a vertical 1/2-inch for every 10 feet of horizontal length.
If the length is more than 35 feet, some installers recommend putting the high point of the system in the middle and sloping the gutter downward in both directions to downspouts on both ends. Water exiting the downspout must always be directed away from the foundation.
How Long Do Aluminum Gutters Last?
How often you replace your gutters varies based on the weather conditions in your region, however, routine maintenance can extend their lifespan. Most gutters installed today are made of aluminum.
Seamless gutters provide superior advantages over other types of gutters, including fewer leaks, greater durability and less maintenance.
Aluminum gutters and galvanized steel gutters have a life expectancy of 20 years, while copper gutters can last as long as 50 years.
Since downspouts experience less wear and tear than gutters, aluminum downspouts may last 30 years while copper downspouts can last 100 years. By inspecting and cleaning your gutters twice a year you should be able to identify any issues before they turn into major problems.
When replacing your roof, it is a good time to consider replacing your gutters, as having both done at the same time can often provide an overall savings.
Can Aluminum Gutters Rust?
Both aluminum and steel gutters resist rust. However, aluminum resists it slightly better than galvanized steel.
This is due in part to the fact that the steel is coated in a thin layer of zinc to prevent rusting.
This zinc is easily scratched off, and the scratches are difficult to see. If not repaired, the scratches can lead to rust over time, which can damage the integrity of the gutters.
Vinyl Gutters vs Aluminum Gutters
Lets take a look at the difference between aluminum and vinyl gutters.
Vinyl Gutters
Vinyl gutters are very affordable and are lighter in weight than other materials used for gutters. Not only is the product itself inexpensive but the accessories including end caps and downspouts are, too. On sale, vinyl gutters can sometimes be found at around $1.00 per linear foot.
Since they are so lightweight, vinyl gutters are often the first choice for many because they are quick and easy to install, which also helps cut down on cost.
They are available in many hardware stores across the country as well as at the national home improvement warehouses. Typically, they are the least expensive option for the Do-It-Yourself homeowner.
Vinyl gutters do not require much maintenance because they will not rust or corrode. The material holds up well against dents and scratches. They come in a wide assortment of colors so you will not need to paint them to match your home.
They are also available in designs that mimic K-Style aluminum gutters as well as Box Gutter products.
In wetter climates, vinyl gutters don't last well because they are lighter weight. Lots of rain and snow can become too heavy for them, causing them to break, sag or crack. Due to the many unfused seams necessary in vinyl gutters, leaks are more likely to occur than in metal gutters.
When they are correctly installed, properly maintained and are used in the right climate, vinyl gutters can last about 20 years. In wetter areas, vinyl gutters may last 8 to 10 years.
Aluminum Gutters
Many people choose aluminum gutters because it has many of the positive attributes of vinyl gutters without the negatives.
Like vinyl gutters, aluminum gutters will not rust, are lighter in weight than steel gutters, and are relatively affordable.
They are easy to install and come in a wide variety of colors and sizes so you can find the right selection to fit your home's style.
Aluminum gutters are more durable than vinyl gutters. They will not sag and can last 20 or more years in most climates. Coastal areas may cause corrosion in aluminum gutters because of exposure to moisture and salt. Heavy snow, hail and wind can cause aluminum gutters to become dented or even damaged.
If your roof has copper flashing or shingles that are algae-resistant, you should not use aluminum gutters. The copper that washes off of your roof can cause the aluminum to corrode faster.
To keep aluminum gutters looking their best, you will likely need to paint them once the enamel coating wears off.
Copper vs Aluminum Gutters
Copper gutters add beauty and character to a home and are often seen on historic houses. Here's how copper gutters compare to aluminum gutters.
Appearance
Copper gutters are usually more decorative and add to your home's curb appeal. Over time, the appearance will develop a patina that adds to your home's curb appeal.
You can get aluminum gutters in about 25 different colors. This is because the gutters are covered with enamel that protects them against rust.
Longevity
Copper does not rust, crack, dent or wear out. They can last 50 years or longer provided that you maintain them properly and keep them free of clogs.
Aluminum gutters resist corrosion better than some metals but they will corrode faster than copper. This is especially true if you do not maintain the enamel layer.
Since they are relatively lightweight, aluminum gutters are more prone to developing dents and can be damaged by tree branches and weather conditions. Aluminum can also be damaged by high or quickly changing temperatures.
Price
Copper gutters start around $20 per linear foot. In addition, when you use copper gutters, all of the fittings nails and fasteners must be copper, too.
Aluminum gutters can be bought for as little as $5 per linear foot.
Ease of Installation
Copper gutters are usually custom made with seamless lengths needed to fit your home. However, there is additional soldering required at its joint. You will need to find a craftsman who has worked with copper extensively and can make the gutters specifically for your home.
Aluminum is fairly easy to install since it is lightweight. Many Do-It-Yourself homeowners will be able to install aluminum gutters themselves.
Aluminum vs Galvanized Steel Gutters
Lets take a look at this chart comparing the pros and cons of aluminum gutters vs steel gutters.
| | Aluminum Gutters | Galvanized Steel Gutters |
| --- | --- | --- |
| Material Cost | $4.00 – $8.00 per linear foot | $4.00 – $9.00 per linear foot |
| Added installation Cost | $2.00 per linear foot | $3.00 per linear foot |
| Can they be placed along any roof? | No. Cannot be installed on roofs that use algae-resistant shingles or copper flashing | Can be installed alongside nearly all other roofing materials |
| Factors that impact cost | Lighter weight which means faster to install and lower cost | Heavier material may mean higher labor cost |
| Affected by thermal changes? | Yes. Can crack from rapid thermal changes | No. Handles rapid thermal changes well |
| Expansion and contraction? | No | Yes. Expansion and contraction of the metal can stress the hangers and screws. Does not harm the gutters. |
| Resists rust? | Yes. Resists rust slightly better than steel | Yes. Resists rust but zinc coating can scratch off leaving an exposed area which can rust. |
| Longevity | 20 years | 20 years |
| Durability | Dents more easily | – |
| Maintenance | Repaint every 10 years | Can get chalky and may need repainting or sealing every few years. Check frequently for missing zinc and rust. |
Signs That It's Time To Replace Your Gutters
You might not be sure just how old the gutters are in your home. It can be difficult to tell when to replace the gutters because they wear out so gradually.
However, to help prevent roof damage, water leaks, rot and more, it's important to replace your gutters before they fall completely into disrepair.
Watch for these signs:
Gutter sections coming loose
Widespread visible rust
Holes or cracks in the gutters
Gaps between gutter connections and fascia boards
Nails lying on the ground that came loose from the gutters
Broken fasteners
Mold or water stains on the siding
Pooling water near your home after a downpour
Water channels or washed-out sections of landscaping
Tips to Prolong the Service Life of Your Gutters
Twice a year, in the Spring and Fall signs pop up everywhere advertising gutter cleaning services. Whether you do it yourself or hire someone, cleaning out your gutters is a maintenance chore you don't want to overlook.
When rain and melting snow can't drain properly the water overflows the sides of the gutters. As it runs down the walls of your house it can seep in along the windows and walls. Hundreds of gallons of rain water dumped along the foundation of your house can also lead to a wet basement.
When you keep your gutter system working well you can avoid a lot of headaches and expense. Gutters can last much longer with these maintenance tips:
-Clean gutters twice a year, once in the Fall after all the leaves are off the trees and again in the Spring.

-Don't lean a ladder against the gutters when cleaning them. This may cause dents in the aluminum or cause the gutters to pull away from their fasteners.

-Avoid using abrasive chemicals if you power wash your house, including bleach, because this can eat away at the gutters.

-Apply sealant to the corners every five years.

-Hire a good gutter company to perform maintenance and repair for you.
Most People Spent:
$920 - $1,295
(For 110 ln. ft. of Gutters)
See costs in your area Start Here - Enter Your Zip Code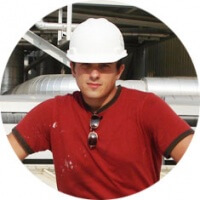 This roofing guide is presented by Leo B.

I've been a roofer for 15 years, and specialize in Metal Roofing and Flat Roofing.

Have a roofing question or issue? Ask me any roofing question!

Roofing Contractors - join our free Local Roofers directory to get more customers!