Mastic vinyl siding is manufactured by PlyGem Designs and is incredibly versatile. Mastic siding works well for homes located where there is high heat and extreme sun, as well as homes that are located where there is hail and hurricane-force winds.
Installing Mastic siding on a 2,000 sq. ft. house costs $10,000 – 17,000, depending on the materials you select, complexity of the install and local labor rates.
Mastic Vinyl has a variety of style options depending on what you would like for your home. It is also important to consider the specific benefits that each style has while keeping in mind where you live and what you need from the siding you select.
If you are ready to replace your old siding, contact your local siding pros for a FREE ESTIMATE!
How Much Does Mastic Siding Cost?
It's important to note that vinyl siding costs will vary as they are made up of several components. Final vinyl siding installation costs take into account the the size of the job, difficulty of the project, the amount of time it take to complete, material prices as well as local contractor labor rates.
The average cost of basic Mastic vinyl is approximately $3.56 – 5.25 per square foot installed by a professional siding pro. For a 2,000 sq. ft. house, installing Mastic siding will cost $7,120 – 10,500.
High-end Mastic siding costs $6.48 – 8.50 per square foot, including all materials and installation. For a 2,000 sq. ft. house this is equivalent to $12,960 – 17,000.
Compared to its vinyl siding competitors, Mastic Siding is on the cheaper side. Its very similar to the pricing of Alside vinyl siding, and is about 20-25% cheaper, than CertainTeeed siding.
You can use our Siding Calculator to estimate the cost of siding replacement for your house.
Mastic Siding Styles
There are three categories of styles within Mastic vinyl siding product lines:
Clapboard Siding (cheapest)
Board and Batten Siding, also known as Vertical Siding (mid-range)
Cedar Shake Siding (high – end)
Now that we know basics, we can get into the specific styles that are offered in their product line. All of Mastic siding products come in various sizes and colors, allowing plenty of options for you to decide what is the best vinyl siding for your home.
Mastic Structure Home Insulation System
This siding is an exclusive combination of vinyl siding technologies and high-performance foam. The combination of the two wraps your home in a continuous blanket of insulation. Sounds phenomenal right? That's because it is! You are warmed in the winter and cooled in the summer with this siding. It's highly impact resistant and the wide panels look, and feel, like traditional wood siding!
Mastic Vinyl Siding's Structure Home Insulation System comes in various sizes. Currently, the available sizes are Double 4.5" Dutch Lap, Double 6", Double 6" Dutch Lap-Long, and Single 7". Their Double 4" and Single 7"-Long are temporarily unavailable.
Quest Siding
Quest is a premium vinyl siding option. It features a design that withstands high-wind uplift, ideal for areas where strong hurricane level winds are a problem. If you are looking for siding that is virtually maintenance free, Quest may be the siding for you. It's also available in long lengths, which means, fewer seams and a flawless look!
Quest siding is currently available in sizes Double 4"; Double 4", Long Length 16' Panel; Double 4.5" Dutch Lap. Their Double 4", Super Long Length 25' Panel; Double 4.5" Dutch Lap, Super Long Length 25' panel; and their Double 4.5" Dutch Lap, Long Length 16' panel are options as well, but they are temporarily unavailable.
Carvedwood 44 Siding
If you are a remodeler, this siding is a great choice. This is due to the optimal thickness of the siding and the wide selection of designer colors. It has SolarDefense Reflective technology which protects Mastic's darkest colors from the effects of the sun we all know well and do not love.
Currently, the Double 4" Smooth is temporarily unavailable but there are plenty of other options that are! Carvedwood 44 is currently available in Double 5", Double Single 8" Smooth, Triple 3 Smooth, Double 4", and Double 4.5" Dutch Lap.
Western Extreme Siding
Mastic's Western Extreme is the only vinyl siding available that has been specifically engineered to take on the weather of the wild west! The panels are designed to feature a next generation technology, further protecting your home from the damaging effects of infrared light, low humidity, and rapid temperature changes.
Western Extreme is available in two varieties: Double 4" and Double 4" DL.
Charleston Beaded Siding
Charleston Beaded recreates the classic wood clapboard design that is common to the South. It has a traditional finish and is smooth and stylish; sculpted with beads that add an elegant and distinct aesthetic feature to your home's exterior, Charleston Beaded is one of a kind.
Ovation Board and Batten Siding
Mastic's Board + Batten Series is a traditional style that is more striking than its counterparts. It can be used as a dominant cladding type or as an accent, highlighting architectural features, this style will most definitely stand out in all the right ways.
Ovation has more color and style choices than any other within Mastic's line and out of their competitors! Not only that, but it is versatile for all homeowner visions and it is affordable. With low maintenance and reliable strength, you are getting more bang for your buck with its long-lasting ability.
Ovation comes in a few options, such as, Double 4", Double 4.5" Dutch Lap, Double 5", Single 6.5" Traditional Bead, and Triple 3" Brushed.
Mill Creek Vertical Siding
Their Triple 3", and their Double 4" Dutch lap are temporarily unavailable. There are still plenty of options that can fulfill your needs if Mill Creek is your style. Available now are their Double 4", Double 4.5" Dutch Lap, Double 5", and Double 5" Dutch Lap.
Mill Creek lap siding provides a rustic look to homes. It has a textured finish that provides beauty and a warmer of wood. It's both low maintenance and durable. It's assured to stand tall and remain in the most extreme weather.
Cedar Discovery Siding
Cedar Discovery vinyl siding is designed to look like real cedar shake and shingle. Except, you do not have to deal with the hassle of the real thing! No more regular staining, painting, and replacing with this strong and durable siding.
Cedar Discovery comes in Hand-Split Shake, Double 7" Shingle, Triple 5" Shingle, and Half-Round! There are also fifteen standard color options as well as nineteen premium color options.
Benefits Of Mastic Vinyl Siding
Below is a list of Mastic vinyl siding strengths, which will allow you to determine whether the siding you choose checks off every aspect that is important to you!
Exceptionally Strong:
These products are considered exceptionally strong because they are durable and extra thick. This allows superb resistance from the wear and tear of everyday life. No need to worry about those dents that other siding seems to obtain!
Siding Styles: Mill Creek, Eclipse, Cedar Discovery, Quest, Carvedwood•44, Western Extreme, Charleston Beaded, Board + Batten, Ovation
Performance Technology:
Using advanced polymers, special additives, and a unique design, infrared rays are directed away from your home. This technology protects you against high temperatures and rapid temperature changes.
Styles: Western Extreme
Wind Uplift Resistance:
Wind Speed products can withstand winds up to 180 miles per hour wind velocity.
Style: Cedar Discovery, Quest, Carvedwood•44. Ovation Siding can withstand winds of upto 190 miles per hour.
Extra-Long Lengths Available:
This one is self-explanatory but still, important if that is what you are looking for! Products such as these are available in extra lengths for a seamless look – even on the larger homes and is available in many colors!
Styles: Ovation
Insulated Siding:
Their expanded Polystyrene Foam insulation and rigid substrate adds strength to the insulation abilities. It improves impact resistance and increases the R-value of exterior walls, ensuring that you save energy throughout the year
Styles: Structure Home Insulation System
Extra Durable Siding:
Up to 300% more impact resistant than standard vinyl, providing dent resistance.
Styles: Structure Home Insulation System
Exceptional Curb Appeal:
Beautiful texture that makes your home stand out! Your curb appeal makes a difference! And if you ever want to resell, that's something you should keep in mind, too.
Styles: Mill Creek, Eclipse, Cedar Discovery, Structure Home Insulation System, Quest, Carvedwood•44, Western Extreme, Charleston Beaded, Board + Batten, Ovation
Ultraviolet Protection:
Ultraviolet protection is so important for color retention. Their specially formulated pigments protect new and rich colors from the effects of high heat. Long lasting beauty is what you get with ultraviolet protection!
Styles: Western Extreme
SolarDefense Reflective Technology
SolarDefense is developed and used to resist fading and distortion. It is an industry leader and promises "No Fade, No Distortion Promise."
Styles: Carvedwood•44, Ovation
Exclusive Hang-Tough Technology:
Mastic's Exclusive Hand-Tough Technology boosts the durability of the panels. This results in the siding to be resistant to cracking, impact, and thermal distortion. But wait, there is more! An added benefit is the rich color resides throughout the panel, which practically eliminates surface level scratches and minor nicks.
Styles: Mill Creek, Eclipse, Structure Home Insulation System, Quest, Carvedwood•44, Charleston Beaded, Board + Batten, Ovation
Mastic Siding Colors
One of the biggest concerns with vinyl siding is color fading. However, Mastic's proprietary color technology, called Duranyl 5000 Protection System, adds extra UV protection to the darkest and richest colors to ensure they stay fade-free for a long time. Moreover, this technology also protects colors against hard elements and maximizes long-term weatherability.
Kynar 500® Protection:
Mastic offers a beautiful selection of colors, but their cedar Quest siding colors are protected through their exclusive thermal bonding process. Utilizing weather resistant polymers, the Kynar 500 creates a protective coating with extreme weatherability and color retention.
Vinyl Siding Color Options
Quest Siding is available in 13 standard and 11 premium color options
Carvewood 44 Siding is available in 16 standard and 4 premium color options
Western Extreme Siding is available in 5 standard and 11 premium color options
Charleston Beaded Siding is available in 14 color options
Ovation Siding is available in 16 standard, 1 dark and 8 premium color options
Ecliple Siding is available in 13 color options
Envoy Siding is available in 10 color options
Mastic Vinyl Siding Warranty
Mastic offers a premium guarantee of lasting quality. Most Mastic siding products are covered by an exclusive V.I.P Limited Lifetime Warranty.
Under this warranty, your siding is covered for as long as you live in and own your home, and if you sell your home, the warranty is transferable and the new owners are covered for 50 years from the date of original installation.
As a property owner you may transfer your Warranty by providing written notice to PlyGem Corp within 30 days after the date of transfer of ownership.
Pros And Cons Of Mastic Vinyl Siding
The table bellow summarizes the major pros and cons of Mastic siding. If you are looking for a higher-end siding that is more durable and longer lasting, consider cement board siding, such as James Hardie.
| PROS | CONS |
| --- | --- |
| Budget friendly siding | May lower your home value |
| Low-maintenance | May have many visible seams |
| A large selection of styles and colors | May dent easier than other materials |
| Insulated siding that provides home energy savings | Some fading may be expected on darker colors after 5-7 years |
| Environmentally friendly and can be recycled | Thinner cheaper panels may crack if punctured |
| Some styles resist high-heat and strong wind uplift | Should not be used on historic homes |
| Easy DIY installation | |
| A wide range of board sizes and lengths | |
| Does not require painting or staining like wood siding | |
| Engineered to withstand weather extremes | |
| Resistant to rot, insects and rodents | |
Is Mastic Vinyl Siding Worth It?
Overall, Mastic vinyl siding provides an economical, beautiful and reliable choice for those looking for a vinyl siding option. PlyGem has been in the business of making siding in the US for over 75 years, so you know that when you choose Mastic siding you are getting a tried and true vinyl siding of good quality.
In terms of ROI, you can expect as much as 73-75% return on investment when you go to sell your home cladded with Mastic siding. In fact, according to the the Remodeling Magazine, vinyl siding has only about 3-4% lower return on investment compared to fiber cement siding.
As for curb appeal, vinyl siding is now light years ahead in terms of the variety of colors and styles you can choose from than where the industry was even 10 years ago. Mastic siding will for sure improve and elevate the look of your house.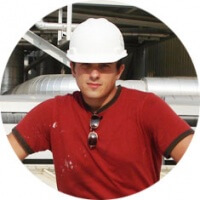 This roofing guide is presented by Leo B.

I've been a roofer for 15 years, and specialize in Metal Roofing and Flat Roofing.

Have a roofing question or issue? Ask me any roofing question!

Roofing Contractors - join our free Local Roofers directory to get more customers!