Cement board siding also commonly known as fiber cement siding has been around for a few decades now. Cement siding is the upscale alternative to vinyl and engineered wood siding, offering great durability, a wide range of colors, styles and profiles, as well as impressive energy efficiency.
Check out the material and installation costs, benefits, and the few drawbacks of choosing fiber cement composite siding over other traditional alternatives.
Get started on your siding project by requesting 3-4 free price quotes from siding installers near you.
Fiber Cement Siding Prices Per Square Foot
The cost of fiber cement siding can vary greatly between suppliers, depending on the thickness of the material as well as its shape. You'll notice that cement siding has a wide range of styles shapes, and sizes, each of which comes with its own range of prices.
A rough cost estimate would be paying $700-$1,300 per square. One square of siding equals around 100 square feet. But again, this is a very rough estimate since there's a lot that factors into the price. Realistically, you can also find one square foot of thin fiber cement siding with a bland look for under $2 per square foot.
Cost to install cement siding
The cost to install cement board siding is driven by a few key factors. First of all, the cost of the materials. As already mentioned, this can differ greatly. But the materials aren't the only thing you're paying for.
When re-siding a home, you factor in the cost of removing the old siding. As well as the disposal of all the old material. Another thing that ads to the cost is the location of your home. The complexity also factors in, as does the company itself and how it values its labor and experience.
You can use out Siding Cost Calculator to quickly estimate the price of installing cement board siding on your home.
Pro Tip: It's best to always use a weather-resistant layer between the building and siding to prevent mold growth. Mentioning this feature might give you an idea on how to pick a more experienced installer.
How much does it cost to side a house with James Hardie siding?
While there are a number of good quality cement siding brands, the most popular and well known by far is James Hardie Siding. In fact James Hardie is so popular that most homeowners equate fiber board siding with James Hardie, without even realizing that there are other manufacturers out there.
The cost for HardieBoard siding will differ slightly depending on what style of siding you use. Yet, you can expect to spend an average of $3-$4 per square foot on the siding itself.
Including the material cost of a professional installation that number may go up to $10-13 per square foot.
Keep in mind that different contractors exercise their own rates and the labor costs vary a lot. Not just based on area but also on the complexity and length of the project. It's not recommended to cut costs by dropping the professional installation because that can lead to gaps between boards.
What is the best fiber cement siding?
Homeowners and contractors have their preferences when it comes to fiber cement siding. But there's no denying that some manufacturers clearly have a massive market share. For good reasons, too.
James Hardie Siding
Like we mentioned earlier Hardie siding is synonymous with fiber cement siding. It was the James Hardie Company that invented this type of siding in the 80s. Since then, the company has established a great reputation. One of the things that sets this brand apart is the variety of styles and types offered. As well as high-quality boards.
In terms of longevity and appearance, Hardie siding is one of the best. It's also known for its durability and resistance to fires and storms. That said, Hardie siding may not always be the cheapest choice for many homeowners.
The greatest designs can end up costing a pretty penny. That's without factoring in any installation or labor costs. But if you want to side your home with the original fiber cement siding, this is the brand for you.
Note that Hardie siding also offers up to 30-year warranties, which says a lot about the confidence and durability of the materials.
GAF Weatherside Siding
GAF is a well-known roofing supplies manufacturer. GAF Weatherside already does an excellent job on roof shingles. Therefore, it's no surprise that the company specializes in fiber cement shingles. In fact, it owns much of the market share and features many sub-brands on the market such as Profile, Emphasis, and Purity.
What's also interesting is that the sub-brands offer homeowners of old homes the option to swap shingles. This could be a great choice for you, if you still have asbestos-cement shingles installed.
You can also order Weatherside from pretty much anywhere, including the largest retailers like Home Depot. Another interesting aspect is how well-suited their shingles are for small structures such as workshops and sheds.
Allura Siding
Allura is one of the more expensive fiber cement siding manufacturers. Their materials seem to cost on average at least 15% more than the competition. That said, they're also known for specializing in thicker and more durable boards, shingles, shakes, and so on.
In fact, it has one of the largest offerings when it comes to styles. One of the biggest drawbacks in choosing Allura siding is the installation process. Heavier boards are harder to install. This means that the cost could go up even higher also given the initial investment cost of the materials.
But it's also one of the few brands that offer a large variety of accessories such as soffits and trims, both pre-painted and stained. It's an interesting choice for a more premium or upscale project.
Another thing that might make this an even more interesting choice is the fact that Allura siding tends to come with longer warranties, up to 50-year warranties to be exact.
Nichicha Siding
Nichicha siding doesn't enjoy a lot of popularity in the US. That's mostly because of its limited availability in the country, seeing as it's made by a Japanese manufacturer. And yet, this company has decades of experience in working with fiber cement technology.
The manufacturer caters mostly to commercial properties. However, you can see an increase on the market in the shingles and shakes niche which caters to residential homes.
One thing is certain, Nichicha aesthetics are very impressive. The manufacturer achieves a very realistic wooden look and the durability of the fiber cement composition is nothing if not reliable. Yet, there's also a high material and installation cost. This combined with scarce availability is what makes it one of the less popular brands.
Woodtone Siding
Woodtone is one of the smallest fiber cement manufacturers on the market. And yet, it still managed to build one of the most reputable brands around. The company offers a variety of style series and does a good job of providing sufficient color variety.
Furthermore, it boasts one of the most realistic wood-grain looks on shakes, panels, lap siding, and other accessories. What's even more attractive for some homeowners is the fact that Woodtone sells natural wood too.
This may pique your interest if you're looking for posts and trim to combine with your fiber cement siding remodel. While the brand may lack proper masonry-like elements and textures, it does a great job of mimicking wood without imposing the drawbacks of actually using wood for siding.
Finex Siding
Finex is a Canadian fiber cement siding manufacturer. The company specializes in large-format panels. If you're looking for 4×8 or 4×10 ft. panels, this may be the best brand to go with. The manufacturer also has a unique panel design which makes mounting a bit easier.
Of course, there are other sizes available too, so there's no reason why you can't opt for Finex siding for smaller residential projects.
But you won't find the same variety in styles and finishes as you would with other brands. The manufacturer also offers two types of fixings. You can opt between surface fixing with stainless steel screws or a more economical installation without surface fixing. The latter is their Trim-Fit option and it's a pressure fastening system that makes use of the perimeter of the panel.
Best cement board siding brands round-Up
As you can see, there are plenty of brands to choose from. It's true that most homeowners tend to pick the HardiePlank since it's the first of its kind and has never disappointed so far. At least in terms of durability.
While some may seek other alternatives, cheaper options, it's worth mentioning that Hardie siding also wins in the pricing category. Between the extensive warranty plans on materials, factory paint, overall durability, and aesthetics it has one of the best price to quality ratios on the market.
How much siding do I need?
Depending on what type of fiber cement siding you want, you may be able to do the math on your own. For example, simple panels are easy to calculate. All you have to do is divide the square footage of the exterior walls by the distance between the visible edges or adjacent courses. This should give you the total number of boards/panels needed, while accounting for waste.
On the other hand, if you want to use shingles, there's no exact formula. It's best to talk to a contractor or supplier to get an accurate estimate.
Cement siding types and styles
There are various types and styles of fiber cement siding. This is actually one of the reasons why it's become so popular with many homeowners.
Plank siding is designed to mimic the texture and aesthetics of wood lap siding. It can give the home a classic appearance without being as maintenance-intensive as wood siding.
Shingle siding is another interesting option. This features the wood-grain details and comes as straight or staggered. It's also available in a variety of sizes and shapes.
Shake siding is slightly different than shingle siding, yet the two terms are often used interchangeably. It's worth noting that these may also mimic the appearance of stucco or brick, if you prefer a masonry texture.
Common fiber cement siding problems
Fiber cement siding isn't perfect by any means. It has its problems or deficiencies when compared to other types of siding. Yet in most cases it still wins by popular opinion due to its unique blend of features and accessibility.
Whether due to poor installation or a low quality product, fiber cement siding can run into some issues:
• Mold and mildew growth due to water infiltration
• Rot due to extensive water infiltration and moisture retention
• Fragile boards that may break from fall damage
• Difficulty of installation due to the heavy nature of cement siding
• Doesn't offer the best insulation in some regional climates
• Vulnerable to weather damage when the wrong type of paint is used
• Lacks extra-large panel variety for commercial building applications
Surprisingly, the installation costs are pretty much on par with other types of siding, with a few exceptions. Vinyl being the most obvious. Here's a comparison of this siding and other top choices.
Cement board siding vs. vinyl siding
Vinyl siding has some advantages. It's easier to install because it's much lighter and can also come with extra insulation.
However, it's not nearly as fire-resistant as fiber cement siding. It also doesn't handle strong winds as well, which is a problem in some states. What's also important is that the aesthetics are not as great. Fiber cement siding does a more realistic job of replicating the texture of wood and masonry.
Cement siding vs. wood siding
While wood siding is known to dry much faster, it's also susceptible to rot, termites, mold, and other issues. Fiber cement siding fares better against these threats, as long as it's properly installed. That's because the cellulose component isn't as exposed. It's also less maintenance-intensive than wood siding.
Fiber cement siding vs. engineered wood
The differences between the composite fiber cement siding and engineered wood are vast. But perhaps the most important include the ease of installation, the panel lengths, and pricing.
Engineered wood wins in all categories since it's easier to work with, less expensive, and can come in panels up to 16ft. long. That said, just because it's clearly superior to wood in terms of durability and ease of use, doesn't make engineered wood better than fiber cement siding. Cement is still more durable, less susceptible to water, fire damage, and insect damage.
Cement siding vs. stucco
Both types of siding are considered difficult to install. Fiber cement panels and shingles depend on skilled installers to avoid any gaps that will draw in moisture. Yet stucco is a thick cement-based alternative that takes even longer to install. It can also be pricier.
Still, both are just as fire-resistant and almost equally durable. Yet fiber cement siding has an edge as it can mimic the appearance of stucco very well.
How Long Does Fiber Cement Siding Last?
Depending on the quality of the siding you may find that some fiber cement siding panels will be warranted for up to 50 years. That's not an unrealistic number, especially if you perform proper maintenance within the recommended time frames.
How often should fiber cement siding be painted?
Many fiber cement sidings come factory-painted. They usually also feature warranties of up to 15 years. However, you may find that painting the sidings before the warranty expires will be necessary.
It's important to have a good coating of paint on the siding as it provides some additional protection from moisture. Just be careful that you could void the warranty on siding panels if you repaint them poorly. The consensus is to repaint when needed.
But some manufacturers may also offer specific repainting recommendations. In some cases, you may have to repaint every four years. It really depends on the quality of the top coat too.
Note: The longevity of the panels doesn't always translate from the warranty. The warranty may sometimes only express the guarantee on the top coat of paint. It's also not guaranteed that the panels will crack after the warranty is over, if they've been treated with care and professionally installed.
Does fiber cement siding increase home value?
Fiber cement siding can definitely increase the value of a home. Between the color and detailing variety and the durability of this type of siding panel, it's known as an upscale type project.
This siding responds well to all climates in North America and is unlikely to crack or chip for decades. On the plus side, it's much more fire-resistant than wood siding and more environmentally friendly than vinyl and aluminum sidings. It's a great choice for re-siding your house to increase the property value and resell for a profit.
Will cement siding rot?
Fiber cement siding isn't very susceptible to rot, and therefore it's unlikely for this to happen. It's also not as susceptible to termites as traditional wooden siding. That's despite being a composite material made of cement and cellulose fibers. What may affect a poorly installed siding is moisture which could lead to mold growth in the sheathing.
Does fiber cement siding absorb water?
Yes. Fiber cement siding may absorb water and can hold moisture, but it is unlikely. This happens due to improper installation and uncovered gaps clearances. To avoid this, clearances between decks and roof lines need special attention and proper cover, in order to minimize the fiber cement siding's contact with moisture.
Is cement siding too heavy?
Weight shouldn't really be an issue for a wall with a normal frame. Even if some fiber cement siding panels may weigh up to 300 lbs per 100 sq. ft. Some mobile homes may have issues with this siding if they're improperly built.
That said, fiber cement siding is generally heavy which means that it's somewhat difficult to install. The panels are also fragile prior to installation so they need to be handled with extra care.
Note: In comparison, vinyl siding may weight as little as 25% of fiber cement siding. That's why it's easier to add insulation on vinyl siding.
Final Thoughts
When you take everything into consideration, there are more upsides than downsides to building your home or remodeling it with fiber cement siding. You can choose whatever finish and texture you want, whether it's bland, wooden, brick, or masonry and achieve something very realistic.
From small homes to larger residential or commercial projects, fiber cement siding is long-lasting, efficient, and aesthetically pleasing.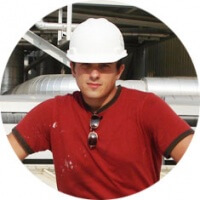 This roofing guide is presented by Leo B.

I've been a roofer for 15 years, and specialize in Metal Roofing and Flat Roofing.

Have a roofing question or issue? Ask me any roofing question!

Roofing Contractors - join our free Local Roofers directory to get more customers!