I've read a lot about these 2 types of roofs, so I see the pros and cons. Please tell me honestly which is the better roof in a hot region, Albuquerque, NM:
TPO or tar and gravel?
Thanks so much.
1 Answers
To be honest, I'd say PVC is a better choice – material price difference between PVC and TPO is miniscule, when you consider total system cost (not just price per sq. ft. of membrane), but PVC is much better than TPO in my experience.
If you strictly compare tar & gravel vs TPO, then TPO is a far better choice.
First you have much better thermal properties (TPO being a cool roof which is essential in climate like New Mexico).
Then you have repairability – finding and fixing a leak in TPO is much easier, faster and cheaper than on T&G roof.
TPO loses on puncture resistance, but in my many years of experience, punctures appear if HVAC guys drop their tools on there roof, or if you have an army of grunts from New Hampshire with ice picks, breaking the ice on the roof, which in New Mexico you will never have 🙂 Third is falling tree limbs which is very rare, and any home/building owner should take care of, by trimming thise branches, regardless of roof type.
For PVC/TPO you have walk thrwads which can (and should) be installed around HVAC units, and protect the roof, eliminating this problem.
As far as leak protection – TPO / PVC is way better that tar and gravel.
Lastly – there is a significant fire hazard associated with T&G installation.
So there you have it.
Once again – my choice is PVC, because it will last longer and in 15-20 years you will be able to weld a patch easily (in linked video, a Sarnafil 25 y.o. PVC roof is repaired with IB Roofs patches, demonstrating full material compatimility), while TPO may be an issue, as you never know which formulation you get, and will it be compatible with TPOs on the market, at the time of repair.
Hope this helps, Leo
Please login or Register to submit your answer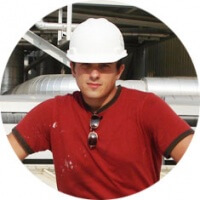 This roofing guide is presented by Leo B.

I've been a roofer for 13 years, and specialize in Metal Roofing and Flat Roofing.

Have a roofing question or issue? Ask me any roofing question!

Roofing Contractors - join our free Local Roofers directory to get more customers!