Where can I find unbiased, straight factual information to help me decide on a flat roof material for my condo building? Located in Chicago, ~6000 sq ft, 12 HVAC unit connections + 12 vents. Complete tear-off required. Currently considering PVC, Modified Bitumen, TPO.
1 Answers
Pamela,
Almost every one in roofing industry is "biased" toward certain products… So it's unlikely that you will find an unbiased opinion/information. I too am "biased" and have strong opinions for and against certain products.
That said, I base my biase on what i think of as "logical thinking".
For me, modified bitument (Mod Bit) is a fire hazard during installation and a nightmare to trace and repair roof leaks. It is also not a great waterproofing material, becuase torched seams will have obstructions in them (stone granules) which will make them weak.
However, mod bit is a highly puncture resistant material, so if you will have many people roaming on the roof poking holes in it, you should probably go with mod bit 🙂 …
TPO in my opinion change too much from year to year, and from manufacturer to manufacturer, with a common goal in mind – make material as cheap as possible, by adding inexpensive "fillers" to build up thickness, while trying to maintain waterproofing qualities, to make TPO competitve with PVC..
PVC in my opinion is the best product available in US. Also if you cosider not just square foot price of mebrane, but also cost of ALL flashings and accessories that go into a roof system, PVC is on par with TPO (see my TPO roof price analysis)… Therefore, it doesn't make sense to buy TPO, and anyone looking for a "white flat roof" should go with PVC.
So that is the best I can offer as far as "unbiased information" ….
Good luck
Please login or Register to submit your answer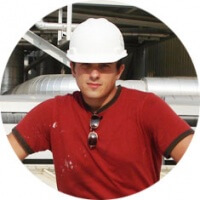 This roofing guide is presented by Leo B.

I've been a roofer for 13 years, and specialize in Metal Roofing and Flat Roofing.

Have a roofing question or issue? Ask me any roofing question!

Roofing Contractors - join our free Local Roofers directory to get more customers!