Hi there my home is 15 years old and my roof was built with architecture asphalt shingles and my insurance company says that my roof damage is from wear and tear all though we just had a few hail storms here in Arkansas April 2016 and July 2016 I just recently found out that I had a problem with my roof and I had a contractor come out and he said it was from hail. So my insurance company sent out an adjuster and when the adjuster was finish and gave the information to my Insurance company they denied my claim although in the city of Cabot Arkansas there was about 80% of the people in this city had to have their roof repaired from hail damage. Now I believe I might need to fight with my insurance company something I don't want to do and I wanted to know if I could get some quick information just to send to my insurance company so they can see that I know or I have did my homework about hail damage and how long a roof will last. They just need to do what is right and that is replace my roof because it was done from hail damage, I have a very well built home and I'm proud to say that my home was built by James Moore construction Inc. Thank you for taking my question and I am sorry the question is so long but I have no other way of asking the question. Again thank you for your information.
1 Answers
You can (probably should contact an insurance commissioner in your state).
Also try to "appeal" the denial of claim with your insurance company. Sometimes finding a high ranking employee on LinkedIn helps – just search for Ins. Co in LinkedIn and then choose "people working here" and add or contact upper management / PR / regional managers.
Here is some more info: How to file hail damage claim
The reality is insurance companies don't want to pay for claims. They even go as far as manipulation roof claim payouts by OWNING the only software used in the industry for claim cost calculation – How insurance companies manipulate roof claim payouts with Xactimate
Last option – hire a Public Adjuster. They will work with INS CO on your behalf … but they usually retain 10% of the claim. It's still better than nothing, and in fact they can often get you more money than you can yourself, by including every item that Ins Co must pay for as well as extra damages (if present).
Best of luck
Please login or Register to submit your answer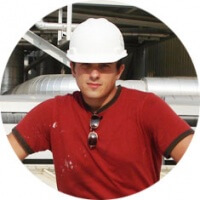 This roofing guide is presented by Leo B.

I've been a roofer for 15 years, and specialize in Metal Roofing and Flat Roofing.

Have a roofing question or issue? Ask me any roofing question!

Roofing Contractors - join our free Local Roofers directory to get more customers!