The exterior look of your house is the first thing that people notice. It's also your home's first line of protection against bad weather.
While there are many siding materials out there, metal panel siding is an ideal choice for homeowners looking for superior durability, longevity, minimal maintenance and a modern aesthetic.
There are several factors to consider in comparing and choosing a metal siding material. Metal siding can be made of aluminum, steel, stainless steel, zinc and copper. It also comes in a variety of panel profiles and styles.
We will take a close look at metal siding panels materials options, costs and installation considerations, pros and cons and top features of metal siding.
Average cost of metal siding panels
The average cost to install metal panel siding range from $4-8.5 per square foot installed. For a 2,000 sq.ft. house, you would spend $8,000-17,000 for metal siding.
Your total siding installation cost will vary greatly depending on the type of metal you select, the type of panel you select (profile) as well as the architectural complexity of your house.
Moreover, the type of paint finish on the panel, its thickness (gauge), as well as current market fluctuations in the price of metal will also wither drive up or lower your materials cost.
The following factors will increase the overall cost of professional labor to install metal panel siding.
-Number of stories in your house
-Total square footage of your home
-Number of windows
-Number of corners
-Difficult access
-Local labor rates
While homeowners may not realize this, there is a huge discrepancy between how much professional siding installers charge based on the local standard of living.
In expensive areas, such as Boston, or San Francisco, installers easily charge 20-25% for their work compared to the national average prices that are typically quoted in online price guides.
On the other hand, low-income areas, such as places in South Dakota will have labor rates that are 20% lower than the national average.
This is why, if you are looking for an accurate price estimate for siding replacement its best contact local pros for free quotes.
You can also use our Siding Calculator to get a quick siding cost estimate for your house.
Breakdown of Metal Panel Siding Material Prices
Here is how much you can expect to spend on various types of metal panel materials. This estimate also includes installation.
Aluminum Panels: $2 – $3 per square foot
Aluminum siding is lightweight and rust-proof. It comes in many styles but is most commonly sold as a horizontal lap style siding. It is more susceptible to dents and scratches than other metals, but these can be easily repaired.
Aluminum siding is relatively inexpensive and can be painted in any color. It can also come with a factory finish. Paint and finishes fade over time, so they must be repainted every 5 to 10 years.
There is a wide range of costs for metal siding because of the variations available
Vinyl-Wrapped Aluminum Panels – $5.00 – $7.00 per square foot
PVC-coated aluminum siding is a lower maintenance alternative to standard aluminum. It has an aluminum core with a vinyl siding exterior. This makes it thicker and less likely to crack than standard vinyl siding while ensuring that it does not need to be painted frequently like standard aluminum.
It prevents some minor dents and dings and is less likely to warp in hot weather than standard vinyl. While aluminum siding is flame-retardant, vinyl is not.
Steel Panels: $4 – $6 per square foot
Most metal siding is steel. This is a much harder and more durable material than aluminum, so it is less likely to dent. Some types may rust if the surface finish is scratched away.
There are also types of steel siding with a premium baked-on finish with a lifetime warranty and guarantee against fading, cracking, or peeling. Steel siding also comes in many styles and finishes.
Insulated Steel Panels: $5 – $6 per square foot
Insulated steel siding is relatively new and only available in a few styles, thicknesses and widths. One of the most readily available is steel log-look siding. This is finished to look like logs in a log cabin.
The siding's rounded shape allows for the interior to be filled with insulation. Steel siding panels are also available insulated and one company makes planks that are insulated. This lowers your home's energy bills and your maintenance costs while providing the benefits of steel siding and an attractive exterior.
Corrugated Steel Panels: $5 – $8 per square foot
Corrugated steel siding has been typically used for agricultural and commercial buildings. In recent years, people have begun to add corrugated steel siding to their homes.
Corrugated steel has several different looks, not just the wavy look we may think of. It is sold in sheets and often thicker than the steel used in other siding types, so it is heavier and more durable.
The siding's shape hides imperfections from normal wear and tear. This type of siding is much less common for houses than others, and choices may be limited.
Zinc Panels: $15 – $20 per square foot
Zinc is resistant to corrosion and rust and develops a beautiful patina over time. Zinc siding is not very common but can be found in panels and a few types of lap siding.
Zinc is expensive, so it is usually installed as an accent with another type of siding. Zinc pairs well with brick, stone, and wood and adds dimension and interest to the home. The metal properties of zinc mean that it cannot be placed touching certain other metals.
Copper Panels: $20 – $30 per square foot
Copper is also rust and corrosion-resistant, and lasts well over 100 years in most cases. Copper develops a patina over time, first becoming a dark brown, then turning a rich blue-green color.
It takes a high degree of maintenance and care if you want to keep its polished finish and color. Copper is the most expensive type of metal siding and is most often used as an accent with other materials
Unique Look and Curb Appeal of Metal Panels
With the exception of corrugated metal siding, other metal siding options are available with a choice of concealed or exposed fasteners. A concealed fastener allows for a sleeker design look.
Metal siding panels can be attached horizontally, vertically and diagonally and combined to create variations and patterns. Metal siding is also available as tiles in different colors, patterns and shapes such as fish scale, diamond, cupped and flat.
Metal panels can mimic almost any siding material from stucco, to weathered wood, to log-look siding.
In fact, it is available in almost every design style that can be found in wood siding. There are flat metal panels, panels that have a raised seam to look like Batten and Board style, Shiplap and V-groove. Metal siding can also be embossed or have graphic designs printed on them.
Four Types of Metal Siding Panels
Once you choose the material for metal panel walls you then have to choose the type of panel used in metal construction. Each one has its unique properties depending on the environment and the type of structure that you are building.
The four most common types of metal panels are Single Skin; Metal Composite Material (MCM); Aluminum Composite Materials and Insulated Metal panels.
1. Single Skin Metal Panels
Single skin metal panels are usually just a single interlocking layer of prefinished or natural metal that has been roll-formed or pre-formed into various corrugated, ribbed or flat panels with the desired thickness and width. Most of these panels can be installed horizontally or vertically in less time and with less of the cost of the other types of metal panels.
Single skin metal panels come insulated or uninsulated and can be made with protective coatings that help fight corrosion and fading. Since they are less rigid than other types of metal panels, they can be damaged, especially at ground level.
Benefits:

-Lightweight and easy to install
-100% recyclable
-Can be installed in almost any weather condition and environment
2. Metal Composite Material (MCM)
This type of metal wall panel has been used in construction in North American for almost 40 years. These panels are formed by bonding two, thick skin metals to a fire-retardant plastic core material under specific temperature and pressure.
The most common metal used is aluminum but MCM can be made out of any of the metals mentioned earlier.
Benefits:
-Will not "oil can" since the metal skins are bonded to the core (see definition earlier in this post)
-Panels can be used to join areas between other building materials
-They retain their shine and beauty for years
-Can be bent, curved and joined in different shapes
-Provide a protective layer against air and water
-100% recyclable
3. Insulated Metal Panels
An insulating foam is injected between two aluminum or steel panels to form a solid panel. They are a good choice for commercial or industrial buildings and climate-controlled buildings. The panels need to be sealed properly to keep water and humidity out.
Benefits:

-Available in numerous colors, widths and finishes so you can achieve almost any look
-Superior energy-efficient insulation
-Quick to install
4. Aluminum Composite Material (ACM)
Two thin aluminum sheets are bonded to a non-aluminum, low-density polyethylene core. These panels are excellent for indoor and outdoor applications. They are available in a wide range of colors and finishes and graphic designs can be printed on them. ACM panels are half the weight of aluminum siding.
Benefits:

-No "oil canning"
-Water resistant and can stand up to extreme weather conditions
-Easy to maintain
-100% recyclable
Metal Panel Siding Styles and Design Options
Here are the main styles of metal siding panels that can be installed on residential homes. Each has specific features and benefits that may be more or less suitable for your siding replacement project.
Corrugated Metal Siding
Corrugated metal has been used as a siding material for a long time. It is readily available and very durable in harsh weather conditions. It also resists dents and warping and oil canning is less obvious because of the corrugation.
It is more cost effective, easier to install and has low maintenance. Corrugated metal siding comes in plenty of styles and options to choose from and can last more than 50 years.
Standing Seam Metal Siding
Standing seam siding has crisp, clean lines that make it a favorite among homeowners. It requires very little maintenance, is secured together with raised, interlocking systems for weather tightness which creates a seamless, modern look. This residential steel siding comes in many different designs to fit any homeowner's tastes.
Batten Metal Siding
Batten panel metal siding creates a more traditional look that comes together beautifully with hidden fasteners, meaning the look is clean and uninterrupted. Batten metal siding is usually used by homeowners who want a more traditional look. However, the wide, flat panels with a bold rib design are becoming more popular in contemporary designs, too.
Box Rib Metal Panels
This siding uses a box-shaped pattern and exposed fasteners which makes installation easy. It's strong, bold lines appeal to homeowners who are looking for a unique look to make their homes stand out.
All Purpose Metal Siding Panels
DIYers are always attracted to all-purpose siding because of how easy it is to install. These panels last a long time and stand up to harsh weather conditions. They are available in many different styles and can easily adapt to the sign of a home.
Flat Metal Panels
Flat metal siding panels create a flush, modern look that creates crisp, clean lines. These panels are available in Shiplap, V-Groove and custom flat options to create many different looks.
What Are the Advantages of Residential Metal Siding Panels?
Durability: residential steel siding is strong and very durable. It can withstand any weather condition like high-speed winds and heavy storms. It resists cracking, warping and corroding making it one of the strongest siding materials available. Metal siding can last for over 50 years.
Low Maintenance: unlike other siding materials, metal requires very little maintenance. It doesn't absorb heat or moisture like other materials which means you won't have mold or fungus growth. It also does not require you to lean your siding annually.
Energy Efficiency: the reflective properties of metal siding divert the sun's UV rays away from your home. This helps homeowners save money on energy bills.
Style: metal siding is available in many different colors, styles and design options.
Pest-proof: unlike wood siding, residential steel siding is unattractive to termites. You will not have to spray for pests with metal siding.
Recyclable: all metal siding is 100% recyclable.
The Cons of Metal Siding
Dents: if you choose a thinner gauge material for your metal siding, denting can happen. A heavier gauge can avoid this issue.
Upfront Cost: metal siding may cost a bit more upfront compared to other siding materials but the investment may be well worth it. The strength, durability and low maintenance can compensate for the initial cost difference.
Replacement: metal can change color over time. If you need to replace a part of your siding it can be a little tricky to match the replacement panel exactly.
Oil Canning: oil canning is a characteristic of light gauge metal products which appears as a perceived waviness in the flat areas of metal panels. It can be caused during the milling or fabrication process, or during installation.
Although it can be prevented, it is more of an aesthetic issue and does not usually impact the structural integrity of the metal siding. All siding should be checked for damages prior to installation.
Thickness/Gauge Considerations for Metal Panel Siding
Is Metal Siding Fireproof?
Metal panels is one of the most fire-resistant siding options but it is not considered 100% fireproof. It does not ignite or spread fire, but depending on how long and how hot the fire burns, it can be damaged. As a non-combustible material it is one of the best choices to resist fire up to a certain point.
Is Residential Metal Siding Hard to Clean?
Unlike materials like vinyl, metal siding is extremely easy to clean and only requires a good, bi-annual cleaning. A thorough rinse with a power washer can clean most dirt away.
Can You Paint Metal Siding Panels?
Although it could technically be painted, it is not recommended. Painting your metal siding voids any warranty you had in place. Metal siding has many color options when purchasing it.
The only exception that can be painted is Bonderized steel, also referred to as paint grip steel. This is galvanized steel that has been chemically treated and provides a "primer" surface designed to be painted.
Does Metal Siding Attract Lightning?
Since metal is a non-combustible material and a conductor of electricity, it's not any more susceptible to lightning strikes than other materials.
Comparing Vinyl to Metal Panel Siding
Vinyl: $5.50 – $10.50 per square foot
Although the technical name is Polyvinyl Chloride (PVC) it is always shortened to vinyl. It's a heavy-duty plastic base blended with special additives to resist color fading and protect it from UV rays.
Low Cost – Vinyl is considered a low-cost siding option.
Versatility – Vinyl can copy almost every style from bevel, vertical planks, shakes, shingles and even split-log style. It also has numerous color options
Low Maintenance – Maintenance is virtually a non-issue with vinyl siding. Rain will clean the material, but if it is dirty, yearly washing with a hose is likely to take care of the problems. No need for repainting.
Durability – Lasts between 40 to 60 years before the color starts to greatly fade. Weather and insect resistant.
Disadvantages – There can be noticeable seams if the installation is not well done. Vinyl can also have a noticeably "plastic" look and thinner varieties can dent easily. Fire or concentrated heat near the material can cause melting.
Vinyl has been the most popular siding option in the past several decades. However, the costs of steel and vinyl wrapped aluminum siding are making those as competitive, price-wise.
While all metal siding is 100% recyclable, only portions of some vinyl siding products can be recycled. Both vinyl and metal siding come in a wide range of colors. While metal siding comes in planks, panels and tiles, vinyl only comes in long planks.
When it comes down to it, finding the ideal siding material for your home depends on your budget, the amount of maintenance that you are willing to take on and the look you want to achieve.
Shop around and get recommendations for siding contractors who have experience installing the siding material that you want for your home. Installation is key in making the final results look great!
To find the right siding material for your home, talk with siding contractors who have the experience installing the type of siding material that interests you.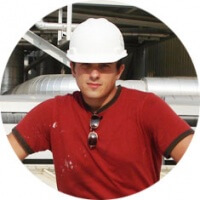 This roofing guide is presented by Leo B.

I've been a roofer for 15 years, and specialize in Metal Roofing and Flat Roofing.

Have a roofing question or issue? Ask me any roofing question!

Roofing Contractors - join our free Local Roofers directory to get more customers!