|
Lowe's is an excellent place to shop for roofing materials. They have affordable metal solutions, competitive prices, and generous shipping. So, if you're getting ready for a metal roofing project, be sure to check out their choices.
To get started on your roof replacement, contact your local metal roofing pros for FREE ESTIMATES!
Metal Roofing Prices At Lowes
Lowe's sells metal roofing materials as individual panels that cost from $13.70 to $69.88. The price is varies for different manufacturers and materials.
Corrugated galvanized steel solutions are on the more affordable end ($14.24 for an 8-foot panel, $31.98 for a 12-foot panel).
3-foot steel ribbed roof panels are more expensive and cost $69.98.
This means that for the average American roof size of approximately 1,700 square feet, you can expect to pay $3,000 – $4,530 for corrugated galvanized steel roofing material while covering the average roof with steel ribbed panels can cost as much as $39,655 for the material alone.
You can use our Metal Roof Cost Calculator to estimate the cost price of installing a metal roof on your home.
Typical Price Range
Average:
Lowes Metal Roof 16-Ft
At the time of writing, Lowe's had a limited amount of 16-foot metal roofing solutions.
The 3 x 16-foot Ribbed Chestnut Brown Steel Panel is currently out of stock, and it's unclear when it will be available again.
The second most popular product, the Ribbed Acrylic Coated Galvalume Steel Panel is available in the 3 x 16-foot dimension that can further be cut to length for special orders.
Finally, Ribbed Denali Green Steel panels are no longer sold on Lowe's website.
Lowes Metal Roofing 10-Ft
The 10-foot metal roofing solutions at Lowe's include Union Corrugating's 2.33 x 10-foot corrugated solutions that are further galvanized for strength.
There are also Ribbed Evergreen, Chestnut Brown Steel, and Denali Green Steel solutions available, measuring 3 feet x 10 feet.
Lowes Metal Roofing 12-Ft
Lowe's most popular 12-foot metal roofing product is the 2-1/2-inch Corrugated 2.16-ft x 12-ft Galvanized Metal Roof. This roofing material is best for small-scale use like utility buildings, garages, or patio covers.
The 12-foot Fabral Ribbed Evergreen Metal Roof Panel is more durable and can be used for most applications including residential and commercial buildings.
Lowes Metal Roof Brands
Lowe's mainly works with two brands for their roofing products.
Union Corrugating
Union Corrugating has been around since 1946, and is one of the best-known names in the industry. They offer metal roofing panels, supplies, and systems for commercial, residential, and agricultural properties.
As a leading manufacturer nationwide, they have a fair share of the market. Lowe's currently has 13 products by Union Corrugating, including different types and colors of solid roof panel closure strips and roof panels.
Fabral
Fabral is another one of the most popular roofing material manufacturers and dealers for residential and commercial properties. The brand has been around since 1967 and has remained a leading supplier of metal materials on the market.
Lowe's sells Fabral's corrugated galvanized metal roof panels in a range of colors and finishes.
Typical Price Range To Install a Metal Roof
Average:
$9,150 - $14,310
Lowe's Metal Roofing Colors
Here is an overview of the current assortment of colors available for roofing at Lowe's:
Silver (5)
Gray (3)
Black (2)
Red (2)
Brown (2)
White (2)
Off-White (1)
Green (1)
Copper (1)
Pro Tip: When choosing a metal roofing color, make sure it coordinates with the color of your home's exterior. Otherwise, they're going to clash.
In the brackets is the number of products available in that particular color at the time of writing.
Note that not all products are available in all colors. If you're color-restricted when choosing your metal roofing, you can use the color filter on the left-hand side of the site to only show results that match your needs.
Metal Roof Ratings and Review's at Lowe's
All Lowe's metal roofing products have a high rating. If you were to sort the options according to the rating, you'd see that all solutions either have a five-star or a four-star rating.
Both Fabral and Union Corrugating products mainly have five stars and come with a positive customer experience.
Note that sorting a product only by looking at the rating on one website can be biased and not as good of a judgment as when comparing ratings on other websites.
So, if you're concerned that a roofing panel you really liked won't suit you well because of a few negative reviews, do further research.
Google the product's name and see how well it's ranked on other websites. It could just so happen that Lowe's customers were less satisfied with a product than customers who got their material elsewhere.
Metal Roofing Materials Options At Lowe's
Metal material is crucial when determining the type of roofing for the project.
Lowes metal roofing options consist of 19 products in total.
Corrugated plain galvanized metal, solid metal, ribbed metal, and ribbed charcoal metal are some of the different materials available in their assortment.
Typical Price Range
Average:
Metal Roofing Maintenance
Roof owners often go for metal roofing solutions because of their durability, affordability, and low maintenance.
Indeed, caring for a Lowes metal roof is less complicated than caring for a wooden structure.
If you install the metal components properly, you can truly count on minimal maintenance.
However, regular inspections and occasional cleaning should be done. Small details can cause major damage that could have easily been prevented with a yearly inspection.
In fact, regular roof inspections are required to keep potential problems at bay. So regardless of the quality of your metal roof, you still want to dedicate one day per year for inspection.
If you're ready to spend the money to install a metal roof, you want to keep it maintained, so you get your money's worth.
This includes keeping its surface free from dust, dirt, debris, and other elements that can make it unsightly.
As you clean the roof, remember to clean the gutters and drains as well.
Any scratches, flaking, scuffing, or too much chalking and fading on a Lowes metal roof need to be addressed right away.
Which Lowe's Shingles Are Most Popular?
Lowe's hosts a series of shingles in different types, shapes, and styles.
The most popular overall product in the shingle category is their Owens Corning Oakridge Laminated Architectural Shingle bundle.
As far as metal shingles are concerned, the Lowes didn't have any options at the time of writing this article.
However, the most popular metal roofing panel is the Union Corrugating 12-feet Silver Steel Roof Panel. This construction is galvanized for added strength and durability and offers 24-inch coverage with 1/2-inch height in rib. This is also their most popular economy-grade product.
No less trending is the 8-foot Ribbed Silver Steel Roof Panel with 29-gauge galvalume metal, which is known to have a nicer appearance than galvanized steel.
Typical Price Range To Install A New Roof
Average:
$4,190 - $6,740
Lowe's Metal Roof Impact Resistance
Impact resistance refers to the level of resistance a roof can take from damage that can occur from falling objects. This can include debris, hail, or any other object that can fall on the roof.
Normally, Lowes metal roofs, much like any other roofing material, are made of heavy-duty components that can withstand these instances to some degree.
When it comes to the ranking system for roof impact resistance, it is represented by Classes from 1-4.
The higher the number, the higher the impact resistance level.
The impact rating for roofing materials comes from the UL 2218 standard test done by Underwriters Laboratories, an independent organization that tests products worldwide.
Lowes metal roofing most often has a Level 4 impact resistance. As you can see, this is the highest it can go, so investing in a Lowes metal roof is one of the safest investments you can make in terms of roof protection.
Note that not all metal roofing material on Lowe's comes with an impact resistance rating.
Make sure to check the table with information for every product you're interested in to verify whether there's a checkmark next to the "Impact Resistance" section. If there's an "X" sign instead, it means that the product isn't suitable for handling much resistance, or wasn't tested against it.
Did you know? Impact strength and impact resistance are two completely different ratings, although they are often used interchangeably.
Typical Price Range To Install a Metal Roof
Average:
$9,150 - $14,310
Lowes Metal Roofing Package Quantity
Roof panels sold by Lowes come in individual packages.
Some products are sold as a three- or five-piece panel, but this is rarely found.
In fact, given their relatively large size, Lowes metal roofing panels are usually sold individually.
What Is the Cheapest Metal Roofing?
Corrugated steel panel roofs (available at Lowes) are the most affordable roofing materials you can find today.
You can expect to pay from $3.00 up to $6.00 per square foot, which is similar to the price of asphalt shingles.
However, when you combine the installation costs and some of the more premium roofing options, metal roofing is more expensive than asphalt.
Given that there is a range of metal roofing solutions (aluminum, copper, corrugated, steel, zinc, standing seam, metal tile, metal slate), the prices can differ greatly by type.
The price difference can vary by more than $25.00 per square foot. This means that you can expect to find a roofing square foot for $3.00 but also for $30.00.
As mentioned above, steel panels are on the more affordable side. However, copper or other premium materials can be more expensive.
| Lowe's Metal Roofing Type | Price |
| --- | --- |
| Metal Roofing Price Range | $13.70-$69.98 |
| Corrugated Galvanized Steel (8 feet) | $14.24-$21.98 |
| Corrugated Galvanized Steel (12 feet) | $31.98-$39.00 |
| Corrugated Galvanized Steel (10 feet) | $13.70-$20.00 |
| Ribbed Roof Panels | $51.86-$69.98 |
Is It Cheaper To Put Metal Roof Over Shingles?
Putting a metal roof over shingles is a common roofing solution for home or property owners who wish for easy upgrades without much effort.
If your shingles are in relatively good condition and your roof is strong enough to withstand a new layer of metal roofing, then it's perfectly safe to install a metal roof on top.
But is this a cheaper option than replacing your shingles with new shingles?
In truth, asphalt roofs are cheaper per square foot compared to metal.
For example, you can pay from $100.00 to $850.00 per 100 square feet of metal roofing whereas you'll spend from $85.00 to $180.00 for asphalt solutions to cover the same area.
However, given that you don't have to tear off your existing roof, you'll save both money and time on the task. In this regard, metal roofing installation can be cheaper than new asphalt shingle installation.
Typical Price Range To Install A New Roof
Average:
$4,190 - $6,740
What Is The Best Metal Roof You Can Buy?
Metal roofs are known for their long-lasting use, versatility, and weather resistance.
But which type of roofing is the best? The answer really depends on how well the roofing material was installed and how well it integrates with the rest of your roofing system.
In general, copper roofs have the longest lifespan. They can last up to 100 years with proper maintenance.
Copper roofs are also resistant to fire, making them a perfect option for dry and warm regions.
Given their extreme durability and weather resistance, you can also expect to pay more for copper roofing per square foot compared to other solutions.
Can You Put A Metal Roof Over Shingles?
Yes, it's possible to put a metal roof over shingles.
However, if you plan on doing this, you first need to contact your local building department to check whether they accept metal roofing over shingles.
Some building officials only let re-roofing over one shingle layer, while others may let you place a metal roofing over two shingle layers. Fortunately, this isn't an issue in most areas.
Metal roofs come with plenty of advantages, and there are many reasons why a homeowner would want to install them over their existing shingle roofing:
Savings on labor costs to rip the shingles off
Not throwing shingles into land fields
Extra protection layer for added insulation benefits
Higher longevity and better appearance
Weather resistant, keeping the home safe, dry, and comfortable
Easy rain runoff and withstand winds up to 140 mph
Many are fire resistant
Plenty of finishes, colors, and styles
Boost a home's energy efficiency
There are also a few downsides to consider when investing in such a project.
Metal roofing is often more expensive than shingles.
Also, the noise made by rain and hail can be a major nuisance for sound-sensitive homeowners and residents. For this reason, it's also wise to invest in soundproof insulation should the budget allow it.
Pro Tip: When installing a metal roof over shingles, be sure to add a synthetic underlayment to ensure high-quality and to get the most out of your investment.
Are Lowe's Metal Shingles Worth It?
Lowes metal roofing shingles are diverse in type, size, material, and color.
Whether you're after plain metal, galvanized steel, or corrugated solutions, you can find what you need at Lowes.
Lowes metal roofing can easily last for 40 years without the need for replacement and can be customized to look modern or rustic according to user preferences.
Overall, given the price difference between regular shingles and metal, the latter is certainly a more expensive option. But homeowners who can afford metal roofing can certainly benefit from purchasing these solutions at Lowe's.
Shopping For A Metal Roof At Lowe's Made Easy
Purchasing metal roofing at Lowe's is an easy task. Their website is super easy to navigate, and finding an ideal custom solution isn't difficult, thanks to the many filter options.
Price-wise, Lowe's is in the middle between premium and low-end roofing material sellers, so you're guaranteed to find good deals that won't break the bank.
Hopefully, you now have a better insight into the offer and price points at Lowe's to make the most out of your next roofing project.

x
Low End
Mid Range
High End
Materials
$5,425
$6,096
$8,047
Labor
$6,408
$7,200
$9,504
Cost / S.F.
$7.40
$8.31
$10.97
Total Cost
$11,833
$13,296
$17,551
See Costs Near You!
Start Here - Enter your zip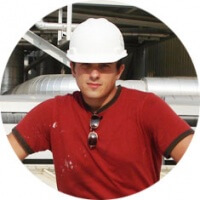 Author: Leo B
For over 20 years Leo has run a successful roofing business in New England, specializing in metal roofing, as well as cool flat roofing technologies. Having replaced and installed hundreds of roofs in New England, Leo has first hand experience with pretty much every residential roofing material and roofing manufacturer available in the US.