|
If you are researching roof materials, installation and prices, why not use your phone to quickly access all the info you need at your convenience?
There are a number of great apps available!
Since our roofing calculator is really a "web app", we wanted to create a list of similar mobile apps.
I'm an avid Android user / fan, and also Android has the most users in US and worldwide.
So here is a rundown of the 7 Best Roofing Apps for Android devices – the list includes both Free and Paid apps.
Update: Added new app: #5 – Roof Bid Helper
If you know of a good roofing app for Android that we DID NOT include in this list, please let us know in comments.
1) Roofing Calculator Free:
This free calculator can estimate roof cost and roof area, based on inputs you provide, such as house ground dimensions, roof slope, shingles type, etc. The results are given on a separate screen and include the size of your roof, and 3 price quotes for popular roof materials.
Users can modify the costs of each material as well as tear-off prices, and other miscellaneous costs in the "settings" section.
This app can be used by both contractors (who can modify cost settings to fit their business), and homeowners. Users can also request a free roof estimate from local roofers, right from within the app.
iPhone / iPad: Download Roof Calculator from App Store.

ANDROID: Download Roof Calc Free from Google Play.

Screenshots:
2) House Gosu Free Roof Calculator
Gosu translates from Korean as "a highly skilled person". Typically used to refer to pro gamers, can also refer to construction professionals and well as Pro's in any field.
This free calculator is very simple. You enter roof dimensions, desired material, roof pitch and get a price on the same screen.
While this tool does not have much other functionality, its a good quick way to estimate roof costs.
Download House Gosu Free Roof Calc from Google Play.
Screenshots:
3) Roof Gauge (roof pitch tool) by Interapt
If you do not know the slope of your roof, and don't have a ladder or desire to climb up and measure it, this is the tool for you! You can just stand on the ground and use a camera and an accelerometer in your phone to accurately measure your roof pitch.
If you want more precise measurements, you can place your phone against a sloped rafter or on top of roof shingles, and get an even more accurate reading!
The unfortunate drawback of this app is that they run ads. But hopefully they will soon remove them. We sent an email to the developer regarding this matter. Honestly, the app does not get proper credit (in terms of downloads) so the developer does not make much money from the ads anyway.
There is a similar and more popular app on Play Store called "Pitch Gauge" but after using it, we found that it is too buggy, force-closes often, seriously slows down your phone, drains battery after you "close" it, and for improved phone functionality you need to make an in-app purchase.
Because Pitch Gauge has failed me several times when I needed a roof pitch reading while standing on a ladder 35 feet above ground, I stopped using it.
You can download Interapt Roof Gauge tool from Google Play.
Screenshots:
4) Roof Calculator PRO ($19.99)
So this one is a strictly "contractor oriented" calculator, which is reflected in the price ($19.99) and vast functionality. User has the option to provide virtually any roof detail, such as tear off, chimney or skylight flashings, valley, type of underlayment used, Ice and Water barrier, number of floors, type of roof shingles, etc. In total, the contractor has over 100 different settings to choose from.
Additionally, multiple roof surfaces can be calculated at once, and the results are provided on a separate screen, with detailed breakdown of sizes, material costs, and total costs.
Roofers can pre-configure several materials that they normally install, with itemized pricing for shingles, underlayment, trim, roof vents, caulk, nails, etc.
There is also an export option by email, using PDF or Text file, and the app uses a GPS function of your phone to capture location and address of each calculation.
A roofer can even use the app to send out a simple proposal to the client, with company info in the letterhead, and a total installation cost for the roof.
It's easier to watch this video describing Roof Calculator PRO, than to list all of it's features:
Once again – this is a paid app costing $20, and unfortunately there is no trial version.
Download Roof Calculator PRO from Google Play.
Screenshots:
5) Roof Bid Helper app (NEW – FREE)
This app was created by my friend Brad Caldwell of Caldwell's Roofing. Brad does roof installations in Alabama and Georgia area as well as creates roofing apps. Brad is also and engineer by training and a very professional and nice guy!
"Roof Bid Helper" app, which is available as a paid app on App Store and in Google Play, and is free in web browsers (roofbidhelper.com).
Screenshots:
This app Helps roofers and insurance agents calculate waste, starter, and hip/ridge values based on slope of roof and length of roof elements.
Once you have the raw number of roofing squares, along with other items on your roof diagram (eaves, rakes, ridges, hips, valleys, roof slope), simply enter them in and Roof Bid Helper will do the hard work of finding your total number of squares! Complex calculations created by roofing contractor approximate closely what you will need for your roofing project.
Download Roof Bid Helper on App Store and Google Play
6) GAF Colors
This is a great presentation tool for roofers / salespeople / estimators to showcase GAF Roof Shingles and colors. This app is primarily designed for tablets and runs in landscape mode, but can also work on phones (although it's not very convenient, because it does not scale correctly, and all controls are very small on a phone screen).
The app requires you to enter a valid US ZIP code. Also, when you first start the app, it tries to download the latest shingle images and colors, but fails multiple times (says "connection timeout"). You can still use it, but I don't think all the colors and shingle options will be available.
Download GAF Roof Shingles Colors from Google Play.
Screenshots:
7) Decra Roofs Picture App
Decra is a manufacturer of Stone Coated steel shingles and tiles. Decra roof picture app will show what your roof would look like if you installed Decra metal tiles on it.
This app is similar to GAF Color App – runs in landscape mode only, is made for tablets and does not scale correctly on phones. It is also a bit slow even on top level hardware (LG G3).
Another limitation is that this app is really made for European markets, and not US.
The good thing about it is that you can take a picture of a house, outline the roof and place Decra tile image over the "roof" outline, to see what the roof would look like – see screenshot below.
The app is rather slow, and unfortunately the outcome is not great – some weird distortions can be seen on the "final" picture.
Download Decra Roofs picture app from Google Play.
Screenshots:
8) Roof Timber Calculator (UK)
So this app is made to calculate lengths and sizes of roof framing, and is actually made for European contractors (primarily UK / Ireland). It does not calculate materials or prices. For that you can use our Metric Roof Calculator which estimates the cost of roof replacement in Europe / UK / Ireland in both Euros and British Pound Sterlings, and uses materials popular in Europe, such as clay / concrete tile, slate, etc.
The Roof Timber Calculator is a very useful tool for builders, but unfortunately it's riddled with ads, which make it difficult to use. Hence we place it at the bottom of our list.
Download Roof Timber Calculator (UK) from Google Play.
Screenshots:
Next, we will run a review of the best Roofing Apps for iPhone and iPad.
Have you found a good roofing app? Please share it with us in the comments below.
Average Roof Replacement Cost:
Low End

$6252

Mid Range

$7815

High End

$9769

See costs in your area Start Here - Enter Your Zip Code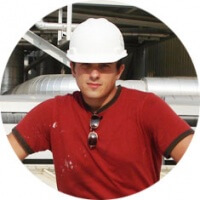 Author: Leo B
For over 20 years Leo has run a successful roofing business in New England, specializing in metal roofing, as well as cool flat roofing technologies. Having replaced and installed hundreds of roofs in New England, Leo has first hand experience with pretty much every residential roofing material and roofing manufacturer available in the US.