If you need to replace or repair your roof, find out local roofing prices in Atlanta, GA and Alabama.
Keep in mind that depending on the scope of work and quality of material, the price for a new roof can range from $2.60-7.50 per square foot installed.
We will cover the cost to install asphalt shingles, metal roofs, and flat single ply membranes. To help you decide which one is right for you, we will also review the best roofing materials and trusted brands.
Average 1600 s.f. Roof Costs in Alabama
Low End

$5402

Mid Range

$6622

High End

$8016

See costs in your area Start Here - Enter Your Zip Code
Roofing shingles prices
On average in Georgia and Alabama roof shingles price per square is $250, including tear off.
This estimate includes GAF architectural shingles, installation of some ridge ventilation, and a GAF System Plus lifetime material warranty.
Roofers also usually charge $50 per sheet of OSB (or $60/sheet of plywood) for decking repairs. One 4′ x 8′ sheet can usually fix a number of bad spots on the decking.
Here's the breakdown, with highs and lows:
| New Roofing Material | Project Type | Low Price | Mid Price | High Price |
| --- | --- | --- | --- | --- |
| Dimensional Shingles | Remove Old Shingles; Install New Shingles | $205/square | $250/square | $400+/square |
| Dimensional Shingles | Roof Over Shingles (Or New Construction) | $165/square | $200/square | N/A |
| 3-Tab Traditional Shingles | Remove Old Shingles; Install New Shingles | $190/square | $225/square | $350+/square |
| 3-Tab Traditional Shingles | Roof Over Shingles (Or New Construction) | $145/square | $175/square | N/A |
*Roofing area is measured in "squares," which means 10′ x 10′ of area, or 1 "square" = 100 square feet.
Note, that prices will vary depending on where you live. In larger towns and cities, where the cost of living is higher, roof installation cost will also be higher than in more rural areas. For example, in much of Alabama, you will be hard pressed to find as high a price as $400 per square, but in Atlanta, there is at least one large roofing company charging that amount, and is still doing a whole lot of business.
On average, contractors operating primarily in the Atlanta area will charge about 20% more than those servicing more remote towns.
2. Metal roofing cost
As a rule of thumb, if you want to have quality installation, you should at least spend in the mid-range for asphalt shingles, but it's critical to do so with a high-dollar roof like metal. This is because a metal roof installation is a lot more complicated and labor intensive than a standard shingle installation (which can actually be DIYed). Therefore, a contractor who is charging at the low-end of the scale on metal probably won't deliver on your expectations. If you're throwing this kind of money at your roof, make sure it gets done by a professional, who will charge at least in the mid-range.
Here are some sample installation and material prices for a metal roof.
| New Roofing Material | Project Type | Low Price | Mid Price | High Price |
| --- | --- | --- | --- | --- |
| Standing Seam Metal (26 Gage) | Remove Old Shingles; Install Underlayment and New Metal Roof | $525/square | $635/square | $1,000+/square |
| Standing Seam Metal (26 Gage) | New Metal Roof Only (New Construction; Assumes Framers Installed Underlayment) | $385/square | $500/square | $850+/square |
| "Georgia Rib" Thru-Fastened Metal | Goes Over Either Shingles Or New Construction (Using 2″ x 4″ Purlins) | $280/square | $300/square | $400/square |
You should be aware that metal roofing cost can fluctuate a lot from project to project. Some of the factors that impact the price the most are:
– quality of metal (steel vs. aluminum)
– profile (standing seam vs. metal shingles)
– how complex or "cut-up" the roof is.
A metal roofer will spend a lot more time in the valleys and hips than a shingle roofer will have to. Also, small jobs require that the price-per-square be increased.
3.Flat roof replacement cost
Whether you have a low-sloped roof on a house, or a large flat roof on a Walmart, a single-ply membrane like TPO or PVC is the way to go. It's a white-colored thermoplastic membrane that is able to be welded together at the seams with a special heat gun. It's long lasting and has been on the market for years, despite the fact that you may not have been aware of it.
On average, you can expect to pay $600 – 700 per square to install a PVC or TPO roof. This includes removing any existing roofing material, installing 2″ ISO board insulation, and of course installing the plastic membrane itself on the top. If there is a need for better decking, this may result in some added cost (somewhere around $100/square extra).
What are the best roofing shingles in Alabama and Georgia?
In the area of Auburn, Alabama the most popular roof shingles are Tamko and Owens Corning. Now, that's if you're the typical roofer getting your shingles from a lumber supply store.
Both Home Depot and Lowe's now carry GAF as their default shingle brand, and many contractors use them the most. The shingles are well-made in top-of-the-line facilities with plenty of installation training for roofers. They also offer the best warranties available for homeowners, especially when installed by factory-certified pros.
As far as makes of shingles, GAF's Timberline HD shingle is a good-looking, long-lasting choice. It is a dimensional shingle, which provides depth to the roof, and increases the home's curb appeal.
In Atlanta, Georgia, there is also some use of Atlas; and in Montgomery, there's some use of CertainTeed, which are the very cheapest shingles around.
What is the best material for low-slope roofing?
For many professional and experienced contractors, the best flat roofing material is a single-ply membrane like TPO or PVC (roofs with a slope of 3:12 or less). Some roofers use products like EPDM (a black rubber) or roll-roofing (a bitumenous membrane with embedded granules, somewhat like a huge shingle), which seal their seams with chemicals or bitumen. While cheaper, these materials are a lot more prone to leaks.
If you want to avoid leaks, it is best to install TPO or PVC single ply membranes. Both last for decades, perform well under UV, freeze-thaw cycles, and wind/hail/storms, reflect heat (usually resulting in a lower AC bill!), and look great. GAF offers quality Everguard TPO products that have seen a lot of success in both residential and commercial applications.
Other single ply materials have a host of serious problems (in addition to leaking) – EPDM tends to pull away from pipe penetrations and wall-edges over time, and roll-roofing can develop heat-blisters very fast.
The estimates for roofing materials prices in Eastern Alabama and Western Georgia (including Atlanta and its suburbs) for this post has been generously contributed by my friend and fellow member of Google+ Roofing Contractors Community – Brad Caldwell, owner of Caldwell's Roofing, located in Auburn AL.
Brad is a big fan of GAF shingles.



Your Estimated Roofing Cost
Roof Price:
Cost per sq. ft.
Roof Size:
Roofing Material:

See costs in your area Start Here - Enter Your Zip Code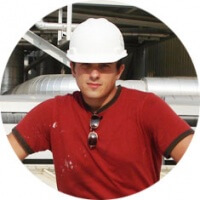 This roofing guide is presented by Leo B.

I've been a roofer for 15 years, and specialize in Metal Roofing and Flat Roofing.

Have a roofing question or issue? Ask me any roofing question!

Roofing Contractors - join our free Local Roofers directory to get more customers!