|
If you need to get a new roof, the big question is when to schedule the install?
In addition to considering your own convenience, it is important to know that many roofers adjust their labor charges based on slow vs busy work seasons.
Moreover, depending on the roofing material you want, there may be weather and temperature related restrictions that will impact your roof installation timing.
To get started on your roof replacement, contact your local pros for FREE ESTIMATES!
x
Low End
Mid Range
High End
Materials
$1879
$2042
$2593
Cost / S.F.
$3.05
$3.31
$4.2
Total Cost
$4598
$4998
$6348
See Costs Near You!
Start Here - Enter your zip
Here is advice from roofing pros on the best roof installation timing that will give you the following benefits:

1. negotiate a great price
2. get high quality installation
3. experience the least amount of stress along the way
When Is The WORST Time For Roof Replacement?
Many home improvement experts recommend that the overall best time to get a new roof is in the fall. If you poke around the internet for advice, the fall season is most likely going to be a highly popular suggestion.
However, as you will learn in this post, fall is actually one of the worst times (from a homeowner's perspective) to get the job done. Roofers recommend it, because this is the time they can charge premium for their services.
What is a better alternative?
The short answer is: get your roof installed during the SLOW season for contractors.
Busy vs Slow Season For Roof Installation
Most roofing contractors have busy season(s) and slow season(s). During the slow season, you will get numerous benefits that would not be possible at another time.
1) You will likely negotiate a better price.
2) There will be less stress and frustration, and good relations with the roofer.
3) You will likely get better installation quality.
4) You will not have to wait 3-6 weeks for your project to get started.
Keep in mind, that this will not apply to all roofing companies in your area. Some contractors are so well established that they have more work than they need, all the time.
These are usually larger companies that have an recognizable brand name. As a result, they are not interested in giving any discounts, just to get a new client.
At the same time, there are enough medium and small local roofing businesses that do experience a seasonal slow down in their work load. Many are more than happy to offer a few perks to get a new contract.
You just have put in some effort to get quotes from a number of pros, rather than agree to work with the first roofer that walks through your door.
Get A Better Price On Your New Roof
When contractors are busy, they can cherry pick good (easy and profitable jobs) and will typically bump up their prices by 5-15% – this is all supply and demand.
During a slow season, competition is higher, and most roofers naturally resort to lowering their roof installation cost to win as many jobs as they can. Hence, you should schedule your install during the off-season.
Experience less stress and frustration
When you as a client have to wait 4-6 weeks to get your roof installed, you naturally get anxious and frustrated, which increases unnecessary stress, drives up blood pressure, lowers libido 🙂 and decreases life satisfaction overall.
As funny as it sounds, this is very much true, and not only for customers, but also for contractors. It's not much fun getting nervous calls from the client along the lines of "my roof is leaking – when the hell will you start on it?"
Indeed, it is not pleasant for both parties involved. Thus, contractors naturally let these calls go to voicemail, because they do not want to repeat the same story of "we are busy with prior commitments, and it's been raining for a week – we will not be able to start for at least another 10 days.
All this stress, mistrust, and unnecessary tension is easy to avoid by simply scheduling your roofing project during the right time.
Get better roof installation quality
Since typically roofers are slow to get started on new projects, they will not be in a rush to get your roof done as fast as possible. This can and often will result in corner cutting and overall lower work quality.
Example: A contractor typically has two 6 men crews. Each does a regular 15-20 squares roof in 1 day. If he is overwhelmed with projects, he can split the workers into three 4 men crews, and have each one do the same amount of work. Not only is this very stressful for installers to be down 33% on each crew, they also have to work longer hours.
As a result, they start cutting corners, skipping nails (literally – instead of putting 4-6 nails per shingle, the can put 3 nails), missing straight lines, rushing through chimney and skylight flashings, "forgetting" to install ice and water shields in valleys, etc.
Examples and possibilities of this poor workmanship are endless. All this will result in frequent leaks and will significantly decrease the service life of your roof.
The worst part is that you will have no idea that this is going on. In fact, many homeowners pay a premium for high-end roofing materials, only to end up with problems soon after the install.
Its important to realize that no matter how expensive your roof is, it will not perform well without careful installation, which has been done according to all building codes and manufacturer specs.
Bottom line – you don't want your roofers to rush, as they do in this funny video:
Avoid Having To Wait For Your Roofer
From my experience, many people who "needed" a roof during a busy season, sometimes waited as long as 5-6 weeks or more. One of my own clients had to wait 2.5 months!
This happened because we were swamped with work, and had emergency jobs that had to be started immediately, Moreover, due to unpredictable weather (rains / snow / hurricanes), we just could not start the job any sooner.
On the other hand, our normal lead times are about 2 weeks, which includes getting the materials from the supplier, getting all the equipment and permits ready and starting a job.
If the job is an emergency type, we sometimes can start as soon as a couple of days after the deposit funds have cleared with our bank.
This is, of course, my personal experience, but most roofers are on the same or similar operating schedule.
Another ( pretty bad) option that many busy contractors resort to is starting a job, just to please the customer and then leave for 2 weeks. At best, they will have a couple of workers come in to do the prep work.
This all results in unnecessary FRUSTRATION for both you and the roofer.
Important Roof Installation Tips
1) Schedule your roof replacement in advance. This will give you the best chance to have a timely job at the best time for you.
2) Avoid seasonal increases on roofing materials prices. Most suppliers raise prices in the Spring and Early Fall. Schedule your job BEFORE this.
3) Use our Roofing Calculator to estimate your roof cost based on your specs and geographic location. This information will also allow you to negotiate with real contractors, who may try to scam you into paying too much.
4) Get at least 3-4 free quotes from licensed and insured pros. Avoid using fly-by-night uninsured roofers – your warranty will be gone as soon as they leave the job site with the final payment.
How Your Roofing Material Impacts Installation Timing
Some roofs can only be installed in particular weather and temperature conditions, in order to ensure optimal performance. If these manufacturer specifications are not followed, you will end up with a failing roof very fast.
– Asphalt shingles need to be installed when its warm outside (40 F degrees or more). In colder weather, the shingles' sealing strip will not adhere properly, and there will be increased potential for invisible cracks.
– EPDM Rubber Membranes, and IB DeckShield roof decks, require warm temperatures for the adhesive to dry. It is recommended to install them when the outside temperature is above 40 F degrees.
– Metal shingles and standing seam roofs may be installed in any weather, including cold temperatures.
– Thermoplastic single ply membranes (TPO / PVC) with heat-welded seams can also be installed in cold weather.
When Is The BEST Time To Replace A Roof?
This is THE QUESTION, and there is no one definitive answer, considering all the regions and time zones in the US.
However, here are some tips that will help you figure out slow times for your local roofers:
1) Super Busy Fall Season
Fall is the worst time to get the roof done! This is the time when most people realize that winter is just around the corner, and it is crunch time to do their roof before the first snow. Bad, bad, bad!
During the fall, we have the longest lead times. Some roofs naturally get pushed into the winter months, because while it is still warm, we need to do those jobs that require warm ambient temperatures.
Roofs that can be installed during cold weather, get pushed off until later (unless a roof is leaking badly and needs immediate replacement).
Install Roof Shingles

$4872


Average price

Install Metal Roof

$10253


Average price

Install Flat Roof

$8257


Average price

See costs in your area Start Here - Enter Your Zip Code
2) Busy Spring Season
During the spring, most construction trades pick up the pace. This is based on three simple reasons:
During the holiday season preceding new year, most people spend a boatload of money on gifts and parties. Naturally, most people are broke after New Years, can't afford a roof during the winter, and wait until the spring to get the ball rolling.
During winter months (especially in the northern states and in Canada) many people are reluctant to install a new roof, as well as other exterior projects, because of snow and cold weather. So they wait until spring. Generally, this is the right approach. However, there are some exceptions, which we will discuss below.
After the holiday season and the long winter, most people file their tax returns and await the refund checks.
Once spring rolls around, people catch up on their finances, get tax refunds and are no longer worried about cold weather and snow. This is when the spring construction rush begins. If possible – avoid installing your roof until May.
3) Slow(ish) Summer Season
After the spring rush, most jobs get completed, and summer is a somewhat slow, but steady time for roofers. This is a VERY GOOD time to have your roof installed.
Many people go on summer vacations, and with Memorial, Independence and Labor day holidays, many homeowners naturally try not to do any major construction projects during this time. If possible, schedule your roof installation between 4th of July and Labor Day.
4) Super Slow Winter Season
If your roofing material or geographic location allows for an install during the winter, this is the BEST time to have it done! Most roofers are hungry for work and lower their prices in the winter.
In particular, this is a great time to get a high quality metal roof, with the best (lowest) price, as well as with minimum stress! So, take advantage of this.
Your Estimated Roofing Cost
Roof Price:
Cost per sq. ft.
Roof Size:
Roofing Material:

See costs in your area Start Here - Enter Your Zip Code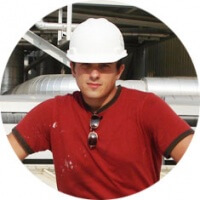 Author: Leo B
For over 20 years Leo has run a successful roofing business in New England, specializing in metal roofing, as well as cool flat roofing technologies. Having replaced and installed hundreds of roofs in New England, Leo has first hand experience with pretty much every residential roofing material and roofing manufacturer available in the US.