In this post, we will walk you through pro tips on how to install roof shingles, so that you don't end up with a leaking roof.
Did you know that more than 50% of all roof leaks happen due to faulty installation?
Most homeowners don't pay enough attention to how their roof is installed, because they lack this technical knowledge. Instead, people's primary concerns are overall roofing cost, material brands, colors and curb appeal.
The problem is that you CAN NOT automatically assume that a roofer you hire will do a good job.
Here is how you can avoid a nasty situation where your expensive new roof leaks, and you discover the contractor screwed things up.
Average Roof Replacement Cost in US:
Low End

$4388

Mid Range

$5287

High End

$6608
Unexpected roof problems: every homeowner's nightmare
There are many horror stories about roofing problems that homeowners run into, but here is a telling example of the true costs of sub-par installation.
"I recently replaced a roof that was put on by a customer's friend one year before we replaced it. It was a disaster. The guy paid his friend $11k to do the job. Shingles had blown off, flashing was horrendously done and there was a host of other issues. It ended up costing him $11.8k to get it done right. Now he is left to collect via lawsuit from his ex-friend." Veteran roofer from Toledo, Ohio
Professionals, who actually know what they are doing, are not cheap. However, paying more for a quality shingle installation is a smart financial decision in the long run.
Tip # 1: Request that a contractor follows manufacturer's instructions
Whether you are installing shingles by yourself or hiring someone, one of the most important things is to follow strict manufacturer guidelines. Doing this will ensure that your roof is watertight. Moreover, every manufacturer has specific guidelines that they require to guarantee that their product will actually perform. If a contractor does not follow these, not only will your roof likely fail, your warranty will also be null and void.
Different manufacturers have premium warranty options that cover labor errors, but this requires you to have a Certified Contractor from that company. Different levels of certification provide different extended warranty lengths and terms.
All too often a roofer puts the correct installation steps into the contract, but does not actually follow them. This happens to save time, and because most homeowners will not get up on the roof to see what is going on.
Make sure that all procedures and materials are spelled out in the contract. It is also a good idea to discuss the details with the company owner and foreman. Request that they supervise their crew.
Often, crews are left to their own devices, and the foreman does not closely follow what is being done. This is more likely to happen with large roofing companies that are working on many projects simultaneously, and are too busy for close inspections.
If you can, you should actually get up on the roof. Also, take some pictures. It will be great evidence, in case something goes wrong and you need to take the contractor to court. As part of the contract, request that the crew also takes clear before, during and after pictures of critical areas. There should be should be no extra charge for this.
Once the job is complete, be sure the foreman does a final inspection and provides clear pictures of the parts of the roof that you cannot see from the ground. He should also address any items that were not done properly. You can use these pictures in roofing forums to ask for independent professional opinion about the quality of the job. You should do this before issuing final payment.
Tip # 2: Remove old shingles
Some "cheaper" roofers may try to convince you that you don't need to remove old shingles before installing new ones. After all, its one of the hardest parts of the process: time consuming for the roofers, very messy for you. Also, its expensive, $1,000-3,000 extra added to your total bill. However, it is very important that you actually remove the old shingles, because they may cause a number of serious problems:
1. Keeping them may void the warranty for the new shingles.
2. The life span of your new shingles will be significantly shorter, because the old roof will prevent proper ventilation.
3. There may be rotting under the old shingles that will lead to leaks and structural damage, if it is not detected and fixed.
4. Having old and new shingles on your roof adds significant weight to your house structure.
Make sure that the cost of removal is included in your contract.
Tip # 3: Inspect the Sheathing
Your contractor should check to make sure that there is no damage or rot there. He should also check that the sheathing is properly nailed. You should check the underside in the attic to make sure that there is no mold. Also, take pictures inside your attic. In case mold appears after the roof installation, you will have proof that it wasn't there before, and it was caused by improper installation.
It is critical to repair or replace rotted plywood. If you have OSB/particle board sheathing, it may be a good idea to replace it with 5/8 inch CDX plywood now. This is because your old OSB sheathing may have been subjected to leak and dry rot for many years and is no longer an adequate substrate for new shingles.
Tip # 4: Install roofing underlayment
Underlayment should be hand nailed with roofing nails or plastic cap nails, that have a 1″ plastic washer at the head. Most roofers skip this crucial step, and instead just use staples. Make sure that your roofer does not use staples, because they just tear a hole in the felt and barely hold it down.
Also, your roofer MUST remove the old underlayment, and you need to insist on this. This is an important step, because he needs to check that there is no rotting under the underlayment and fix it, if there is. Skipping this step leaves your new roof open to leaks.
Tip # 4.1: Ice and water barrier
In most states, ice and water barrier is required by building code along the eaves. It is also required by building code and manufacturers to be installed in valleys, around skylights and chimneys, and along all roof to wall connections.
Most shingle manufacturers offer "granular surface" ice and water barrier. These products are junk and do not do what they are intended to, such as prevent ice dams, and seal around nail penetrations. We highly recommend that if you have ice and water barrier installed, to go for Grace Ice and Water Shield, which has a smooth surface, is much more tear resistant and performs much better than granular surface alternatives.
Also, in cold climate states, building code requires that ice and water is installed at least 3 ft. passed interior wall. This means your roofer should install at least 2 rows of ice and water shield as one row will barely go passed the interior wall. Most roofers are either unaware of this, or purposely skip this very important ice dam prevention to step, to cut on material costs. This should be indicated in your contract.
Tip # 5: Install the starter strip
One common error that many inexperienced roofers make is not installing the starter strip. A starter strip is a very important part of the shingle application process, because it has a tar strip that lines up with the the tar strip on the shingle. This adhesion significantly reduces the chance for blow off of the first row. The starter strip should be applied along the entire roof perimeter (rakes and eaves), following manufacturer's specifications.
Tip # 6: properly nail shingles
6 nails per shingle is the best, especially if you live in an area with high winds. Many manufacturers (GAF is one) will not uphold the premium wind uplift warranty of 130 mph, if the shingle has not been attached with 6 nails. 4 nails per shingle is standard practice.
Also, positioning of the nail is very important. It should be placed in areas specified by the manufacturer, to ensure the shingle stays in place. Many roofers are very careless about this part, because you, as a homeowner, cannot see this. High nailing is a common practice of careless/inexperienced roofers.
Nailing strips have a specific purpose. When the nail is properly placed on the nailing line, it penetrates two shingles at once, making sure that each shingle is held by a total of 8-12 nails. If the shingle is nailed too high, than the nail does not penetrate the preceding row, which almost guarantees blow off.
Tip # 7: Flash all roof penetrations
Water doesn't actually leak through the shingle itself. It leaks through a penetration on the roof (pipe jack, vents, roof to wall flashing, sidewall flashing, chimney flashing, etc.). Thus, one of the most important parts of the job is to correctly flash all these penetrations.
Tip # 8: Use new flashing
One way some unscrupulous roofers try to save a few hundred bucks is by reusing old flashing. Some inexperienced roofers may be guilty of this practice as well, if they see that old flashing is in good condition. However, the best practice is to ALWAYS use new flashing, and you should insist on this.
As mentioned above, ice and water barrier should be applied around all chimneys and skylights. Proper step flashing and counter flashing should be installed on all roof to wall connections and along side walls of chimneys/skylights. New pipe boots should be installed on all stink pipes.
Tip # 9: Leave proper overhang
Roof shingles must overhang the eaves and rakes by a minimum of 0.5 inches. Average overhang is about 1/2 to 3/4 inch. We also recommend to install drip edge along the entire roof perimeter, to make sure the water does not go under shingles or behind rake boards along the roof edge.
Tip # 10: Get high quality roof components
If you want your new roof to last a long time, make sure that ALL your roof components are good quality. Too many homeowners spend a lot of money on premium shingles, but never look into the other essential products that are installed inside roofing systems. This is where some unscrupulous roofers can start to cut corners. Someone may charge you a lot of money for the install, but end up using cheap, low quality roof parts, thus pocketing a hefty profit.
It is also important to note that some manufacturers will void their warranty if a roofer has not used their own system components in addition to the shingles. Ask him about this and carefully read the warranty you plan on getting.
Here are the essential parts of a roof:
1. Roof Underlayment
2. Attic Insulation
3. Roof Ventilation
4. Ice and Water Barrier
Tip # 11: Roof valley is critical
The valley is one of the most common sources of leaks. Many roofers don't know how to properly shingle in a valley, place nails too close to the center of the valley, and don't use ice and water barrier.
All valleys should have an ice and water barrier from top to bottom. Roofing underlayment should go over the ice and water barrier, but end at least 8 inches from valley center. No nails should be placed within 8 inches of the center, as this almost guarantees a leak.
There are different methods of doing a valley: open, closed and woven.
Here is how roofers should do the valley properly:

Tip # 12: It does NOT matter which roof shingle brand you install
Here is a big secret most homeowners don't realize. All roof shingles brands are essentially THE SAME! Yes, some offer more bells and whistles than others, slightly better quality materials, etc. But at the end of the day, all shingles are made of asphalt, fiberglass and stone granules – period. Moreover, if you are worried about shingle pricing, most brand name shingles also cost about the same.
This means that while it would not be wise to get the cheapest, crappiest roofing shingles out there, your money is better spent on quality installation. Too many homeowners make the mistake of putting in countless hours into researching the best roofing shingles brands, and give almost no thought to who will actually install them.
Bonus Tip: call the roofer's references
While calling references may seem like an obvious part of vetting a roofing contractor, you would be surprised how many homeowners skip this step. This is a big mistake!
If you are not planning to supervise the install, the only way to know if your roof will be done right is to actually call references. If three previous clients are happy with their roofs, how the installation went, and have no leaks, then you have an assurance that your roof will also be done correctly.
Better yet, if a contractor gives you local references, you should actually drive by those houses and see the roofs for yourself. While this may seem like a lot of effort, its time well spent. Otherwise, you may end up paying thousands of dollars in repair or replacement costs.
Avoid pushy roofers or salesmen who aggressively try to talk you into signing a contract with them on the spot. They may lure you in with a price break, even give you a list of references for peace of mind. However, if you never call any of these people, for all you know they could have been fakes, just to get you to sign on the dotted line. Always do your due diligence, and don't let anyone bully you into working with them.
Your Estimated Roofing Cost
Roof Price:
Cost per sq. ft.
Roof Size:
Roofing Material:

See costs in your area Start Here - Enter Your Zip Code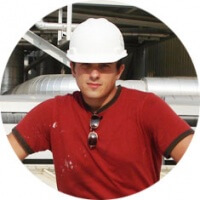 This roofing guide is presented by Leo B.

I've been a roofer for 15 years, and specialize in Metal Roofing and Flat Roofing.

Have a roofing question or issue? Ask me any roofing question!

Roofing Contractors - join our free Local Roofers directory to get more customers!