Hello,
I am during a renovation of an old wood frame home that I have gutter. I plan to use the old existing hip roof which size is 30′.6"W x 34'L and expand it to 46'Wx40'L.
My question is I like to know how much lumber and size of the Ridge beam, Hip rafflers, Common Rafters and Jack rafters to build a new hip roof 46'W x 40'L.
The existing measurement of the house is 30′.6"W x 34'L with a cover porch of 6 feet run the width of the house front.
I will be adding an additional 15′.6" to the width of the house the new measurement will be 46'Wx40'L include the 6′ length porch.
I attached several files; pictures of the exiting house and copy of the new renovation house plans.
Please get back to me as soon as you can. I am trying to put a material list together for the hip roof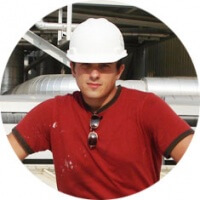 This roofing guide is presented by Leo B.

I've been a roofer for 15 years, and specialize in Metal Roofing and Flat Roofing.

Have a roofing question or issue? Ask me any roofing question!

Roofing Contractors - join our free Local Roofers directory to get more customers!