Hi and thank you. We just bought a house where the tar and gravel roof needs to be replaced. I got a quote that made me jump with astonishment and I could use some help understanding the price range I should expect. The house is a one-story 2,600 square foot home. I want to do IB PVC. The onlyb quote I got told me the roof was 5,200 square feet and the cost was out of control.
Only the tilted part on the right seems to need additonal plywood.
Any thoughts on a reasonable price range or other recommendations?
Thank you so very much. I assume this is confidential as to my name.
Matt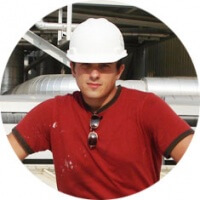 This roofing guide is presented by Leo B.

I've been a roofer for 15 years, and specialize in Metal Roofing and Flat Roofing.

Have a roofing question or issue? Ask me any roofing question!

Roofing Contractors - join our free Local Roofers directory to get more customers!