I have an area on the roof of my screened in porch that meets the house in an odd way. It just happens to be where the family room juts out farther than the kitchen. It creates an odd little area where snow can collect and possibly get caught and start to melt and the water could get caught in some situations if not all the snow melts at the same rate. I am attaching pictures. When I had a roof put on 20 years ago, the roofer put black shiny metal down and ran it up under the cedar shingles on the house. He put roof shingles around it but left an area where just the metal was so water would have a hard time making its way to an undesired area. The new roofer did not do this. He is a very reputable roofer. However I feel like I have no added protection. My question is…is there anything else I can do this area to help protect it from an ice damage and possible damage besides caulking between the cedar shingles and the roof. I don't seem to be able to attach the pictures. If there is another way to send them let me know. Thank you so much.
Debbie
Northwest Indiana – where we get a lot of snow in the winter.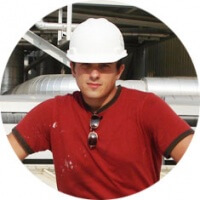 This roofing guide is presented by Leo B.

I've been a roofer for 15 years, and specialize in Metal Roofing and Flat Roofing.

Have a roofing question or issue? Ask me any roofing question!

Roofing Contractors - join our free Local Roofers directory to get more customers!