Our local school district has three elementry buildings that are between 65 and 70 years old.
Instead of receiving about 50% state funding for new construction of one larger building, we have a contingent of residents and new school board members who feel we should renovate the buildings. I am a retired professional engineer ( structural ) and have serious concerns of the wisdom of this on such old buildings. Forgetting obvious things such as cracked walls, etc. I have serios doubts of the integrity of the flat steel decked roofs. They were initially gravel/asphalt covered. In the late 80s, a spray on polyurethane built up was done with a spray on silican membrane coating on top of the foam. We know that there are wet areas in foam and suspect that over the years with only the gravel/asphalt coating that there were sleaks.
The first thing that the current board wants to do is air condition the buildings with possible roof top units. My concern is that the original design would not have included the loading due to A/C units. Plus there is the possibility of considerable corrosion in the truss/steel deck roof system. This would be excacerbated in 20 additional years.
It has been proposed by a project managing team to remove the current coatings and replace with a single ply membrane.
My question is am I correct in being concerned about the structural integrity of 1, adding roof top a/c units and 2. the over all structural integrity of the old roof system in the case of a heavy snow load?
Thanks
Don Van Fossen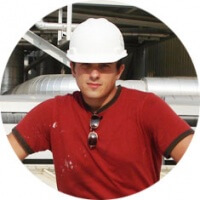 This roofing guide is presented by Leo B.

I've been a roofer for 15 years, and specialize in Metal Roofing and Flat Roofing.

Have a roofing question or issue? Ask me any roofing question!

Roofing Contractors - join our free Local Roofers directory to get more customers!