Hello,
I have a leak in a dormer area of of my very old house that has asbestos cement shingles. The roof is in good shape after all these years and I don't want to replace the entire roof (too expensive) when my leak is in a relatively small area that should not be that difficult to get to. Just tricky to fix. Plus, the leak is in a place that is in the back of my house and not very visible from the ground.
My question is, I am trying to find a roof shingle that is close in color and size to the original asbstos cement roof. I am trying to get something that resmbles as closely as possible, the original asbestos cement tiles The originals are a medium/dark gray color and app 12"x !2" exposed. The asbestos cement shingles are larger accounting for overlap, probably about 16" x 16". I am considring synthetic slate or metal shigles My roofer likes Inspirer synthetic slate but I am not sure. I have seen metal shingles on houses that match pretty closely (in size) my roof but I can't identify the manufacturer and I have no idea about a color match. . Also, have read complaints about synthetic slate shingles which made me reethink what to do and started me looking at metal.
It's a relatively small area but it gets lots of water becuse it's at a dormer and my roof is pretty steep. I suspect that most of the costs are going to be labor since and I don't need a lot of replacement shingles but it's not an easy job. Pretty tight area to work in.
I can also replace the damaged asbestos cement shingles with the same thing (my roofer has some) but he doesn't like the idea because of how difficult it is for him to work with them and how long it would take. I need to decide soon bcause the leak issue is becoming a bigger problem, especally after the torrential rain in Florida.
Thanks so much for any help or suggestions you can provide,
Sls642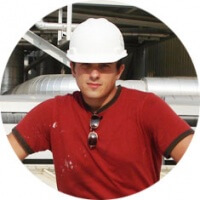 This roofing guide is presented by Leo B.

I've been a roofer for 15 years, and specialize in Metal Roofing and Flat Roofing.

Have a roofing question or issue? Ask me any roofing question!

Roofing Contractors - join our free Local Roofers directory to get more customers!