hi leo, i live in southern california, less than 1 mile from the ocean. i have a 2000 sq ft flat roof mid-century home that is covered with a one layer existing pvc roof. below the membrane is a cover board. below that is the plywood sheathing. i am putting on a new roof. the roof will be fibertite 50mil xt with 1/4" securlock cover board and 5/8" new ply underneath, coated top and bottom with boracare and bordered with stainless steel drip edge. for the tear-off and installation of the foregoing, i've been quoted approx $42K. does that sound like a high price?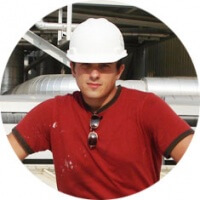 This roofing guide is presented by Leo B.

I've been a roofer for 15 years, and specialize in Metal Roofing and Flat Roofing.

Have a roofing question or issue? Ask me any roofing question!

Roofing Contractors - join our free Local Roofers directory to get more customers!