Dear Leo B:
I recently got hosed on a bid from a contractor here in Dallas. 650 square feet, but also need about another 200 square feet to go up the slope under some standard shingles. So, if we say 850, his bid came in over $10K. We have had a lot of rain here and I am not getting enough response from IBroofs to get names of roofers who are qualified in this system. Also, the other problem that is present is that the roof is flashed on 1/2 with copper that also is incorporated into a 3 feet copper siding, then that falls into a large trough copper gutter. The first guy wants to put another metal on top of the copper flashing. The science is clear, copper on copper is it. Otherwise you get a reaction that will make the copper siding look really bad. Also, I am thinking of replace asphalt shingles as well, either with wood shake or metal. It could be really nice job for a roofer that is good at what he does and who doesn't cheat people. Can you help, please?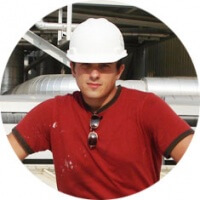 This roofing guide is presented by Leo B.

I've been a roofer for 13 years, and specialize in Metal Roofing and Flat Roofing.

Have a roofing question or issue? Ask me any roofing question!

Roofing Contractors - join our free Local Roofers directory to get more customers!