Hello,
My home will need the cedar shake roof replaced this year. I am considering a metal shingle roof and plan to contact contractors soon. I appreciate the information you provide on your web site and have found it very informative. I live in a rural area where local options are limited, and the follwing roofing system was suggested to me:
https://www.menards.com/main/building-materials/roofing/metal-roofing/meridian-limited-lifetime-warranty-stone-coated-steel-shingles-3-33-sq-ft/fw/p-3289655539651249.htm
(please note that the flashing/sealing pieces are shown at the bottom of the page)
Are you familiar with this roofing system? I was reading your reviews and comments about metal shingles at "7 Best Metal Roof Shingles: Costs, Features, Reviews". The comments in your article about the poor flashing kits that often come with the stone coated shingles makes me want to find out more about this option before even considering it. If this does look like a good option, would any of those in the article be a better alternative?
My house is approximately 32 x 48 with an attached 28 x 28 garage (not counting roof overhang). I live in Western Minnesota, and the roof will be exposed to high winds, hail and snow (as well as a surprising amount of sun in front due to the southern exposure). We had a tornado lift the garage off the foundation and another storm with 100 mph winds, yet with the exception of a few missing ridge pieces the cedar shake roof survived quite well. I would like a roof that has the general look of a cedar shake and is equally durable, but hopefully at a lower cost. I have included a picture link in case it is helpful in determining if this roof would be suitable for my home:
Additionally, if possible, would you be able to provide a ballpark estimate of what would be a fair price range (in my area) for installing such a roof? I have no experience in such matters am curious about the price range one should expect after submitting information for quotes.
Feel free to post this to your blog/web site if desired, but please do not post my name or email address.
Thank you,
Kyle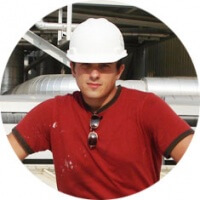 This roofing guide is presented by Leo B.

I've been a roofer for 15 years, and specialize in Metal Roofing and Flat Roofing.

Have a roofing question or issue? Ask me any roofing question!

Roofing Contractors - join our free Local Roofers directory to get more customers!