We are looking for bids to replace flat roofs on an apartment property (7 bldgs., 55'X48′ each) with flat roofs, but with 'overhang roof on 2nd floor of property' (see photo). We have been told not to use metal on flat roofs. (Part of the bldgs. now has asphalt & part of other layers of sheets…neither has been replaced and are leaking. All need to be replaced). We want to know best flat roof protection for our residents, but also want to upgrade 1970's property and we thinking about using standing seam metal roof for the front 'overhang' that basically covers the 2nd floor level. We would remove all window units, add a door, along with a supported 6′ balcony (so each apt would have a private patio). Would welcome recommendations and warnings as we want this done right and affordably.
1 Answers
J.
Best flat roof is IB PVC … or other quality PVC like Soprema / Fibertite, etc.
Metal should not be used on Flat / Low Slope roofs – it WILL leak!
You did not attach photos – please use Imgur for images.
The important part is to get qulified roofer to do the work. Get a contractor that specializes in PVC – not in Asphalt shingles, "but does rubber" on the side … these guys will botch up the job.
PVC roofs require special heat welding equipment and shingle roofers do not have that, nor do they have much experience with them.
A properly installed PVC will last 30-50 years or more!
Hope this helps – good luck
Please login or Register to submit your answer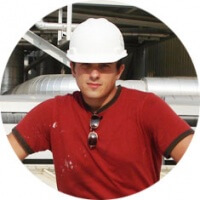 This roofing guide is presented by Leo B.

I've been a roofer for 13 years, and specialize in Metal Roofing and Flat Roofing.

Have a roofing question or issue? Ask me any roofing question!

Roofing Contractors - join our free Local Roofers directory to get more customers!