I live in southern Ontario Canada, where there are significant differentials of temperatures from summer to winter. We are insulating a flat roof with tapered rigid insulation over a moisture barrier, and then capped with modified bitumen. However, we lose R value where the taper is thinnest, and need to insulate under the sheeting. We toyed with spray foam, but this may be overkill as we would have to insulate areas that don't require it. So, we are considering packing the rafters, which are only 12 inches, with 12" fiberglass insulation to remove any airspace. A gentleman from IKO suggested that this would be fine provided that we don't add another moisture barrier, but I would like another opinion.
Cheers,
Mark de Wolde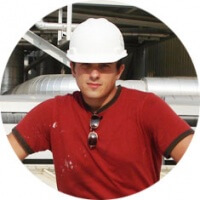 This roofing guide is presented by Leo B.

I've been a roofer for 13 years, and specialize in Metal Roofing and Flat Roofing.

Have a roofing question or issue? Ask me any roofing question!

Roofing Contractors - join our free Local Roofers directory to get more customers!