We have a flat roof, minimal slope, no attic space that sits over a tongue and groove ceiling structure. We live in an area where summer temps avg. 110-115 during the height of summer. Our roof was replaced a couple of years ago, however the contractor failed to replace the insualtion that was in the previous roof, instead thermal sheets were installed, their is no air space and the roof was roll shingled over the top. Consequently interior, under side ceiling temps reach 90-100 during the summer, interior temps are high with the AC running on full.
What is the best alternative? The actual structure of the roof is sound, just no insulation. We did recoup the cost of the roof, but would prefer to not have to tear it off again. We currently have quotes/options for foam sprayed over the top, ceramic based/radiant barrier paint (Sunshield/Super Therm) being recommended or a complete replacement. Based on all of that, do you have a recommendation? Thank you.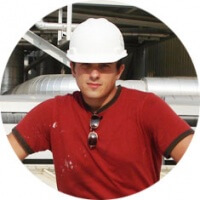 This roofing guide is presented by Leo B.

I've been a roofer for 15 years, and specialize in Metal Roofing and Flat Roofing.

Have a roofing question or issue? Ask me any roofing question!

Roofing Contractors - join our free Local Roofers directory to get more customers!