Flat roof house with existing 20-25 year old polyurethane spray foam roof. The roof has some hills and valleys and ponding areas. Approximate square foot is 2800. We have gotten bids for re-spraying at cost of $42k and $36k, both of which are out of our budget. Part of the cost of spray foam is scarfing off about 1/2" of existing foam–this added $12k to one bid.
Other things we have considered: We like the idea of a metal roof but would need roof frame/decking added which would probably be too expensive. We got a ballpark estimate of $25k for the metal roof alone, and we would have to hire contractor to build framing.
We are now open to other types of flat roofs, given the costs above.
Could we DIY a rubber membrane over rigid polyiso foam insulation board? The roof currently has about 2-3" or so of foam over old asphalt roof over 4×4 cedar boards (see image of ceiling). Would TPO or modified bitumen be a better choice? Thank you so much.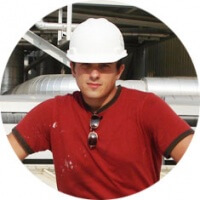 This roofing guide is presented by Leo B.

I've been a roofer for 15 years, and specialize in Metal Roofing and Flat Roofing.

Have a roofing question or issue? Ask me any roofing question!

Roofing Contractors - join our free Local Roofers directory to get more customers!