We discovered when we got roof damage and removed our old roof that we had 4 old roofs on the house. Original rubber, two tar/rock, one brai (had never heard of that one). We have no attic as the roof sits atop the beams and tongue and groove board ceilings. Roofers removed 4 roofs and repaired eave boards that had rotted. They SAID they were going to put plywood decking on first, then 2" foam insulation sheets screwed down then commercial grade rolled rubber roof then white coating. After one year the roof began creaking and cracking very loudly particularly when outside temperature changed. They came out and said it was just a temp thing. Nothing to be done. They also told us that the insulation sheets were put directly on top of the ceilings and the plywood was only on the repaired eaves so there is only the ceilings, the insulation board/sheets and rubber with coating. I was furious but they said that is the correct way and no decking was required and that had nothing to do with the noise. Want to know your thoughts. Never had noise when 4 roofs were there but they were wet and heavy. Please don't post this with any part of my name or email.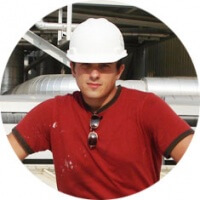 This roofing guide is presented by Leo B.

I've been a roofer for 15 years, and specialize in Metal Roofing and Flat Roofing.

Have a roofing question or issue? Ask me any roofing question!

Roofing Contractors - join our free Local Roofers directory to get more customers!