Hello Leo,
What sort of background/qualifications should I be looking for in a roofer to replace my EPDM roof?
Also, if you don't mind can you tell me the order of the materials that should go down to make the roof, including the polyisocy boards?
Lastly is it alright/advisable to have my existing old batt insulation replaced in addition to having the polyisocy?
Thanks!
1 Answers
Jim,
First of all, when you say "replace my EPDM roof", do you mean install another EPDM? If so, I would recommend installing PVC roof (https://www.roofcalc.org/ib-pvc-flat-roof-prices/) or at least TPO, instead of another EPDM rubber.
As far as background/qualifications – as for before and after pictures of previous jobs … at least 4-5… better 7-10. What this will show, is that your roofer actual has some flat roof experience, and not just say they do. It's critical, because most residential roofers, have very little flat roof experience, and flat roofs are much less forgiving to installation errors.
Seeing many before+after pictures of each job, shows that these roofs were actually done by this roofer, and not taken from the internet.
Then ask for actual references from clients with flat roofs.
It's best to hire a contractor that is certified to do warranty work by a specific flat roof manufacturer. Keep in mind that residential EPDM will not have manufacturer's warranty, but IB PVC flat roof will!
Certificate from manufacturer usually tells you that roofer has done some commercial projects, that were inspected by manufacturer prior to issuing warranty. Again, it shows that roofer is qualified.
As far as order of installation:
Remove old roofing.
Install wood nailer around roof perimeter.
Install insulation and drip edge.
Install roofing membrane.
Flash all penetrations.
Old DRY insulation should be reused with new PolyISO on added top – the more insulation you have, the better.
Hope this helps. Leo
Please login or Register to submit your answer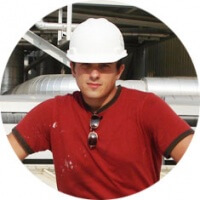 This roofing guide is presented by Leo B.

I've been a roofer for 15 years, and specialize in Metal Roofing and Flat Roofing.

Have a roofing question or issue? Ask me any roofing question!

Roofing Contractors - join our free Local Roofers directory to get more customers!