Your insights and advice on roofing choices are excellent!
I need to replace an asphalt shingle roof because of hail damage and do not want to do the same thing over and over again expecting different results. The hail damage is minor on the inner areas but major on the perimeters where the asphalt shingles overlay the starter strips, about 6" on all edges, otherwise the asphalt shingle roof is in great shape. Complete tear down is difficult because there is 1/4" Densdeck underlayment which will be damaged or destroyed when the shingles are removed.
Number one priority for replacement is fire protection, next is hail impact resistance and high wind resiliance, durability and finally the ability to replace damaged tiles and to walk on tiles.
TAMCO or EDCO metal tiles are non-flammable but transfer heat, so the underlayment needs to support the overall Class A fire rating. Both tiles can be overlayed over existing asphalt shingles.
Will the metal tile overlay over Class A asphalt shingles be Class A fire rated?
Is an additional fire-retardant fiber overlay over the asphalt shingles, like FR-10 a good idea?
Could you give additional advice on underlayment for metal tiles to achieve highest fire ratings, beyond Class A?
Do you know or can you refer TAMCO metal tile installers in the greater Denver CO area?
Thanks.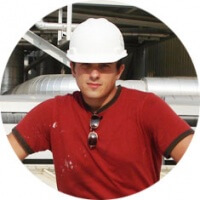 This roofing guide is presented by Leo B.

I've been a roofer for 15 years, and specialize in Metal Roofing and Flat Roofing.

Have a roofing question or issue? Ask me any roofing question!

Roofing Contractors - join our free Local Roofers directory to get more customers!