Leo,
I have a 200 sf 20+ year old tar mop flat roof (one section of home) that started leaking recently. Due to age of roof, I want to replace. Proposals have included torch down (modified bitumen?) and TPO. As the roof is visible from second floor, I want a terra cotta, or similar color. Roofing contractors have informed me that white is only color for TPO, but I see much better color options on your roofcalc site. Questions: 1. In my circumstances should I be concerned about introducing a product alternative to a roofing contractor, as they apparently do not have experience / knowledge of that product and may not be able to work effectively with it?; 2. How do I find a competent, trustworthy roofing contractor?; 3. Would you recommend contacting the manufacturer (such as those you mention) and asking for qualified (certified) roofing contractors in the area?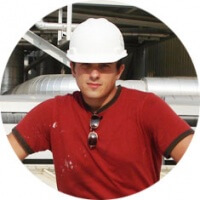 This roofing guide is presented by Leo B.

I've been a roofer for 13 years, and specialize in Metal Roofing and Flat Roofing.

Have a roofing question or issue? Ask me any roofing question!

Roofing Contractors - join our free Local Roofers directory to get more customers!