Here are the Problems:
Critters: It sounds like i have little critters living in my roof.
Failing Gutters: our dog likes to chew gutters out and pull away from house
Roof about 15-20 years old already, but no leaks
Facia has some wood rot and holes (soffit is ok)
Is it time to change EVERYTHING? This is our FOREVER home, and our home is about 5500 sq ft. We dont have a lot of trees on our property, but neighbor has locust tree with tiny leaves that blow into our gutters.
Roof: I love the look of a metal roof, but i know its super expensive plus i am worried about noise level. Midwest Hail storms are prevalent. Thoughts? (we have mid-century modern style exterior Brick home)
Gutters: Is the PVC half round a good option? We want something maintenance free
Facia/Soffit: What is the best material for this as well as LONG LASTING and critters cannot chew into it?
Thanks for all your help!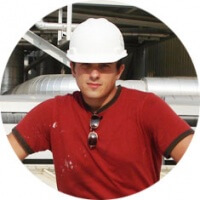 This roofing guide is presented by Leo B.

I've been a roofer for 15 years, and specialize in Metal Roofing and Flat Roofing.

Have a roofing question or issue? Ask me any roofing question!

Roofing Contractors - join our free Local Roofers directory to get more customers!