I'm looking to reshingle my roof soon. I have laid shingles before, but never had to flash a chimney. My chimney meets my roof at the gable end and is only on one side of the gable, it doesnt go up to the ridge. How do I flash this? There are only 3 sides that meet the roof.
1 Answers
Michael,
You will need to start your step flashing that the bottom of the chimeny, and then work your way up. The top flashing piece (top of the chimeny) should extend up the slope at least 18 inches, and wrap around precenring step flashing. Then lay wour shingles over the flat (on the roof part), leaving at least 6 inches clearance between chimney, and the shingle above it.
Seal under the first shingle above the chimeny.
Hope this makes sense … try this video as well: https://www.youtube.com/watch?v=1RxsQRDyfNQ
Good luck
Please login or Register to submit your answer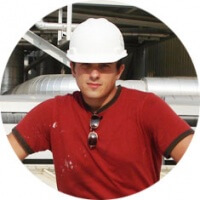 This roofing guide is presented by Leo B.

I've been a roofer for 13 years, and specialize in Metal Roofing and Flat Roofing.

Have a roofing question or issue? Ask me any roofing question!

Roofing Contractors - join our free Local Roofers directory to get more customers!