I am hoping to 'cold' insulate the area, ie just insulate internally rather than externally. The ceiling finish will be tongue and groove wood (in echo of the actual roof) into which I would like to have recessed lighting installed. Air flow and moisture seems to be the enemy of insulation and I just not sure exactly what methods I should follow to insure competent, efficient and lasting insulation. I live in Los Angeles California. We have limited rain mainly Jan – March, temps are lows can be average 45F (although have experience delicate frosts) to summer averages of 80F to highs of 100F plus. We have an all in one Heat, Air Ventilation and Cooling system, the vent of which you will see on the western side of the ceiling. The structure sits on a hard concrete base, so no under floor ventilation and as with most CA builds, the walls are wood framed, chip board interior and stucco (cement) external finish over chicken wire with, I would suggest limited wall insulation. Any assistance is GREATLY received. If you need further detail please do let me know. Many thanks. Pictures – https://imgur.com/a/rYmsTT8"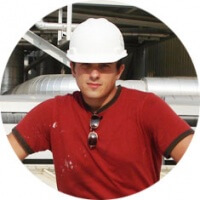 This roofing guide is presented by Leo B.

I've been a roofer for 15 years, and specialize in Metal Roofing and Flat Roofing.

Have a roofing question or issue? Ask me any roofing question!

Roofing Contractors - join our free Local Roofers directory to get more customers!