I have a brick townhouse in Baltimore that has a flat roof. The roof and membrane is in excellent condition and there are no leaks. Inside the house, the access to the "attic" is through a 2′ square hatch panel in an upstairs closet. When the house inspector looked in there he reported that the old insulation was very compressed and that we would benefit to add more insulation. There is not enough headroom to climb into the attic or even crouch down – it's only 24" or so. The access hatch is in the middle of the house front to back and against one side wall (shared with neighbor house). The house itself is about 35′ front to back and 20′ wide. Can blown-in insulation be applied here? If an installer stands on a ladder propped against the hatch opening, and holds the tube, can it throw the insulation 15′ or so in all directions? Thanks! Mare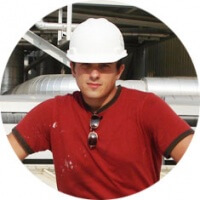 This roofing guide is presented by Leo B.

I've been a roofer for 15 years, and specialize in Metal Roofing and Flat Roofing.

Have a roofing question or issue? Ask me any roofing question!

Roofing Contractors - join our free Local Roofers directory to get more customers!