We are looking to build a Custom home in TX, which will have Flat Roofs. Looking for the best and high-end materials, which will not leak or fail, thus giving complete peace of mind!
In that regard, I was wondering if you have gotten a chance to look at a Product called "EverSeal.com". Is it possible for you to compare that with IB PVC?
At-least for a lay person, it appears to have superior qualities than PVC and most importantly the application process seems much less labor intensive (since it is liquid and spread quite easily) and hence it seems to be foolproof than PVC application (which has to be welded piece by piece)?
The cost seems to be much higher, but if it provides 100% guarantee, then is it worth considering?
Any advise is greatly appreciated.
Thank you in advance.
Anant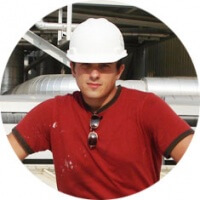 This roofing guide is presented by Leo B.

I've been a roofer for 15 years, and specialize in Metal Roofing and Flat Roofing.

Have a roofing question or issue? Ask me any roofing question!

Roofing Contractors - join our free Local Roofers directory to get more customers!