Hello Leo,
I have a house with a slate roof 100 yrs old. One valley was done with EPDM rubber. I think of replacing it with aluminum shingles that looks like slate. The ridges are copper, don't know if that will cause problem and ridges should be made from aluminum as well. The house is located in Boston, approximately 5 miles from the ocean. Thanks.
1 Answers
Vladimir,
Copper ridges WILL be a problem for aluminum shingles, due to oxidation between copper and aluminum.
Just get aluminum ridges – it's not that much money … and you can turn in all your copper to a scrap metal for pretty penny 🙂
Good luck.
PS – I'm also in Boston area, so if you need a referral for an excellent metal roofing contractor – let me know.
Please login or Register to submit your answer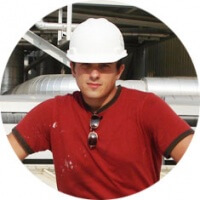 This roofing guide is presented by Leo B.

I've been a roofer for 13 years, and specialize in Metal Roofing and Flat Roofing.

Have a roofing question or issue? Ask me any roofing question!

Roofing Contractors - join our free Local Roofers directory to get more customers!