Leo,Hi,built in 1950 this is a 2 story commercial building is located in Ronceverte WVBrick facade and cinder block construction The roof is a 40 x 60 low pitch flat roofI am in the process of getting an estimate for a new flat roof installation.This includes removing the roofing material and replacing some rot and water damageTo the roof underlayment along the roof's perimeter.The underlayment consists of tongue and groove 2×6 and I am guessingSome kind of ply or osb over that.The roof is supported by 4 massive 20 inch tall steel I beams15 feet apart each spanning 40 feet andresting on reinforced concrete columns imbedded in the outside walls.(This allows the second floor of the building to be an open 40 x 60 x 12 space with no supporting columns)Knee walls sit on top of each I-beamGradually diminishing in height to create the gentle slope of the flat roofThere is a crawl space between the ceiling and the roofon which sits fiberglass batting.I want to permanently remove the ceiling and the batting,and expose the roof structure and underlaymentSo that I can enjoy looking at these magnificent I-beams and also be able to monitor roof conditions from bellow. Questions:HOW MUCH INSULATION BOARD FOR THE RIGHT R VALUE?The contractor told me that if I remove the drywall and batting a 20 R value ISO boards insulation would be enough.I am concerned with potential condensation problems, and am thinking that maybe 30 R value insulation would be better?WHAT KIND OF MEMBRANE?The contractor likes the idea of a TPO membrane roofI was leaning towards installing 2 ply Mule-Hide Self-Adhering SBS membrane?WHAT ARE THE BASIC LAYERS NEEDED TO MAKE UP A LONG LASTING DRY FLAT ROOF?Either modified bitumen or TPOwood substrate, moisture barrier, insulation board, and 2 membranes?Thank you . for your considerationAlexis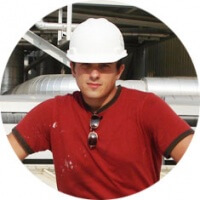 This roofing guide is presented by Leo B.

I've been a roofer for 15 years, and specialize in Metal Roofing and Flat Roofing.

Have a roofing question or issue? Ask me any roofing question!

Roofing Contractors - join our free Local Roofers directory to get more customers!