Here is an in-depth guide to roof vent installation for both new construction and existing homes.
Before you go and spend money on a fancy, expensive roof, take some time to consider how you will vent it. Without a properly installed ventilation system, even the best roofing materials will be susceptible to moisture, rot, and mold.
We will discuss the cost of different roof ventilation types, as well as installation guidelines, to ensure that your system provides optimal air flow.
Understanding ventilation needs of different homes takes a lot of knowledge and experience. Not every roofer will be able to do a good job with this project, especially if a home has existing venting issues. It is best to hire a pro, who specializes in this field.
Most People Spent:
$4,190 - $5,740
(For a 1600 sq. ft. Roof)
See costs in your area Start Here - Enter Your Zip Code
Why Is It So Important To Vent Your Roof?
Before getting into the technical installation details, lets understand why its so critical to have proper ventilation for your roof.
It would be a mistake to think that venting is only beneficial in a particular climate, or with a particular style roof. Nothing can be further from the truth!
Regardless of your roof structure and geographic location, having vents will prolong the life of your roofing shingles, and other materials. It will also minimize energy waste, chance of mold, rotting and structural problems.
Here is an example of shingles damaged as a result of a poor air flow:
Depending on the climate you live in, roof vents will serve a specific purpose:
Cold Weather Regions: if you live in an area that has mostly cold temperatures and a lot of snow, installing vents will help maintain cool temperature on your roof. This in turn, will prevent the formation of ice dams, which are a huge source of damage in cold climates. Moreover, vents will help to remove moisture that comes from the living space into the attic or roof deck.
Hot Weather Regions: if you live in a place that gets high temperatures and a lot of sun year round, vents will expel the hot air (heated by the sun) from the attic and roof deck. This will reduce the high cooling loads and significantly lower your HVAC system's energy consumption.
Mixed Weather Regions: if you live in an area that has both cold, snowy winters and hot summers, roof vents will serve both of the above purposes, protecting your home year round.
Average Roof Replacement Cost in US:
Low End

$4382

Mid Range

$5279

High End

$6599
Installation Guidelines
If you want to vent your roof the right way, there are a number of important guidelines you need to follow.
1. Leave enough airspace
Building code requires there should be at least 1 inch of air space between roof insulation and sheathing. However, experienced contractors strongly recommend leaving at least 2 inches of air space to achieve optimal ventilation.
This is what the structure of a vented roof should look like:
2. Consider your roof pitch
It turns out that roof pitch can have a significant impact on ventilation. As pitch increases, the volume inside the attic also increases, thereby requiring more ventilation. Here is the break down:
– Up to 6:12 roof pitch use the standard formula for calculating the amount of ventilation needed.
– 7:12 to 10:12 pitch makes the amount of ventilation needed increase by around 20 percent.
– 11:12 roof pitch and higher call of an increase in ventilation of about 30 percent.
You can use our Roof Pitch Calculator to determine the pitch of your roof.
3. Balanced air flow
The key to effective venting is to have a continuous circulation of air through the roof deck and/or attic space. For this you should install about half of the units in the soffit or eaves at the bottom of the roof (intake), and the other half in the gable or ridge of the roof near the top (exhaust). As a result, the soffit vents will bring fresh outside air into the attic, while the ridge vents at the top will expel hot air rising up from the inside.
How Much Does It Cost To Install Roof Vents?
Typically the cost of new vents is rolled into the total roof replacement cost. In this scenario, the pricing is cheaper than if you need to install them separately.
If you need to get new vents without replacing your roof, you will pay the following prices:
| Vent Type | Average Cost (labor and materials) |
| --- | --- |
| Ridge Vent | $400 – 600 |
| Soffit Vent | $300 – 450 |
| Dormer Vent | $200 – 300 |
| Solar Vent | $500 – 1,000 |
Note, these prices are approximate, and there are a number of factors that will drive up the cost:
1. Your geographic location: Depending on local market values, roofing contractors will charge more or less for labor than the national average.
2. Number of roof elevations: If you have two or three elevations, you will need to install the same number of separate ridge vents. This will significantly increase your cost.
Vent Material: depending on the quality of material, the vent itself can be more or less expensive. For example, a soffit vent can be made from plastic (cheap), PVC (mid-range) or aluminum (high-end). We strongly suggest selecting a high quality material for your units.
3. Unexpected roof repairs: if a roofing contractor discovers a leak or broken shingles in the course of installing roof vents, you will need to pay for this repair. Most roofers charge an average of $350-600 for repairs.
Tear off existing ridge vent: this will drive the cost of installing the new unit. Also, you will most likely need to pay for the installation of the first course of shingles, that would have been torn off with the old ridge vent.
Roof complexity: if you have a very steep, or cut up roof that is hard to walk on, your contractor may charge a premium for labor.
Your Estimated Roofing Cost
Roof Price:
Cost per sq. ft.
Roof Size:
Roofing Material:

See costs in your area Start Here - Enter Your Zip Code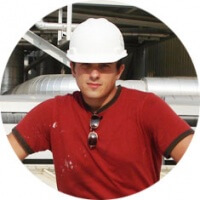 This roofing guide is presented by Leo B.

I've been a roofer for 15 years, and specialize in Metal Roofing and Flat Roofing.

Have a roofing question or issue? Ask me any roofing question!

Roofing Contractors - join our free Local Roofers directory to get more customers!