Find out about the downsides of the Owens Corning shingles warranty, that you as a homeowner may not be aware of.
Like many big manufacturers, Owens Corning uses their "Lifetime" warranty offer as a way to attract customers and assure them of the durability of their products.
However, as a consumer you should know that this warranty is not as comprehensive as it may appear at first glance.
Lets go over what the roof warranty actually covers, ways you can protect your home and actually get paid, if something goes wrong.
Most People Spent:
$4,190 - $5,740
(For a 1600 sq. ft. Roof)
See costs in your area Start Here - Enter Your Zip Code
What does the warranty really cover?
Most people who purchase various "Lifetime" Owens Corning shingles get the Standard Product Limited Warranty. While the word "Lifetime" sounds really impressive and may create the impression that shingles last a "lifetime" or are covered for a "lifetime", the warranty makes it clear that this is NOT the case. All you have to do is READ THE FINE PRINT.
Once you do, there will be no illusions about what is covered.
Here is the link to the Standard warranty.
Here, we will outline the most important aspects of this roof warranty, which we find a lot of homeowners miss or misunderstand:
1. Coverage: Owen's Corning ONLY covers manufacturing defects of the shingle itself. This means that NO other part of the roofing system, which may be defective or improperly installed is covered. It also means that any leaks or damages that are due to improper installation of the shingles are NOT covered. Furthermore, the warranty explicitly states that damages to shingles as a result of wind blow-off or algae infestation are NOT covered.
2. Length of Coverage: On one hand, you do get "Lifetime" coverage, but what does it actually mean? Well, there is a table in the document that breaks it down. There are actually three distinct periods of coverage:
1. True PROtection Period (Years 1-10): 100% compensation.
2. Prorated Period (Years 11-40): 80% compensation, reduced by 2% every year thereafter until year 40. This means that the amount of your compensation will be modified (lowered) based on the number of years you have had the roof from the date of installation, up until the date you filed the claim.
3. Prorated Period (Years 41 and beyond): 20% compensation.
Compensation Terms: one of the most important aspects that most homeowners miss, is what they actually get if they file a claim. Well, it turns out that its not much.
It explicitly states that if there is in fact a manufacturing defect, Owen's Corning has the sole right to determine the form of the compensation:
During the True PROtection Period, the manufacturer can decide the following:
1. Replace the shingles, and compensate the homeowner only for the cost of replacement of Owens Corning shingles and the labor directly required to replace the defective shingles.

2. Repair or recover the shingles, and compensate the homeowner only for the cost of the labor directly required to repair or recover the defective shingles.
During the ProRated Period, the homeowner gets prorated compensation of the cost of the defective shingles, but NO other costs will be covered.
The warranty also explicitly states the following: "Owens Corning reserves the right to arrange directly for the repair or replacement of your products instead of compensating you directly."
Under these terms, you as a homeowner should not expect any actual money (equivalent of what you spent on the shingles). Moreover, this also means you will have no control over this replacement/repair process.
It is also clear that the company will not pay for any damages done to your property, as a result of the leaks. They will also NOT pay for a contractor to actually fix the roof.
This means that even if you get them to replace the damaged shingles, you will have to foot the majority of expenses associated with roof repair or replacement.
You should also realize that the process of filing a claim and getting compensation will take months and Owens Corning will most likely give you a major run around before they pay a dime. This means that while you are waiting for those replacement shingles, your roof will continue to leak and your home may sustain further damages.
Replacement Shingles: if your claim is successful and you do end up getting replacement shingles, you should NOT expect that they will match the ones you already have on your roof. What????????
Indeed, as counter intuitive as this may seem, the warranty explicitly states, that the company reserves the right to: "discontinue or modify our shingles, including their colors". If they replace the shingles under this warranty, they reserve the right to: "provide you with substitute Owens Corning shingles that are comparable only in quality and price to your original shingles".
How You Can Protect Your Roof and Your Home
By now, it should be clear that having the basic warranty, does not offer much real protection.
So what can you do to protect your home and roof, and minimize any potential damage in case of leaks and any other costly issues?
1. Don't save money on installation: hire a real pro!
The reality is that most top manufacturers, whether its Owens Corning, GAF or CertainTeed have products of comparable quality. In most cases, roofs leak (especially in the first few years of service life) due to unprofessional installation.
For optimal performance, roofing shingles must be properly nailed, using the right materials, following strict manufacturer standards. If a roofer decides to "bend" the standards, you will end up with a perfectly good product that is leaking for no apparent reason.
Therefore, the best thing is to hire a local roofer, who is fully licensed and insured, has good references from previous jobs and also offers a solid labor warranty. You want to work with someone who will still be there to honor their labor warranty 5 years down the line, rather than a fly-by-night operation that will close its doors very quickly.
Install Roof Shingles

$4872


Average price

Install Metal Roof

$10253


Average price

Install Flat Roof

$8257


Average price

See costs in your area Start Here - Enter Your Zip Code
2. Inspect roof leaks or other problems right away
Many homeowners have a tendency to ignore the roofing problems that they notice, until the damage starts to get real bad. This is a huge mistake that costs more to fix the longer you wait.
If you notice leaks (even if they are very minor) or a few of your newly installed shingles get blown off, or any other concerns, call your roofer right away to inspect the problem!
He may discover that there is indeed a manufacturing defect, and you will need to start the process of filing a claim.
3. Keep all your paperwork in order
To be successful at filing a claim, it is very important to have all paperwork related to your home ownership and the roof itself in order. Once you file your initial claim, Owen's Corning will start requesting many documents to move the process forward.
These will include:
– the initial warranty papers
– your house deed
– your taxes
– pictures of the roof damage
– samples of the damaged shingles
Be prepared that there will be so much paperwork that you may feel like just giving up on pursuing the claim. Sadly, this happens often, as most people are not organized enough to keep their paperwork in order, especially if they have owned the house for many years.
Your goal is to be prepared for this and get what you deserve under the warranty's terms. Unfortunately, most roofing manufacturers don't make this process easy or straight forward for their clients, and Owens Corning is no exception.
4. If you buy a home, be sure to transfer roof warranty
As we discussed before, if you buy a home from the person who initially got the new roof and the warranty, you must make sure to TRANSFER the warranty to YOURSELF. The document outlines what this process should look like. If this does not happen, the manufacturer will not honor the original warranty.
Your Estimated Roofing Cost
Roof Price:
Cost per sq. ft.
Roof Size:
Roofing Material:

See costs in your area Start Here - Enter Your Zip Code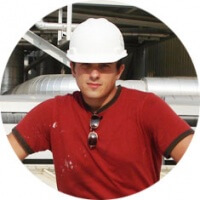 This roofing guide is presented by Leo B.

I've been a roofer for 15 years, and specialize in Metal Roofing and Flat Roofing.

Have a roofing question or issue? Ask me any roofing question!

Roofing Contractors - join our free Local Roofers directory to get more customers!