If you are ready to install a metal roof, contact your local roofing pros for FREE ESTIMATES!
Types Of Metal Roof Paint
While your roof will last at least 50 years, the painted color coating may last a lot less, depending on the quality you choose.
Cheaper, lower quality paint is not treated to block ultraviolet light. Therefore, it will not stand up well to the elements over the years, and will eventually chip and fade. The good news is that you can repaint it once you feel it has lost its original curb appeal.
However, if you don't want to go through the hassle and extra costs of repainting every 10-15 years, you can select a premium quality coating.
It will remain looking like new for years to come. Moreover, it will protect your roof from the sun, moisture and mildew; the elements most responsible for affecting how the color looks over the long haul.
SMP vs. Kynar 500 Coating
The two most common metal roof coatings available are SMP (budget) and Kynar 500 (premium). Lets take a look at each to understand the difference in quality.
SMP Metal Roof Paint
This coating is made of Siliconized Modified Polyester (SMP). While it is not the industry's leader when it comes to protection against fading and chalking, one major benefit is that it is not easily scratched during handling.
Field testing shows that SMP coatings start to fade and chalk after 10-12 years. Weathering signs may appear even sooner in harsher climates, such as those with high sun and wind exposure.
In the residential roofing industry, SMP coatings are positioned as a viable, budget friendly alternative to Kynar 500.
Kynar 500® Metal Roof Paint
Kynar coating is made of high-performance fluoropolymer resin, and is used to protect both aluminum and steel.
Kynar is the top choice for most architects and builders, as it provides superior durability and protects your color against chalking and fading.
Kynar paint typically comes with a 30 year warranty and outlast the competition in terms of gloss and color retention over time.
Install Roof Shingles

$4872


Average price

Install Metal Roof

$10253


Average price

Install Flat Roof

$8257


Average price

See costs in your area Start Here - Enter Your Zip Code
Color Fading On Metal Roofs
Roof paint's resistance to fading comes primarily from the type of pigments used. Ceramic pigments are the best at holding color.
They are made from metal oxides, which are fused under high temperatures, making them the most chemically stable and therefore fade resistant.
However, these pigments are also the most expensive, which means that they are not going to be found in abundance in cheaper coatings.
Kynar 500 is made up of ceramic pigments, therefore it offers superior fading protection. By contrast, SMP coatings don't make use of ceramic pigments, and consequently fade much faster.
Note, that in regions with a lot of sun (UV exposure), colors tend to fade at a faster rate than in areas where there is less sun.
Moreover, dark and more saturated tones (deep blues, greens, reds, etc) will also fade faster than more muddy and light ones.
Fading will also be a lot more noticeable on darker color metal than on lighter one.
Chalking Issues On Metal Roof Paint
This issue can be attributed to the quality of resin used in a roof paint coating. SMP does not contain high quality resins, resulting in poor chalking resistance.
By contrast, Kynar paint is made from the strongest possible resin, with a chemical composition that renders it completely immune to degradation from the sun's UV rays, moisture, acids, chemicals and pollutants.
Take a look at the results from this field test, conducted in South Florida:
What Is The Best Metal Roof Paint?
Kynar coatings have been introduced to the roofing industry in the 1960's. Since then, they have continuously been exposed to field testing in the harsh South Florida climate; notorious humidity and UV light. This makes for a solid 45 year history of testing and great performance.
By contrast, new SMP coatings are introduced by manufacturers every 4-5 years. This means that many of these coatings have a performance and field testing history of no more than 10-15 years in South Florida exposure.
However, to attract consumers, many of these products are marketed as offering the same protection as Kynar.
Average New Metal Roof Costs In US:
Low End

$9,202

Mid Range

$10,339

High End

$13,131

See Costs in Your Area! Start Here - Enter Your Zip Code
SMP vs Kynar 500 Quality Comparison Chart
Take a look at this reference chart to compare both coatings:

as
Corrosion Prevention – Metallic Color Coatings
If you are planning to install a steel roof, you should know that under the surface color you see, steel also has a special metallic coating.
Each sheet of steel gets this coating on both sides, to protect against rusting. When the iron in steel is exposed to air, it oxidizes and rust forms. The coating serves as a barrier, protecting the iron from oxidation.
There are two types available: Galvanized and Galvalume.
Galvanized Steel Roof
This coating made of 100% zinc. Galvanized steel is available in a variety of thicknesses, depending on the final application.
Because zinc is a more active metal than iron, it oxidizes first, thereby forming a protective barrier – zinc oxide. There are a number of grades available, with the highest being G-90 (contains the highest percentage of zinc).
Galvalume Roof
This coating is made of zinc and aluminum, where the aluminum is 55% by volume. Because of the presence of aluminum, which does not rust, Galvalume provides superior protection.
Field tests have demonstrated that a Galvalume roofing is up to three times more effective in protecting against rust than Galvanized (G-90) steel.
While Galvalume steel costs more, we strongly recommend it, to ensure the highest level of protection against rust.
Note, aluminum roofs are not susceptible to rusting, and are therefore considered a more premium material than steel.
Metal Roof Paint Energy Efficiency
When you consider different colors for your roof, keep in mind that your choice will have a great impact on your home's energy efficiency. While a metal roof is already more energy efficient than asphalt shingles, you can maximize its efficiency by choosing the right color.
Light metal roofing colors, such as: white, beige, bronze, sand, light blue, etc., reflect the sun's rays a lot better than darker ones, thus keeping your home cooler in the summer.
Compared to asphalt roofing, a white metal roof can be as much as 50-60 degrees cooler in the summer! This also means that your electric bill will be significantly lower.
Especially if you live in a hot climate, where your house gets a lot of sun exposure throughout the year, a light coating (white in particular) can help lower your cooling costs by as much as 15-25%.
To make the right pick, it is a good idea to consult the Energy Star approved list of "cool" colors and manufacturers.
On the other hand, if you live in a cold climate, without much sun and your house is a bit cool even in the summer, it is best to select a darker tone, a brown metal roof is often a favorite. It will attract the sun's rays and help retain heat. This will allow you save on heating costs.
MCA Certification Program For Metal Roof Paint
If you want to be sure of the quality of the paint coating you are getting, look for the MCA certification stamp.
MCA Certification Program has been established by the Metal Construction Association and it assists consumers in determining the quality of paint coating systems.
Based on extensive laboratory as well as field testing in extreme conditions, selected products receive either the "Standard" or "Premium" stamp.
In most areas of the country, MCA recommends consumers go for coatings with their "Standard" label, as these offer years of excellent performance.
However, if you live in a region that gets either extreme sun, rain or wind exposure, it is advisable to select the "Premium" coatings, which have demonstrated superior performance in these conditions.
Note, that MCA Certification is a voluntary program, and not all manufacturers choose to stamp their products, even if they meet the quality criteria.
If you are interested in a product that does not have the MCA stamp, you should contact the manufacturer and request detailed information about the coating's longevity and durability.
Your installer may also provide helpful advice based on his own experience with a variety of products from different manufacturers.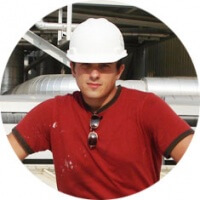 This roofing guide is presented by Leo B.

I've been a roofer for 15 years, and specialize in Metal Roofing and Flat Roofing.

Have a roofing question or issue? Ask me any roofing question!

Roofing Contractors - join our free Local Roofers directory to get more customers!