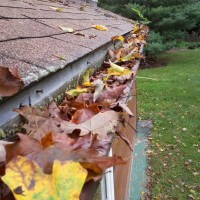 It's essential to properly prepare your roof when replacing gutters!
Gutters are crucial to your home's "well-being" because they protect the house foundation and walls from water that is coming off the roof.
But often gutters get damaged by Ice Dams or falling trees. Also, if they are not seamless they start to leak at overlaps and in corners.
Installing new gutters is NOT expensive, but it still costs money.
So if you are in the process of replacing them you absolutely need to know this:
Gutters are attached to what's called a Fascia Board. On older homes this board is usually made of wood, and it tends to rot.
This happens due to excessive moisture exposure from rain, snow and Ice Dams that accumulate in the gutters, as well as roof leaks caused by ice dams.
In many cases, homeowners and/or contractors cover fascia boards with flat stock aluminum coil to reduce moisture exposure, and make things look pretty. But often, water does get behind this metal trim, and fascias begin to rot.
If fascia board is rotted and you attach a new gutter to it, it will start to fall off very soon, and you will need to replace the gutters once again.
So don't make this mistake – ask your contractor to do the following (or do this yourself if your are the one replacing gutters):
1) Check to see if fascias are rotted.
2) Check for rot damage behind the metal trim.
3) Replace rotted fascias, preferably with AZEK or other PVC trim boards.
I always recommend AZEK / PVC trim board for the following reasons:
A) PVC will not rot!
B) You do not need to trim PVC with aluminum!
C) You can simply paint PVC with any color to match your existing trim!
D) PVC will last much longer than even pressure treated wood!
Installing PVC trim board will cost you about as much as doing the Metal Trim, and will cost less than replacing old fascias with wood boards + metal trim. So the math is on your side.
So, when replacing your gutters, ALWAYS check the condition of fascias, because if they are rotted and you don't replace them, you will be throwing money down the gutter drain!
Cost of replacing Wood Fascias with PVC boards:
Since I mentioned the costs, here is a basic rundown. As always, prices will vary depending on where you live, who you hire, and when you do it.
Basically, PVC / AZEK board costs $2.5-3.5 per linear foot for 1×8 boards (material cost).
It costs $3-4 per foot to remove old fascias ($4-5 if there is no dumpster on the job and the contractor needs to dispose of old boards).
Installing New PVC trim will be another $4-6 per linear foot. So in the worst case scenario, you are looking to pay about $14 per linear foot of new PVC / AZEK board.
If you need metal trim it will be another $5-8 per foot.
Some contractors may charge more, especially if your roof line is up high, or your rafters or roof edges are uneven, etc. Also some contractors just charge more, but $13-14 per foot is a good reference point.
Thanks for reading – take care of your roof!
Check out our previous guide about Ice Dam De-Icing systems built into the roofs.
PS – What price (per linear foot) did you have to pay or got quotes for?

This roofing guide is presented by Leo B.
Have a roofing question or issue? Ask me anything!