When I walk into a house with skylights, I am instantly in love!
The extra light flooding in from the roof elevates the look and feel of any space that would otherwise be unnoticeably dull and boring.
Being that my husband is a contractor, when we go to open houses, I always ask him about the different options of installing skylights if they are not already there.
It turns out that there are many different installation scenarios and the cost also varies greatly depending on what you want done.
(Intro written by my wife – Yelena)
Skylight installation is rarely as straightforward as cutting a giant hole in the roof and encasing it with glass.
Not so long ago, it was thought that skylights inevitably cause roof leaks, and therefore should be avoided. In reality, recent technological advancements have enabled manufacturers to greatly improve the quality of skylight design, which together with better flashing methods makes the unit impervious to water penetration. However, to have a leak free-service life, very precise, high quality installation is a MUST.
Average Roof Replacement Cost in US:
Low End

$4793

Mid Range

$5752

High End

$7350

See costs in your area Start Here - Enter Your Zip Code
Also, there are certain spaces and roof types where installing a skylight is more difficult and costly than average, and sometimes not possible at all. Besides the cost of the actual unit, there is much preparation work that must be done to make the skylights work for you.
Most skylights are intended for asphalt shingles roofs. Installing them on tile or metal roofs is a more complex job and, will therefore cost more.
We will take a close look at all skylight installation scenarios, challenges that you might come across, as well as the installation costs you will need to budget for.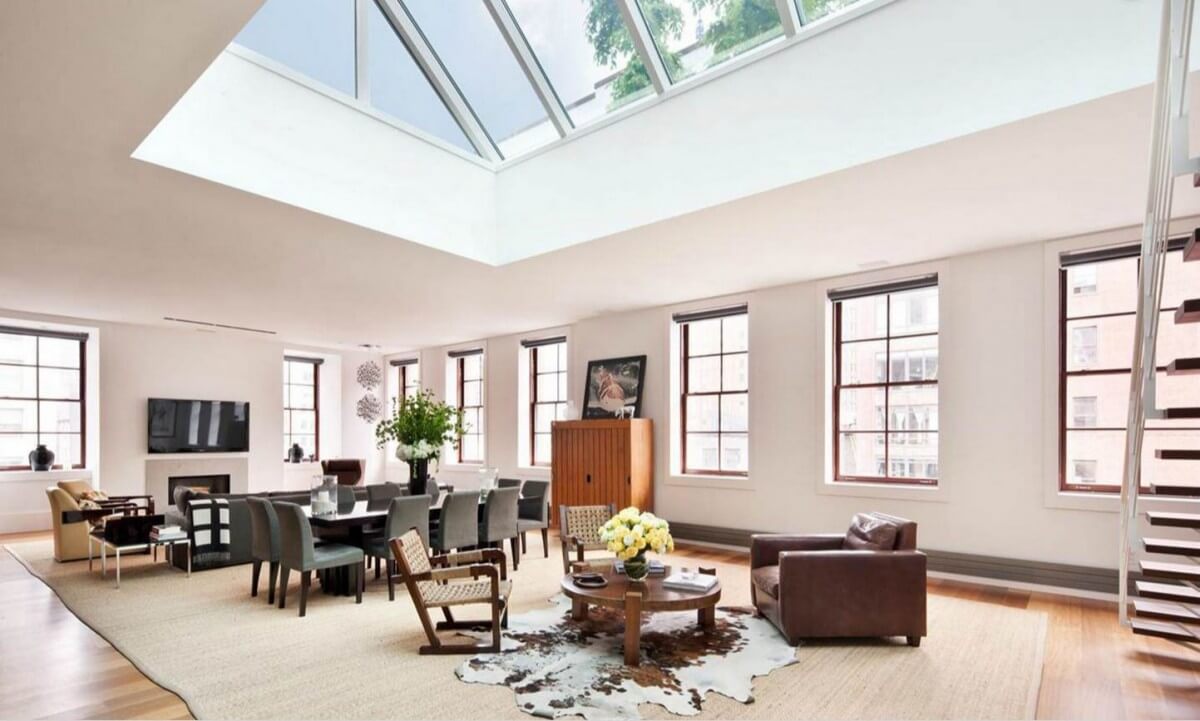 Cost differences for different skylight sizes:
First, the bigger your skylight is, the more it will cost to buy. Buying standard size units will get you the best price. Any special order / custom size windows will cost about 25% more and take 2-4 weeks to deliver, as well as additional shipping costs.
Besides higher unit cost, it also costs more to install larger skylights, as you will need to cut and reinforce more rafters and joists, as well as use more materials.
All the costs below are for typical 2×4 foot roof windows. Other (larger) skylights will increase total project cost by about 5%.
Building curbs for your roof windows will add another $150-300 per unit. Curbs also increase difficulty of flashing and increase the likelihood of leaks.
Before we dive into cost of installing skylights, watch this video to better understand all the different types of roof windows:
With this out of the way, lets look at costs of replacing and/or installing new skylights:
1) Replacing Existing Skylights – the simplest and cheapest option:
Leave this empty:
Refer
Your Estimated Roofing Cost
Roof Price:
Cost per sq. ft.
Roof Size:
Roofing Material:


See costs in your area Start Here - Enter Your Zip Code
Why would you want to replace an existing skylight? The reasons are many:
Your old skylight is leaking
The existing skylight is too small
The glass is cracked
You want to install clear or tinted glass
You want to install vented / electric or solar skylights instead of an existing old one.
The reality is – you can just take the old one out, and EASILY replace it with a new unit of the same or similar size.
Replacement is by far the least expensive and easiest option, because the opening is already in place and all the inside trim is already done. All that needs to be done is for the roofer to remove the old skylight, attach a new unit to the roof, flash to roof shingles with step flashing, install counter-flashing, back pan, and install shingles or other type of roofing material around the skylight and tie it in with the flashing.
If your roof is being replaced together with the skylight, the cost of replacement should be around $150-300 each.
If only the skylight is being replaced, then the cost will be about $750-1200. This includes setting up on the roof, taking out old shingles, installing the skylight, and replacing the shingles around the new unit. The cost will vary depending on where you live, roof slope, height, and other roof related nuances, as well as how much your contractor charges for the job.
On a new roof installation job, replacing a skylight is a simple process and should not cost more than $150 per unit, unless a special new flashing kit is required.
2) Adding a new skylight to a roof with a full attic:
This is the most expensive option.
This is a complex job that requires the following:
-A contractor needs to cut out a hole in a roof
-Make this hole temporary watertight
-Next, install the skylight
-Also, the new rough opening framing must be done to preserve the integrity of roof rafters that are being cut.
-There needs to be an "tunnel" between your room ceilings and the skylight that has to be cut out, framed, insulated and finished from the inside to match your room.
Doing all this work requires more than one day and usually at least two workers. Depending on the details, adding a new skylight will cost anywhere from $2700 to $4500 for a fixed or manual venting unit. For a solar powered unit you will need to shell out another $1000.
3) Adding a new skylight to a cathedral (post & beam) roof
Here the process is very similar to the one explained above. The only difference is that you do not need to build a shaft to connect your skylight to the room ceiling, as they are already very close to each other.
You will still need to cut a hole in the ceiling, cut rafters, frame out a rough opening, install and flash the skylight, and do the finish work.
Since we subtract the cost of building a shaft, your total cost will be about $750 less than adding new skylights to a roof with full attic.
Thus, adding a new skylight to a cathedral ceiling roof should cost about $2000-3800 depending on the details.
How to reduce the cost of adding new skylights?
As usual in any line of business, economies of scale and batching identical tasks reduces costs!
In case of adding skylights, you will probably want more than just one unit. So grouping them together will save you some serious cash!
If you place 3 or 4 skylights in a row, you will only need to build 1 shaft, so a lot of labor and some materials will be saved.
However, since you are cutting larger holes in your roof rafters and ceiling joists, you will need to better reinforce the framing, so the savings are not as straightforward as you might think.
As far as water-tightness goes, Velux and other skylight makers offer special flashing kits that allow you to stack multiple roof windows together without worrying about leaks.
The cost of adding 3 skylights with one shaft should be about $5500-7800. Once again, the costs vary depending on the level of details, complexity and unforeseen circumstances.
Costs of installing Solar Tubes, Sun Tunnels, etc
Without going into details of brand names, adding a solar tunnel is one of the least expensive ways to add natural sunlight to your home. However, because these solar tunnels are only about 15″ wide, you will not get much light unless you add a few of them.
Adding a sun tube will work great in a kitchen or bathroom or even a closet. You can have natural sunlight during the day, as well as artificial electric light at night. Electric lights can be built right into the sun tube!
Each sun tube consists of following elements:
Shaft, Roof-top bubble or flat round window, with flashing, and ceiling light (flat or semi-round). Each unit costs about $350-500. Installation is simple and straightforward:
1) Cut a round hole between rafters / joists.
2) Install solar shaft.
3) Install roof-top bubble and flash to existing roof.
4) Install ceiling opening unit.
5) Connect electric wires (optional).
Installing sun tubes / solar tunnels requires minimal finish work on the inside, and not much roof flashing work on the outside.
Total cost of adding one sun tube should be about $1000-1500.
Technical limitations of installing skylights:
While having skylights in your roof is great, sometimes you cannot add them in certain situations / placements, as it will cause roof leaks.
Examples of such placements are:
Roof Valleys / Hips
Installing skylights too close to roof eaves
Not having enough roof pitch
adding skylights to existing standing seam metal roofs, etc.
All of the above can cause leaks and will diminish roof system integrity. Consult your roofer about proper placement for skylights, and also get a second opinion if possible.
If you do add a skylight near a valley, hip or roof pitch change, place your unit at least 3 feet away from such roof conditions. Never install skylights if you encounter any of the above conditions!
Lastly, you should not add skylights to an existing standing seam metal roof. Since the standing seam metal panels are attached so they cannot be removed, if you start adding penetrations, the roof WILL leak, and you will not be able to properly flash the skylight.
Leave this empty:
Refer
Your Estimated Roofing Cost
Roof Price:
Cost per sq. ft.
Roof Size:
Roofing Material:


See costs in your area Start Here - Enter Your Zip Code

This roofing guide is presented by Leo B.
Have a roofing question or issue? Ask me anything!