Many homeowners what to know what percentage of their new roof installation cost (when the roof is being installed by a contractor), goes into the roofing shingles and other materials / accessories, needed to install their roof. This roofing materials calculator will help you estimate this cost, and will include all needed accessories – not just the cost of roofing shingles.
To estimate roofing shingles and accessories prices, enter roof ground dimensions, roof slope, and type of the roof (hip or gable) into the calculator below:
Roofing Shingles prices are calculated for MATERIALS ONLY, and use a 30-year type Architectural Asphalt Shingles material, and include all necessary accessories and flashing. Roof waste is calculated at 7.5% for a gable roof, and 15% for a hip roof, which are typical in the roofing industry.
To calculate roof replacement price for your house, use our Roof Installation Cost Estimator tool.
To calculate amount of roofing shingles and accessories needed to replace your roof properly, you will need to follow some simple steps outlined below:
Step 1: Measure your roof accurately. Use a measuring tape (preferably 50 or 100 feet long), and get accurate ground dimensions of your house. Place the end hook of the tape on the corner and run it all the way to the opposite corner of the house. Measure both WIDTH (gable side) and LENGTH (eave / butter side).
NOTE: If your house has a HIP roof, than it does not matter which side is LENGTH and which is WIDTH for accurate calculation. This is only important for gable roofs, as calculator uses specific formula to estimate roof run (length of gable). See diagram below: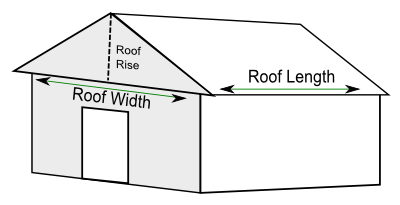 Step 2: Add overhangs to your roof. If you have overhangs on the front, back and sides of your house (you most likely will), take the width of the overhang, multiply by 2, and add to each side.
If the overhangs are not equal width, apply appropriate overhang width * 2, to respective roof side.
Step 3: Plug in the numbers into calculator, and enter appropriate roof pitch / slope. If you do not know how to calculate roof pitch, we will soon publish a Roof Pitch Guide. To calculate the slope of your roof based on degrees, roof rise or X inches per 12″ run, use our Roof Pitch Calculator.
Otherwise use table or roof slope diagram below:
Steep Slope – Roof pitch of 12 or 45 degrees.
Medium Steep Slope – Roof Pitch of 9
Medium Slope – Roof Pitch of 6
Medium Low Slope – Roof Pitch of 3 or 4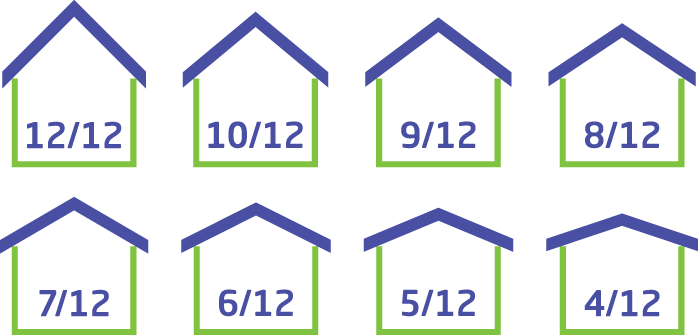 Note that if your roof is low slope (below 3 pitch) asphalt shingles are NOT the right material for your roof. You will need some type of rolled or single ply roofing material, such as Rubber, Rolled Modified Roofing, Rolled Asphalt, or TPO / PVC membrane (best choice, but expensive).
Step 4: Choose roof type: Gable, Hip or Mansard Roof. For Mansard Roof, Choose Roof Run or height of the roof mansard. See diagram below:

Note: Mansard roofs are pretty much "walls" that are built at an eagle, and have a FLAT roof in the middle, which is not being calculated here. Only the sloped wall part is being calculated.
The RUN of Mansard Roof is the distance from top to bottom edges. This is the primary measurement used in mansard calculation, and you need to enter the correct number to get accurate results.
Step 5: Click "CALCULATE" button. Results for Roofing Shingles and all accessories will appear below. Result include Total Roof Size, Total about of materials (including waste), and other sizes, as well as Total Roofing Materials cost and prices breakdown.
To see how much asphalt roofing shingles and accessories cost, see our comprehensive guide.
To learn how much a new roof installation will cost and what is involved, check out our Roof Installation Prices Guide.