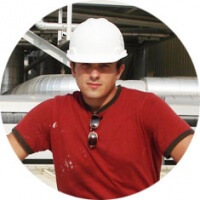 Do you have roof problems or questions? Ask me ANY questions that you may have about roofing.
I will answer most questions within 24 hours and provide a comprehensive analysis of your roofing issue.
Ask me ANY Roofing Question – I will answer! Best of all – this is 100% FREE
Here is the first batch or roofing questions and answers – episode 1.
About me: I've been a roofing contractor since 2004 – majority of my adult professional life. My mission is to help homeowners with their roof problems, issues and questions, because I am a homeowner too, and had similar questions as you, only in other fields, and nobody to give me advice.
About Leo: I've installed and repaired virtually every roofing system there is – from Asphalt Shingles to Copper, Slate, Metal and Flat Roofs.
My specialty is Metal Roofs for steep slopes and PVC / TPO for low sloped roofs. I've installed Residential and Commercial roofs in Massachusetts, Connecticut, and Rhode Island.
Getting answers to your questions:
I will send you a personalize email response in 24 hours. Most interesting question we will post on our roofing blog here.
If you do not want us to publish your question, please indicate so in when you submit it.
You can also subscribe to our (very occasional) newsletter, which we publish about once every 2 months, so no spam from us.
Your Privacy: We will NOT sell your email or personal information to ANY third party. We hate spam just as much as you do!
If we post your question on our blog, we will NOT display your email address, and will only use first letter of your last name (ex: John Smith would be posted as John S.).
My Bragging Rights: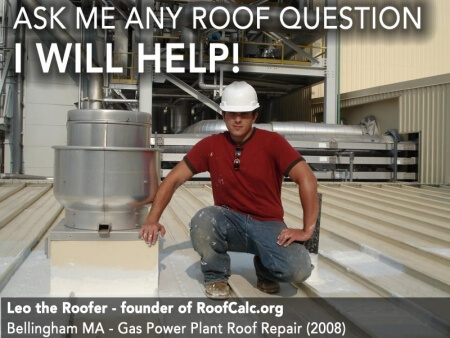 In 2008 we were asked to perform a series of roof repairs at Bellingham Gas Power Plant, which we successfully completed in 4 stages. Many commercial roofers could not get this job because my work quality and ethics were far superior to their roof union roofers.
In 2010 I created a complete Roofing Calculator app for iPhone and Android, that is widely used by more than 10,000 of Roofing Contractors in US and Canada. RoofCalc.org main calculator is based off our professional app, and delevers very accurate cost estimates for 1000s of homewoners in US every day!
In 2015 I was asked by a manufacturer of premium Metal Roofing Shingles and Shakes to help them redesign their roof flashing kit. I was offered to be flown to Ann Arbor, MI for a week and work with company's engineers, to make sure their flashing kit meets MY quality standards 🙂

This roofing guide is presented by Leo B.
Have a roofing question or issue? Ask me anything!