Estimate how much roofs will cost if Mrs. Bill Clinton or Mr. Donald Trump becomes the next US President.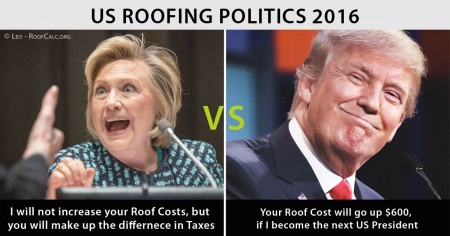 This is a hypothetical cost calculator that predicts how roofing prices will change, depending on who will be next the POTUS - Hillary Clinton or Donald Trump.
The premise is simple - Mr. Trump wants to deport illegal immigrants, who make up a large part (if not the majority) of roof installers in the US. So, if a big part of roofing workforce disappears, they will have to be replaced by legal roofers who will be paid more, which will increase your final cost.
Cast your vote - Calculate Presidential Roofing Prices Now
Mrs. Bill Clinton will probably not change ANYTHING at all, so I predict prices will remain in line with what they are now.
The trade-off here is that more Americans will have well-paying jobs, benefits and will contribute more tax money!
So I don't want to be a skeptic, but the reality is - Mrs. Clinton will likely be the Democratic nominee in the general elections, because she has like 500 super delegates, which Mr. Bernie Sanders does not have, and will never get.
Based on current standings, it is also very likely that Mr. Trump will represent the GOP in the general elections, as much as many high-profile republicans despise him and do not want him to be the nominee.
With my predictions out-of-the-way, let's talk about how these two will affect roofing prices for us - regular Americans:
Trump's influence on home improvement and construction costs: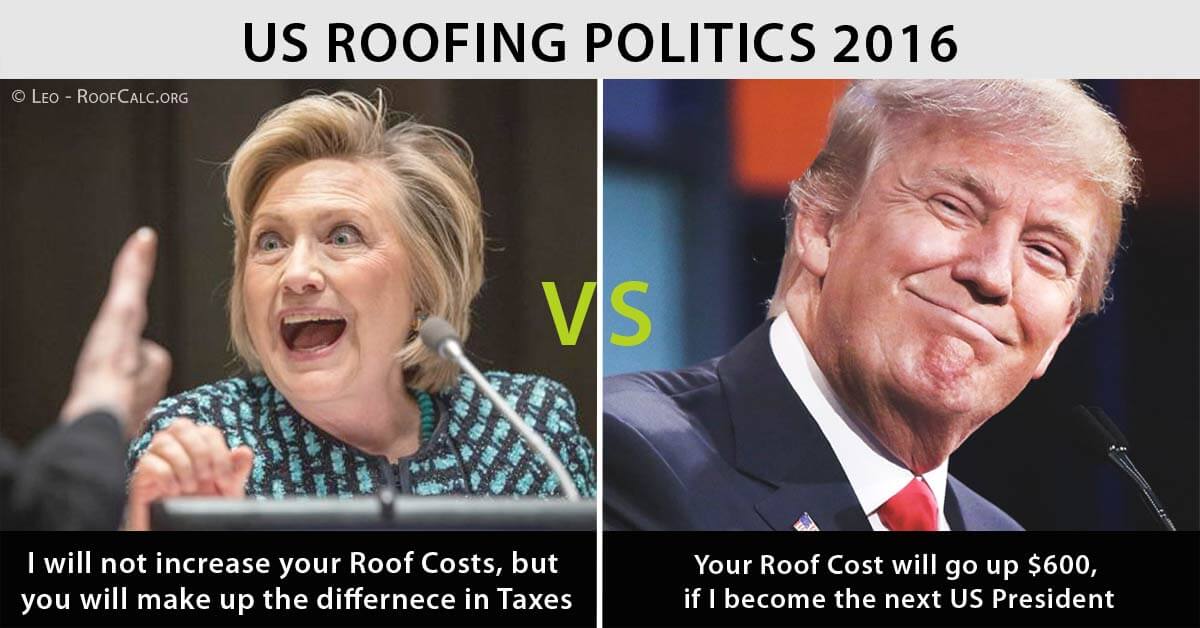 If you have followed this year's presidential campaign, Mr. Trump has mentioned one of his construction projects, a hotel in DC, and his spokeswoman Hope Hicks said the following:
Our contractors are required to have prospective employees produce documentation that establishes identity and employment eligibility in compliance with immigration law.


Source: Business Insider
If you take a look at my detailed analysis of US
roof installation prices
, a documented roofer earns an average of $180 - $250 per full day of work.
An undocumented roofer makes an average of $120 - $180 per day. Let's take a middle number, and we get $215 vs $150 per day.
A crew of 5 can do an average 1600 s.f., 1 storey roof in one day. So contractor's labor cost is about $1075/day for documented workers and $750/day for undocumented ones. The difference is $325/day.
On top of direct pay, roofers have to pay about 35% rate for Worker's Compensation insurance, and about 15% in taxes for each employee. So the real cost of having documented roofers goes up by 50% to about $1612 / day for a crew of 5. Now the savings of having illegal workers is
$862
!
RoofCalc.org - US Residential Roof Price Index
Asphalt roof cost / s.f.
Metal roof cost / s.f.
Flat roof cost / s.f.
Average Roof Size

$4.06
$9.91
$6.74
1574 sf

Residential home roofs under 3000 sq. ft.
Consider that
average roof costs
in US is about $5980 for a 1600 s.f. asphalt shingles roof, if a contractor can reduce his costs by $850 / roof, that is a 14% savings or extra income for him.
Now what roofers do - they pass the savings to the homeowner, but not all of it 🙂 ... They start offering 5-10% discount ... something around $500 off, and that is enough in most cases to get the job. So on each roof, a contractor earns an average of $350 EXTRA by hiring undocumented workers!
An additional benefit of hiring illegal workers is that contractors do not have to deal with filing quarterly employment taxes and mess around with Worker's Comp insurance inspectors (and believe me - this is a major pain). Of course there is a risk, but for the contractor, the risk is mostly financial.
Back to Roofing Politics: Trump or Clinton?
If Mr. Trump becomes the next US President, and does in fact begin dealing with the illegal immigrants issue (which I'm very skeptical about, based on previous presidents' track record), you can expect the cost of roofing and many other home improvement projects to go up by about 10%
If you are a home owner, needing a new roof, you will sure appreciate a 10-15% discount, if it is installed by undocumented workers. But you also risk having a lower quality roof, and are taking away from your fellow Americans who would want to work, but are priced out.
Lower Quality Argument:
Trust me - I've seen this first hand, and you can probably relate to this - when people get paid less, they are not motivated to work better. And roofing is a VERY difficult profession. It does not mean that better pay equals better quality, but chances are that a well paid worker will do a better job.
"Savings" Argument:
You also need to understand that what you don't pay in direct expenses (higher roof prices in our case), comes out in the form of higher taxes.
Example: Because fewer roofers can obtain work (legally), more people collect unemployment and other benefits (which is paid by us, the people).
In the end - you really don't save any money on roofing by voting Clinton or Trump!
With that in mind, who you vote for, is really up to your tastes, preferences, etc. Neither Hillary Clinton nor Donald Trump will save you any money on roofing 🙂
PS
- Vote, or you will lose!
PS2
- I wanted to publish this on April Fools day, but that is an exactly 1 month away, and today is a Super Tuesday (March 1, 2016) and I just came out of the voting booth and was in the mood to make this elections year a little more FUN and entertaining for myself and of course you!
I hope you enjoyed this. Please let me know what you think about it in the comments below.

This roofing guide is presented by Leo B.
Have a roofing question or issue? Ask me anything!