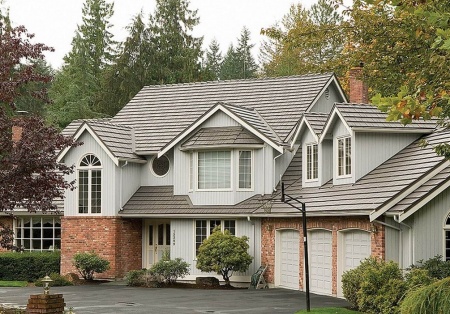 Your home is your most prized possession, and no other roofing material can keep it better protected than metal shingles.
This is an ideal material for people who plan to stay in their home for many years and want a premium roof that offers exceptional style and durability.
If you ever decide to sell your home, a metal roof will offer exceptional curb appeal and potential buyers will be attracted to the prospect of never having to worry about leaks or roof replacement.
While they come at an initially high price, metal shingles offer an unbeatable array of advantages when compared to other materials.
Leave this empty:
Refer
Your Estimated Roofing Cost
Roof Price:
Cost per sq. ft.
Roof Size:
Roofing Material:


See costs in your area Start Here - Enter Your Zip Code
Why Choose Metal Shingles?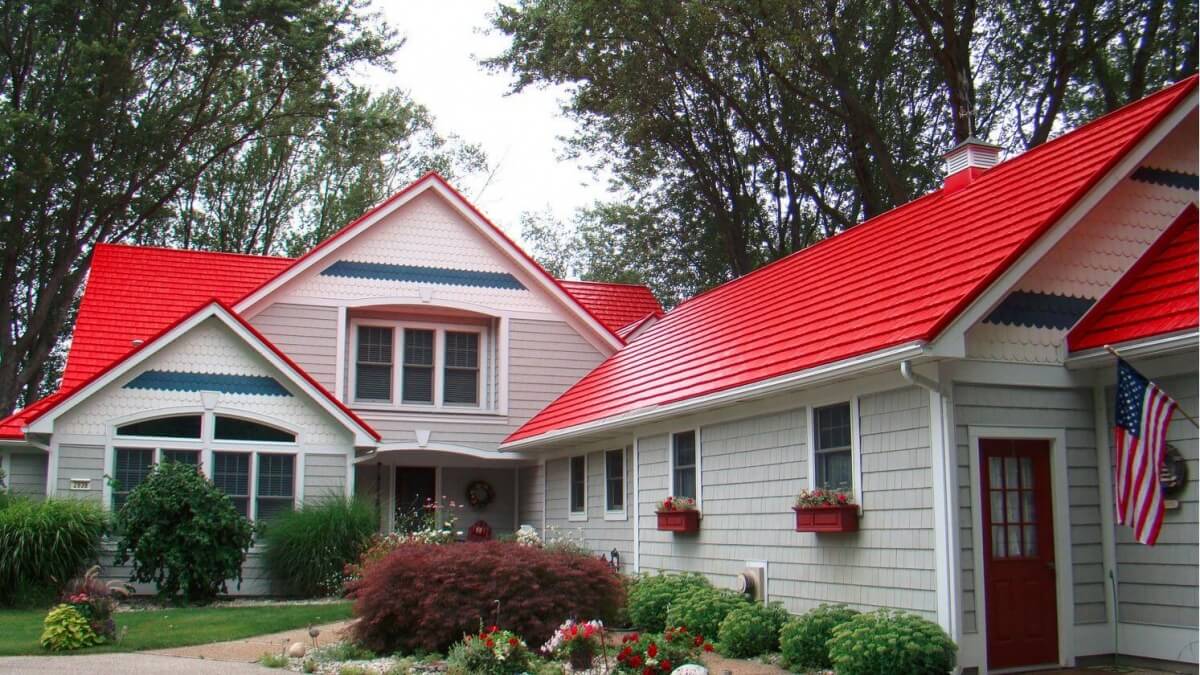 Superior durability and resistance to extreme weather conditions
This material is built to withstand the most adverse weather conditions, such as ice and snow storms, hail, heavy rainfall, ice dams and hurricanes. This makes it a prime choice for homeowners who live in areas that get frequently hit by these natural calamities. Metal remains virtually unaffected by any fluctuations in temperature. They are also not susceptible to rust or moisture related problems, such as mold and mildew, all of which cause major damage to other popular roofing materials.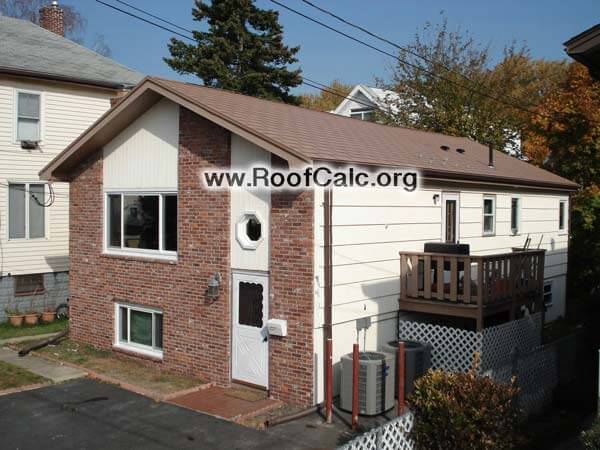 Cost Effective
Aluminum and Steel shingles are the most affordable type of metal roofing. Due to their small profile and construction reinforced by integrated locks on all 4 sides, metal shingles can be made from thin gauge steel or aluminum sheet, without sacrificing durability, longevity and wind uplift ratings.
Aluminum shingles are made from .017″ coil and in some cases even less (Classic's rustic shake is made from .012 aluminum!). Compare this to a minimum .032″ aluminum required for standing seam, and you get almost 50% less metal used to cover same area. Same goes for steel shingles.
This reduced use of metal, combined with simpler installation, is reflected in the cost. On average, they are 40% less expensive to install than standing seam!
You can expect to pay an average of $7-9/sq.ft. for materials and installation, on a typical roof. Keep in mind that when it comes to labor costs, there will be a lot of regional and local variations in contractor's rates. For example if you live in New York City, you may pay 12-18% more for the same installation than someone who lives in Houston, Texas. It is best to contact 3-4 roofers in your area to get an accurate estimate.
Compared to asphalt shingles, metal is the more cost effective option, as it has at least 2-4 times the longevity of asphalt. This means that someone who has a shingles roof will need to do another re-roof 2-4 times, while metal will remain intact. Over the years, the total cost of these additional re-roofs will actually be higher than the initial cost of metal shingles.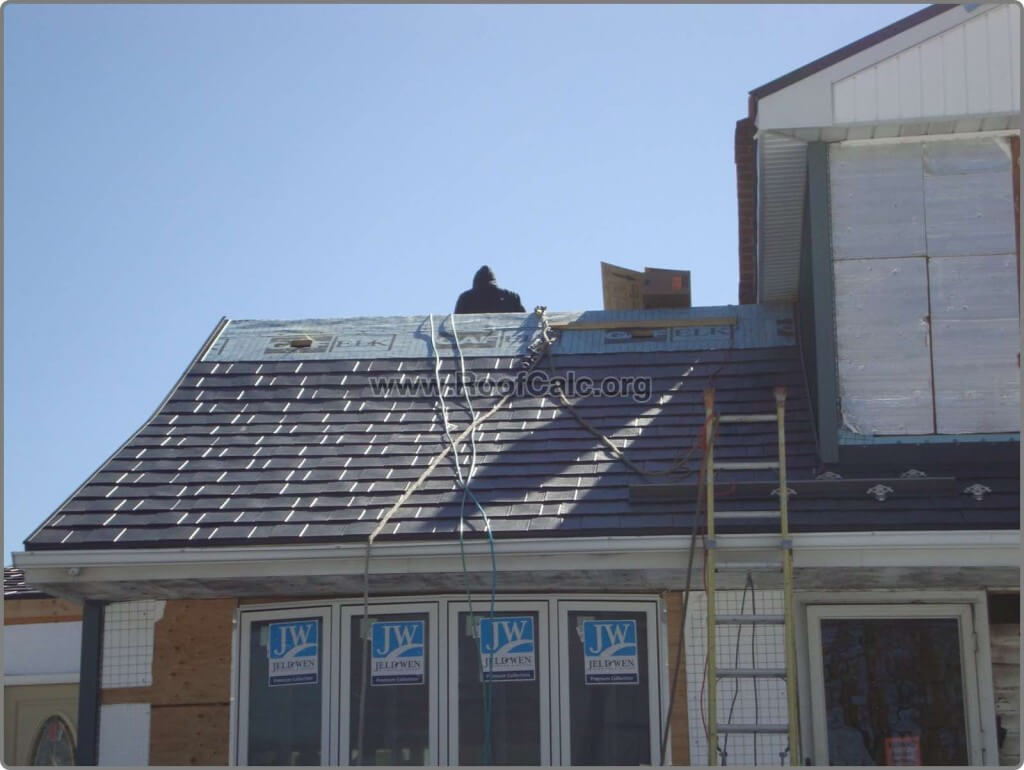 Great Curb Appeal
Metal shingles will suite the aesthetic needs of the most discerning homeowners. They are available in a wide array of designs, finishes, and colors. This makes it possible to achieve any style you desire, from contemporary to traditional, to rustic.
In fact, you can have a metal roof that will not look like metal at all! With advanced technologies, metal shingles can now closely imitate the look of stone, wood and clay. Therefore, you can order your roof to look like traditional shingles, shakes, slate and tile.
Some of the popular and most attractive metal shingles products are Decra Metal Tile, Oxford Slate Aluminum Metal Shingle by CMR, and Interlock Shake (manufactured out of aluminum)
The best part is that unlike other materials, metal will maintain excellent looks even years down the line, almost unaffected by the wear and tear caused by natural elements. What also keeps metal shingles looking like new is their resistance to stains and streaks caused by mold, mildew and airborne algae. As a result, a metal roof not only has great curb appeal, but will also increase the value of your home, should you ever choose to sell it.
Long service life
Metal shingles have warranties of at least 50 years and will essentially last a lifetime. However, to ensure that it lasts as long as its supposed to, you need to hire a professional contractor, who specializes in metal roofs.
This point cannot be stressed enough, because metal roofing installation is very different from other materials. It requires special tools, training and experience that most contractors do not have. Always look at previous jobs completed by contractors you considering hiring. By choosing to invest into high quality installation, you are guaranteed to not ever have to do another re-roof in your life.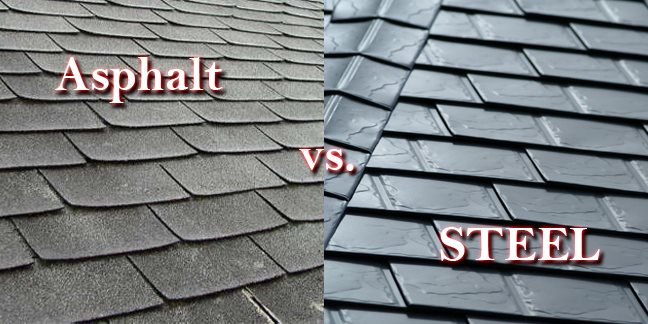 Save on energy bills
This material provides excellent insulation for your home, keeping the temperature inside at a comfortable level, regardless of the temperature fluctuations outside. Because a metal shingles roof has high thermal reflectivity, it will keep the house warm in the winter and cool in the summer.
During the summer, this roof makes your home cooler by efficiently reflecting away sunlight and reducing the amount of heat transmitted inside the house. Likewise, it makes the house warmer in the winter, by reflecting inside heat from the underside of the roof back into the house.
This means that you will be saving a lot of money on the ever increasing heating and cooling costs. Homeowners across the US consistently report energy savings of as high as 20%, after installing a metal shingles roof.
Virtually maintenance free
Because of their exceptional durability, metal shingles are virtually maintenance free, regardless of the climate you live in. You not only save yourself time and the hassle of having to take care of your roof, but also additional money that you would spend on professional maintenance, necessary with other materials.
Environmentally friendly
Most metal roofs contain recycled content that ranges from 25% to 95%. This is in stark contrast to other materials, such as asphalt shingles, which have a much shorter service life and use oil-based products as their primary raw material. Metal shingles can also be recycled at the end of their long service life, instead of going into our landfills. Moreover, if you are doing a re-roof, they are light enough to be installed over your existing roof, which means that you will not need to send it to the landfill either.
Leave this empty:
Refer
Your Estimated Roofing Cost
Roof Price:
Cost per sq. ft.
Roof Size:
Roofing Material:


See costs in your area Start Here - Enter Your Zip Code
Get Free Roof Prices Quotes from Local Roofers

This roofing guide is presented by Leo B.
Have a roofing question or issue? Ask me anything!