A new metal roof can be one of the most expensive residential roofing options, rivaled only by the likes of Natural Slate, Clay Tiles, Wood (Cedar) Shingles and Shakes and Synthetic slate shingles.
However, it is possible to have a metal roof installed on a budget – relatively inexpensive, compared to the materials listed above.
It is important to understand that a metal roof will always cost more money than asphalt shingles, but there are a number of affordable options to consider.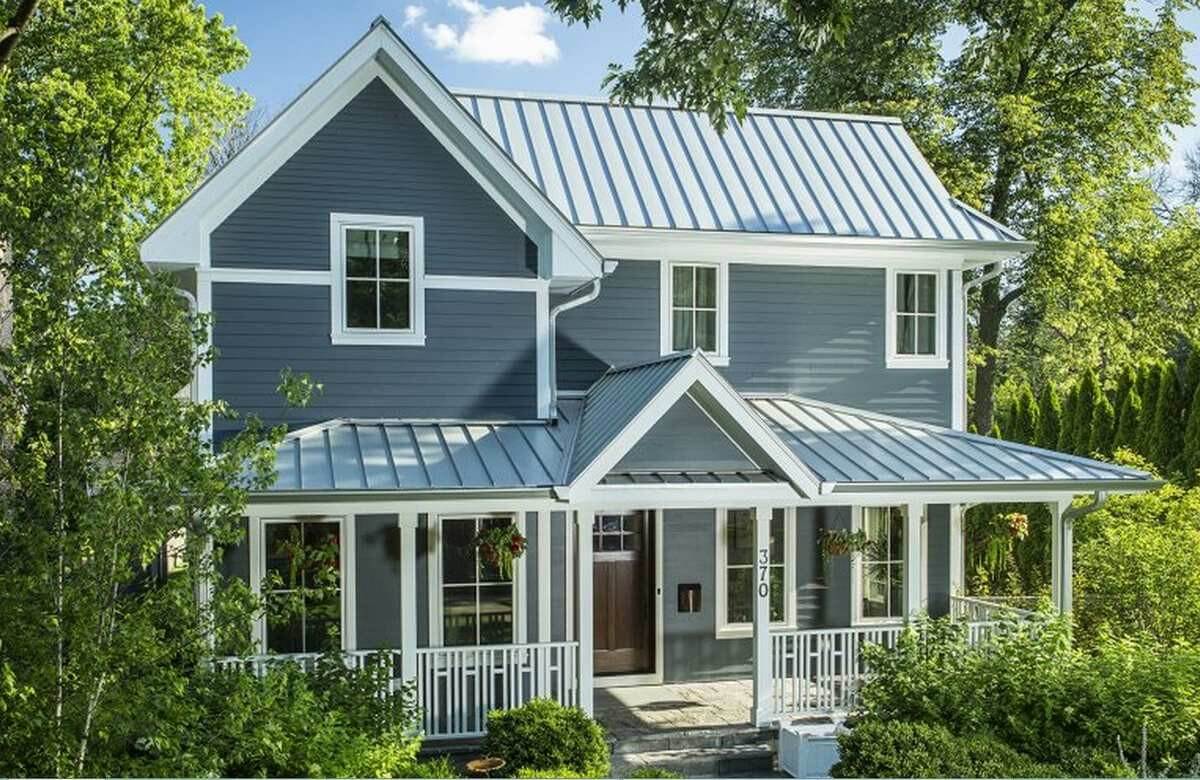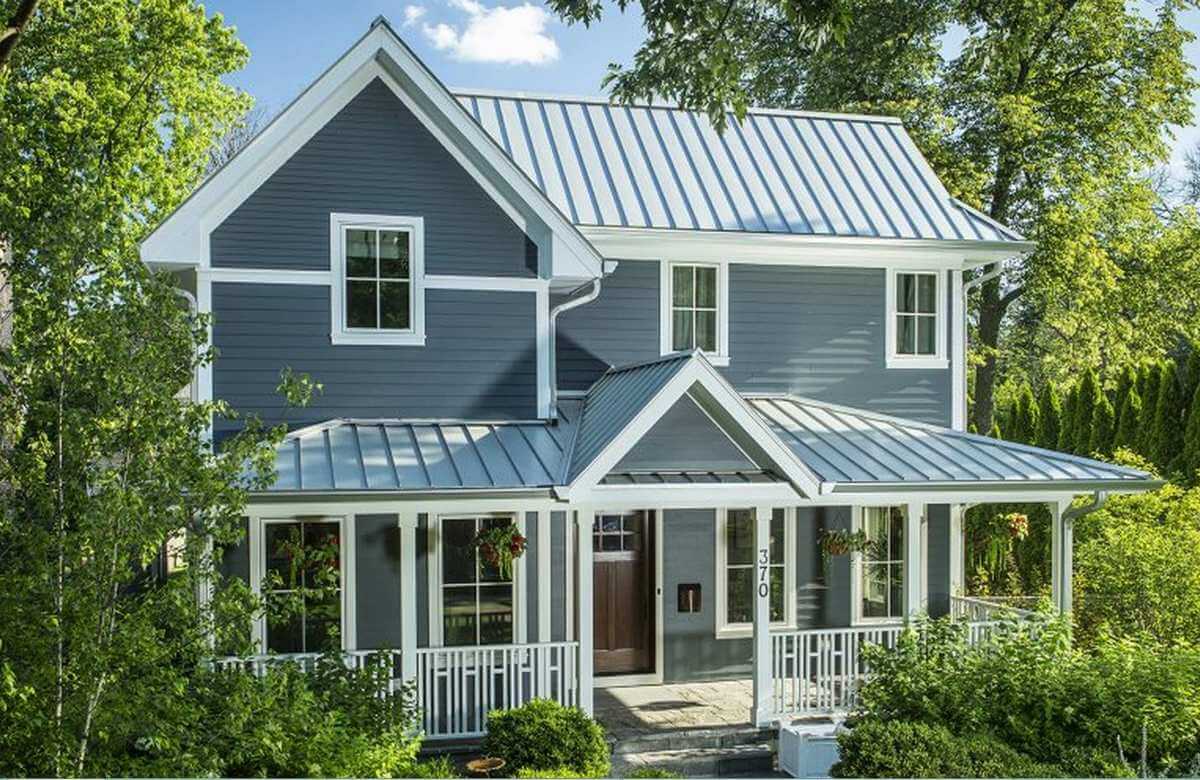 Average Roof Replacement Cost in US:
Low End

$4793

Mid Range

$5752

High End

$7350

See costs in your area Start Here - Enter Your Zip Code
Below we will take an in-depth look at the average installation prices charged by specialized contractors, and at the cost of materials for various types of systems (styles) and for different metals. Install prices presented below include the materials (that a contractor buys for the job), removal of old shingles, typical carpentry repairs (fixing up-to 100 sq. ft. of sheathing/substrate), new synthetic underlayment, new chimney / skylight flashing, ventilation, the roof itself, as well as all necessary flashing and snow guards. The snow guards are installed in the "snow country" to prevent ice and chunks of snow from falling on your head, or cars parked directly below the roof. These also include permits, and debris disposal.
Material prices include all flashing accessories for each system that would be installed on a typical cape / colonial style home with 1-2 chimneys, 2-4 skylights and a dormer or two. Material costs EXCLUDE underlayment, ventilation and other materials which are not a direct part of the system.
A Quick Look At Metal Roofing Types
Before we go into costs, lets take a look at the most popular types of metal roofing:
1) Standing Seam – architectural vertical panels with concealed fasteners.
2) Corrugated Steel Panels – vertical panels with exposed fasteners.
3) Metal Shingles – horizontally installed interlocking metal panels that imitate slate, tile or wood shingles/shakes.
4) Stone Coated Steel Tiles & Shingles – heavy gauge steel panels, coated with crushed stones powder (typically installed in the southern and midwest states).
Costs – From the Most Affordable to the Most Expensive
Corrugated Steel – Total cost to install – $4-5 per 1 sq. ft.
Leave this empty:
Refer
Your Estimated Roofing Cost
Roof Price:
Cost per sq. ft.
Roof Size:
Roofing Material:


See costs in your area Start Here - Enter Your Zip Code
The least expensive type of metal is corrugated steel. Often installed over purlins or over existing asphalt shingles, these panels come in large, easy to install sizes (3′ wide panel, cut to specific length, or as standard 3×10′ panels sold at home improvement stores like the Home Depot (not in all states).
Corrugated panels offer VERY fast and rather easy installation, and a fairly low material cost. In fact, it can compete with asphalt shingles on price. Material cost of an R-panel is about $1.10 per sq. ft., and a "lifetime" (yeah, right!) asphalt shingle will cost about $1 per sq. ft. In Midwest states, the complete system cost for both types of roofing is fairly equal.
However, with low cost comes relatively low quality, and there is nothing you can do about it. Corrugated metal panels are made of VERY thin metal (29 Ga. galvanized steel), and are usually painted with acrylic coating, which lasts about 15 years. These roofs are also installed by screwing fasteners right through the panel, into the deck / substrate or purlins (horizontal framing). The screws become loose after a few years, and need re-tightening. These are also usually the source of leaks. Additionally, corrugated steel is not suitable for complex roofs with valleys / dormers / skylights, because the system lacks crucial flashing components.
Metal Shingles – total cost to install – $7-9 per 1 sq. ft.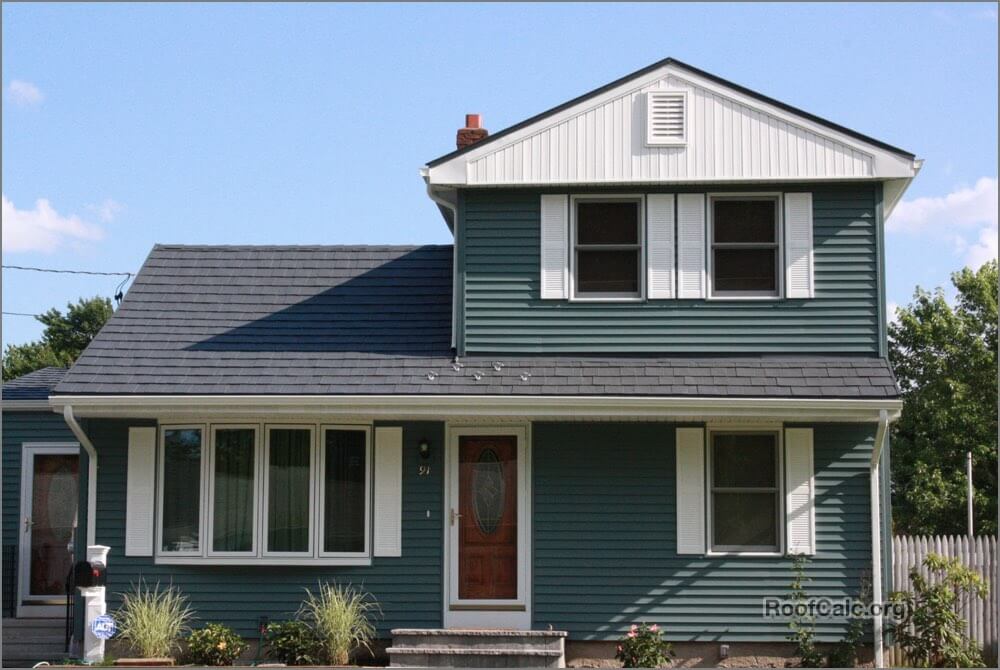 Average Roof Replacement Cost in US:
Low End

$4793

Mid Range

$5752

High End

$7350

See costs in your area Start Here - Enter Your Zip Code
Unlike corrugated steel, metal shingles are made of a much higher quality steel (G-90 or Galvalume) or Aluminum, and are painted with premium Kynar 500 resin based coatings. Metal shingles use a concealed fastener installation method, and are not subject to rusting and leaks nearly as much as corrugated panels.
Metal shingles are considered an architectural / premium system offering high quality and longevity and yet are VERY affordable.
The cost of materials for metal shingles ranges from $2.5 – $4 per sq. ft., depending on the manufacturer, and metal they are made from. These shingles typically last 40+ years. While they are not as cheap as corrugated panels, they offer great curb appeal, and superior protection against rain, snow and ice. For comparison, cost to install asphalt shingles is about $2.75 – $3.50 fer foot.
Stone-coated steel – installation cost: $8-9 per 1 sq. ft.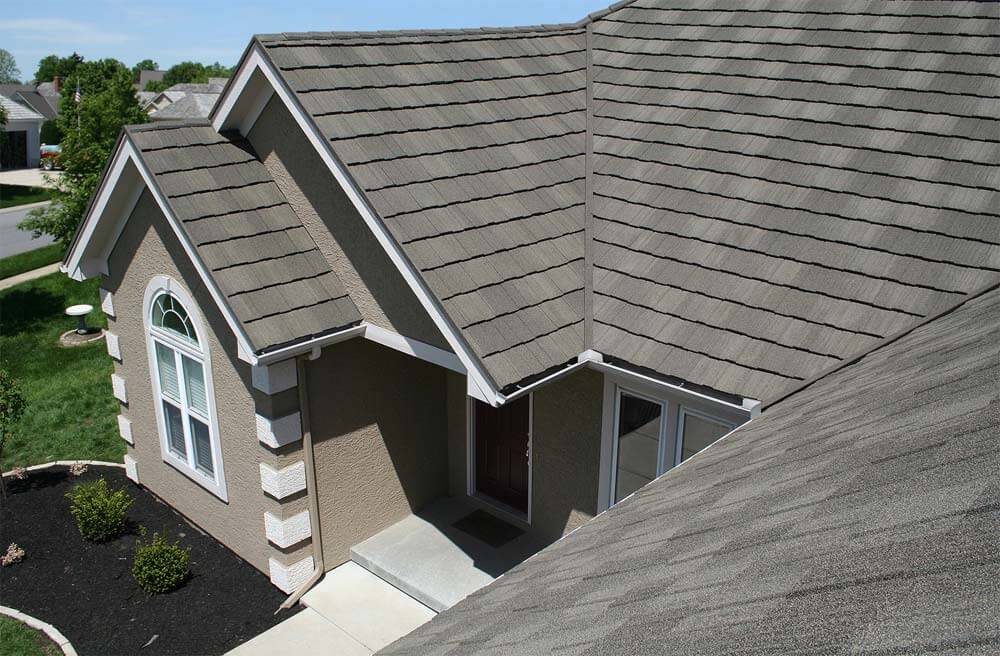 These heavy gauge (22 ga steel) metal tiles and shingles, are more expensive than painted metal shingles, as they use more metal, and are also coated with colored granules to imitate clay/concrete tile, cedar shakes and shingles.
This is an excellent "budget" option, if you are looking for a Florida style clay roof, but do not want to pay $20/sq. ft. for materials and do not want the extreme weight on your roof (as much as 10 lbs. / sq. ft.), which most roofs will not support.
Leave this empty:
Refer
Your Estimated Roofing Cost
Roof Price:
Cost per sq. ft.
Roof Size:
Roofing Material:


See costs in your area Start Here - Enter Your Zip Code
These tiles and shingles are also excellent for hail, wildfire and hurricane/tornado states, as they will not burn, and will withstand over 2″ hail and over 110 MPH winds.
Overall, stone coated steel is not a budget-friendly metal roof, as it can get very costly, when installed on a complex roof. However, it is much cheaper than a real clay tile roof, which costs about $15-20 / foot.
Standing Seam – total cost to install – $7-13 per 1 sq. ft.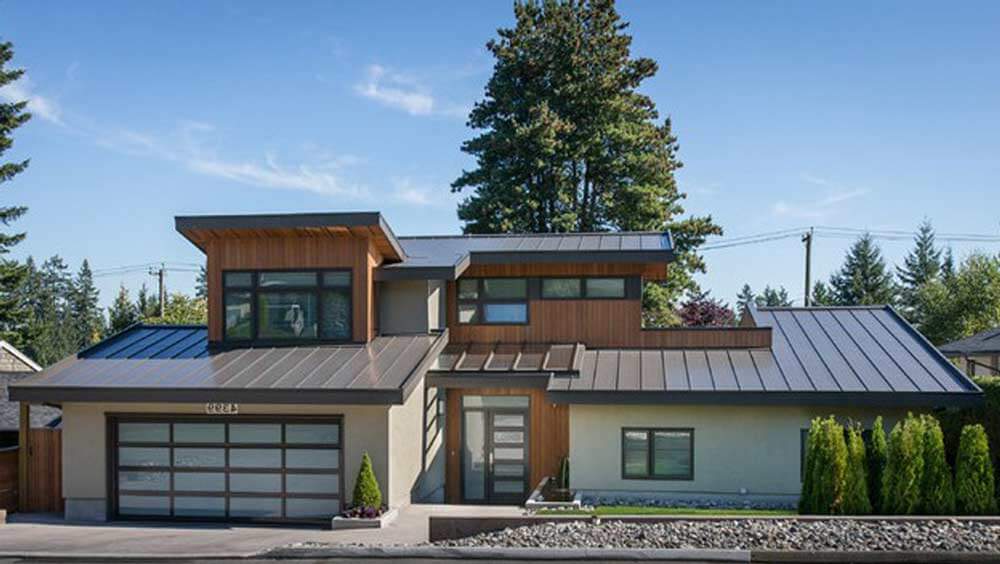 You may notice that there is a HUGE range in total installation cost. The truth is, a standing seam roof can be rather inexpensive on a simple ranch-type house, if you use 26 Ga steel. However, if you install it onto a rather complicated roof (with dormers / skylights / hips) the total cost will suddenly skyrocket – especially if you go with a premium aluminum metal. If you want copper or zinc, expect to pay well over $20 / sq.ft.
The deal with standing seam is that it's a very complex system with a lot of expensive components, and when you are faced with multiple roof penetrations and changing slopes, the cost just skyrockets, due to complex installation.
Hopefully, this Guide answered some of your questions. Feel free to leave a comment or a suggestion in the feedback section, below, and we will answer all your questions promptly. Use this calculator tool to estimate the cost of a new metal roof.
Metal Roof Material Costs: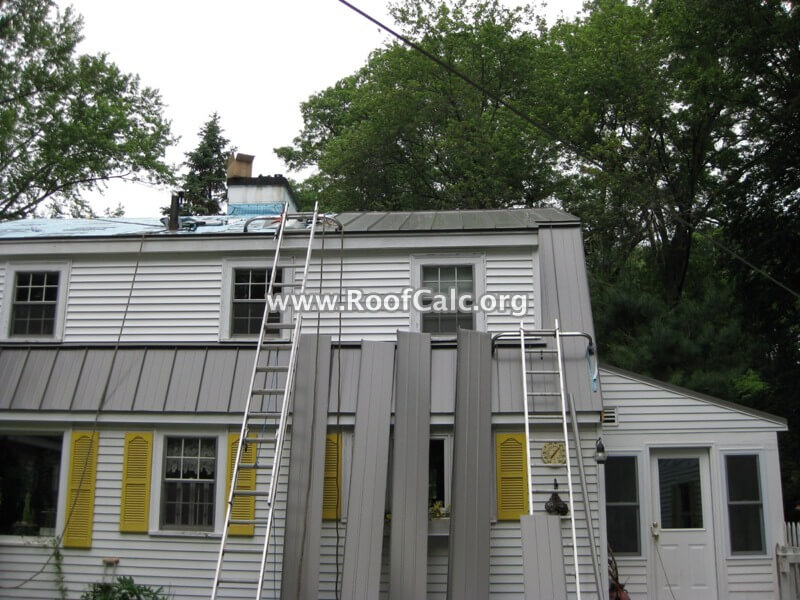 Each metal roof system has its own set of components and accessories which are required for the system to function properly (not leak). These accessories are similar in nature, but differ from manufacturer to manufacturer, and from one type (system) to another.
For example, the standing seam type requires the use of Z-bar flashing between the ribs, when you do a head wall flashing or a ridge cap, and on pretty much any square penetration in the roof. Metal shingles do not need these as they are flat in nature and do not have protruding ribs. A tile system has it's own flashing that follows the barrel profile of the tiles.
The costs of materials below include normal set of flashing accessories that come with every system, for a typical 20 squares roof with one dormer. Note that if you have a cut-up roof, that you will need much more flashing which will make cost / sqaure much higher (both labor and materials).
Steel / Aluminum Shingles cost about $265 (for standard colors) to $375+ (for premium / multi-tone colors) shingles. Tamko MetalWorks shingles would be among the least expensive options.
Corrugated Steel Panels (R-Panel) costs about $120-150 per square (for 26 Ga Kynar coated panels), and has the least amount of available flashing – (ridge cap, gable trim, valley pan) and can also utilize custom made side-wall flashing. It is important to understand though that Corrugated roofing is not intended for use on complex roofs.
Stone Coated Steel costs between $350-425 per square (without battens). These systems also lack some flashing accessories due to the design constraints. Besides the material itself, you will also need to install horizontal battens for tails to be installed on. Additionally, because stone coated steel roofs are usually made of 22 Ga steel, they are difficult to cut, and you will need a special shear that costs $500-700
Standing Seam roofs are the most available type of metal in the US, and can come from a variety of sources – from big manufacturers like ATAS International, Drexel metals, Englert, MBCI, etc., to local Sheet Metal Shops to even individual roofing contractors who own a roll-forming machine and can supply the panel for you. On top of these there are many online stores selling standing seam, that can ship it to your house from halfway across the US. Thus prices can vary greatly.
We buy our standing seam panels from local roofing suppliers that have a sheet metal division and pay about $265 for 24 Ga Steel to $325 for .032″ Aluminum.
Online you can find 24 Ga steel for about $195 / square + shipping. However there are many logistical problems associated with buying online, and also shipping costs can be rather steep, thus (for us) it is simpler to buy them locally made.
Copper / Zinc roofing is also usually made in the form of Standing Seam (though you can find copper tile, slate and shingle profiles). Cost for these to metals are more volatile than steel or aluminum, thus can change up or down (usually only up though) many times throughout the year. You can expect to pay about $700-900+ per square of copper or zinc standing seam with accessories.
Leave this empty:
Refer
Your Estimated Roofing Cost
Roof Price:
Cost per sq. ft.
Roof Size:
Roofing Material:


See costs in your area Start Here - Enter Your Zip Code

This roofing guide is presented by Leo B.
Have a roofing question or issue? Ask me anything!