Lowe's and Home Depot sell metal roofing, but only in select locations – mostly in northern states and in the Midwest. This is because there is not enough demand for these products in every store. Why? Well, smart guys at both of these companies did the market research and figured out that it does not make sense for them to stock metal roofing in every store. However, you can order online or at the Pro Desk, and in a couple of days your panels will be shipped to your nearest store, for pick-up.
In most of the US regions, products like asphalt shingles are much more popular than metal panels, which would not sell as well, while taking up valuable retail space. On the other hand, the weather conditions in northern states and in the Midwest create a much bigger demand for metal roof panels from homeowners and small contractors.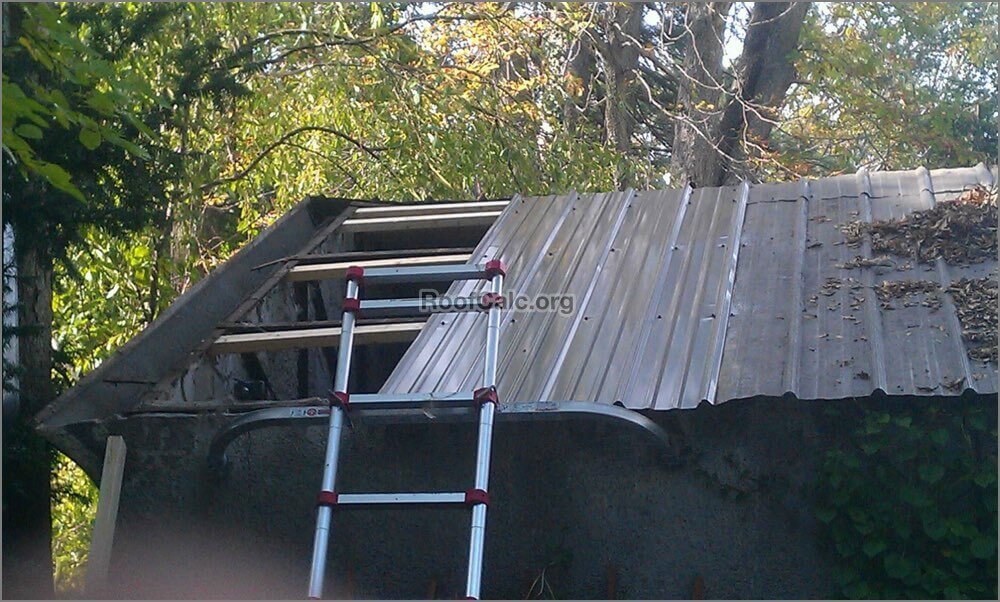 States where ice dams, hail damage or wild fires are common problems, are prime locations to carry metal panels, because metal roofing is excellent at preventing ice dams, stopping hail or fire. In fact, in many states where wildfires are a big problem, homeowners can get home a insurance discount if they install a metal roof.
Average Roof Replacement Cost in US:
Low End

$4793

Mid Range

$5752

High End

$7350

See costs in your area Start Here - Enter Your Zip Code
Which metal roofing does Lowe's and Home Depot sell
Oddly enough – Lowe's sells corrugated and 5-rib R-panel metal roofs made by Fabral – a well-known and respected manufacturer, which homeowners and contractors can also purchase from most roofing suppliers.
Home Depot sells the same type of 5-rib R Panel made by some "no name" brand – Metal Sales Manufacturing Corporation. Honestly, I've never heard of them, while Fabral is a big player in the metal roofing industry.
So the primary type of metal roof that both of these stores sell is a 5-rib (R-panel profile) 29 ga steel roof panels with acrylic coating. This is an "exposed fastener system that is VERY easy to install for roofers and homeowners alike, and provides great protection from rain, snow and ice. Unlike asphalt shingles, it is a long-lasting roof covering (with proper maintenance).

Here is how a 5-rib metal roof is installed on battens, over old shingles:
Leave this empty:
Refer
Your Estimated Roofing Cost
Roof Price:
Cost per sq. ft.
Roof Size:
Roofing Material:


See costs in your area Start Here - Enter Your Zip Code
5-Rib Metal Roof Panel prices have dropped over 20% since 2013!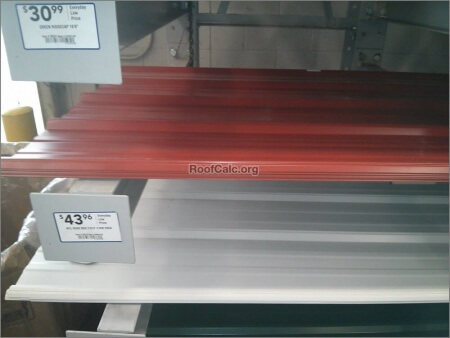 I have gathered more data on Lowe's metal roofing than any other source, except for the company itself. The good part that I'm happy to share with you, is that since Sep. 2013, when I began tracking, prices have dropped by more than 20%!
This is great news for ALL homeowners (and contractors) interested in CHEAP metal roofing options, because now this is on par with asphalt shingles, which have had only a marginal change of less than 2-5% depending on the brand and type of shingle. And this is when crude oil costs a mere $30 / barrel, and oil byproduct (bitumen) is the main and most expensive ingredient in manufacturing of asphalt shingles.
So if we consider that oil has dropped 3 times in price from 2013, I would expect a much steeper decline in shingles prices, but clever roofing industry is all about profits, and shingles prices NEVER go down when oil prices do so, significantly.
Lowe's Metal Roofing Prices
In September 2013, I was in a Lowe's store in Rochester, NH, where I photographed their r-panel stand. Back then a 3′ x 12′ 5-rib panel was $43.96 ($1.22 / sq. ft.) and 3′ x 8′ panel was $29.31 (same $1.22 / sq. ft.)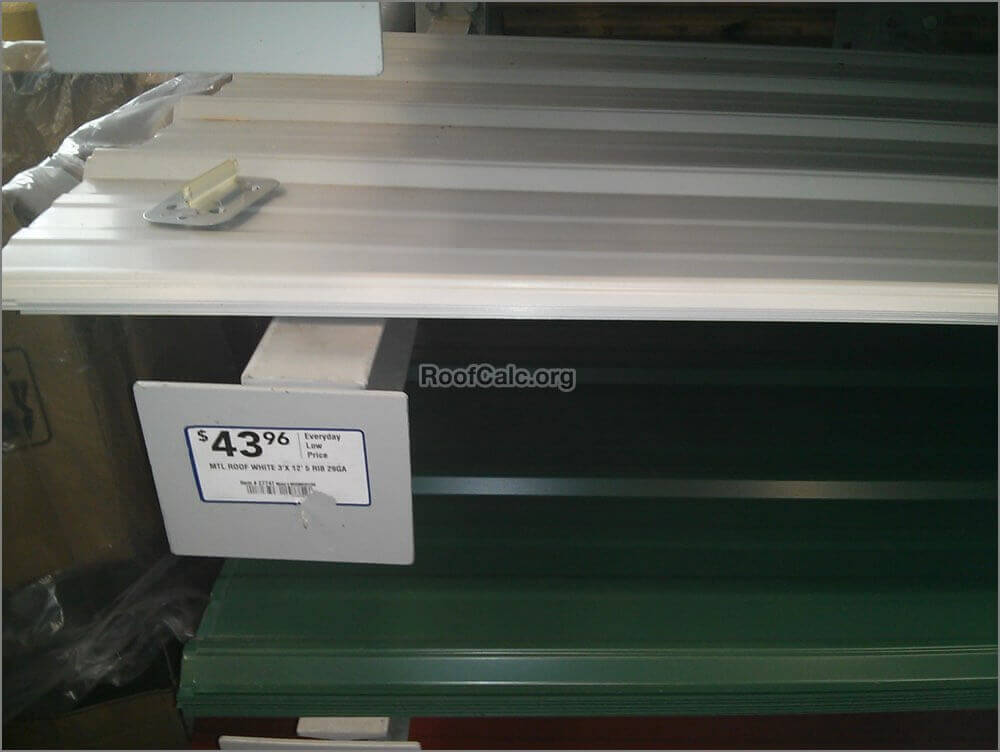 Today (January 18, 2016) the same 3′ x 12′ R-Panel in same Rochester, NH store is $35.07 which is $0.97 / sq. ft. This is 21% lower than 2 years and 4 months ago!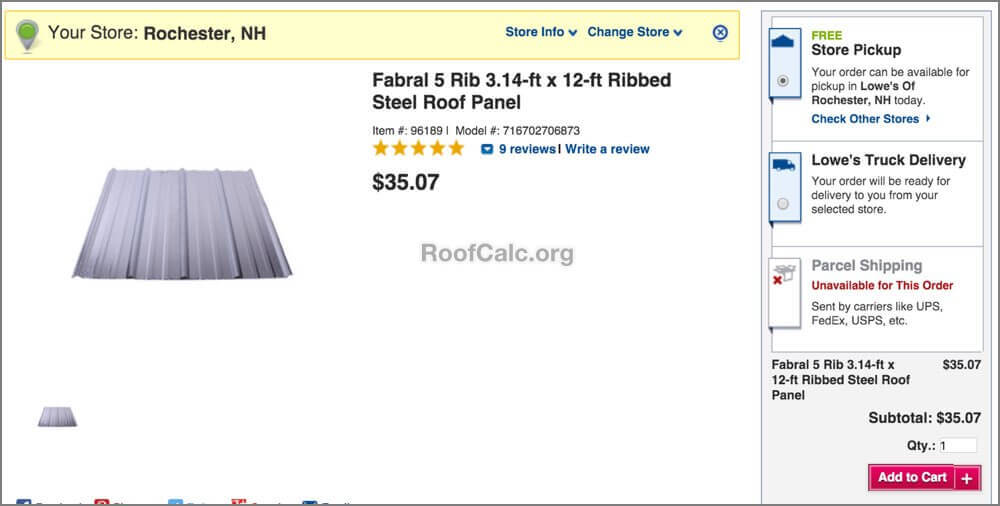 See more – Lowe's 5-Rib panel
Average Roof Replacement Cost in US:
Low End

$4793

Mid Range

$5752

High End

$7350

See costs in your area Start Here - Enter Your Zip Code
Home Depot metal roofing prices
To be honest, I did not closely track Home Depot's prices, mainly because they DO NOT stock metal panels anywhere near Boston, MA (whereas Lowe's stocks them in the Quincy MA store, which is 10 minutes from Boston).
As of writing this, Home Depot's website shows the cost for 3′ x 12′ panel to be $34.98 in Boston, for in-store pickup (2-3 days for delivery to the store). For comparison, Lowe's price in Quincy, MA is $35.52, which is a marginal difference, and if you consider that they sell Fabral (a well-known brand), vs Home Depot's little known MSMC, I would go with Fabral.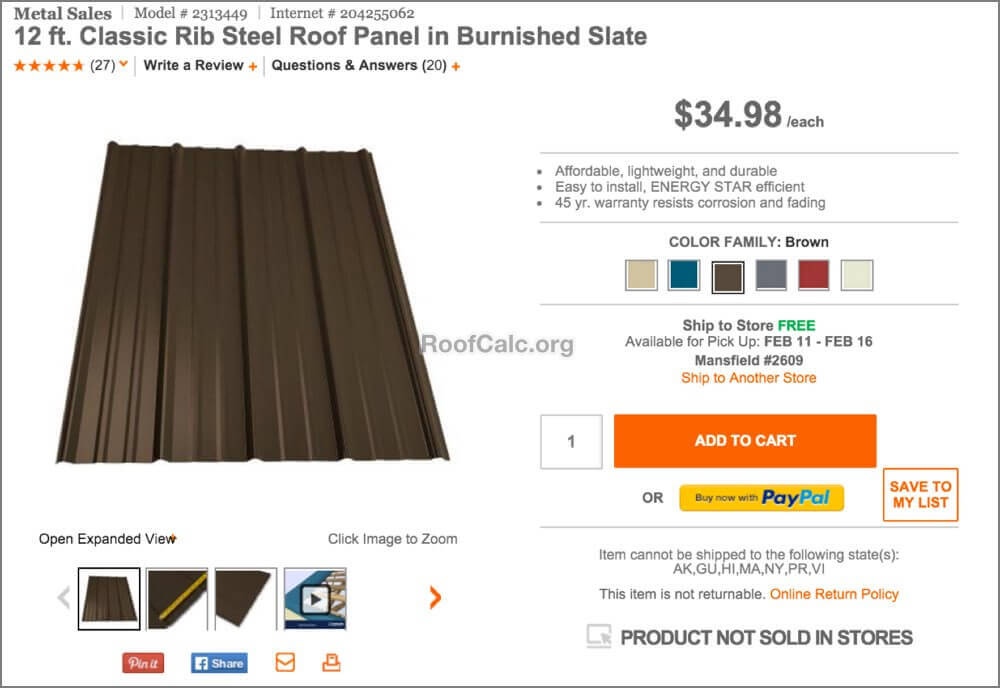 Limited Availability If you look at the image above it says:
Item cannot be shipped to the following state(s): AK,GU,HI,MA,NY,PR,VI
So if you live in ANY of these states, you cannot buy metal roofing from Home Depot 🙁
Lowe's price variations based on location
Honestly, I do not know how the company comes up with pricing in different locations, but I'm sure it has to do with demand and cost of delivery. The cheapest price I have found is in Glenville, NY (middle of nowhere upstate New York – north of Albany). The price there is $32.90 per 3×12′ panel.
Highest prices are in stores where these panels are NOT in stock. In Montgomery, AL, our benchmark panels cost $40.38. In Columbus, OH, the same $40.38. Same price in Helena, MT.
Basically you are paying about 13% premium for delivery to the store.
Other accessories the for R-panel System
Of course the system is not complete without accessories. However, the R-Panel system is the easiest, when it comes to accessories. You have Ridge Cap, Gable Trim and J-Channel. That's it.
10′ Ridge cap today costs $30.99
10′ Eave Trim today costs $33.86
100 rubber washer screws cost $12.00
For advanced flashing, such as skylights and chimneys, this is not a very good product – hence you don't see much of it installed on residential homes. While it can be done with some custom flashing, I recommend that you hire a professional METAL Roofer, for any complex flashing details.
See this example – here is a step by step chimney flashing done on a metal shingles roof, which is a much more "user-friendly" system, when it comes to penetration flashing.
Unfortunately it's very difficult to do something like this for a 5-rib system, and you will have to rely heavily on caulk and 3rd party / custom-made components.
Leave this empty:
Refer
Your Estimated Roofing Cost
Roof Price:
Cost per sq. ft.
Roof Size:
Roofing Material:


See costs in your area Start Here - Enter Your Zip Code

This roofing guide is presented by Leo B.
Have a roofing question or issue? Ask me anything!