If you haven't noticed – we changed how our roof calculator works:
Now instead of one price, we give you three "quotes" for your roof replacement cost – Low End, Mid-Range and High End.
While these may seem self explanatory, we will dig a little deeper to provide a more in-depth understanding of these cost categories.
We also want to introduce and new concept that we call "Roof Value" which is basically a measure of how much "bang for the buck" you get for every dollar spent.



Low End

$3853

Mid Range

$4816

High End

$6020

See costs in your area Start Here - Enter Your Zip Code
See the chart above to get a better sense of what we mean.
There you will find a US National Average price to replace a 1,600 square foot roof on a ranch type house, with removal of 1 layer of existing asphalt shingles, and installation of new shingles with all required accessories.
The installation costs are based on re roofing a Gable Type roof. Other roof types are more labor intensive and have a higher waste factor, thus cost slightly more. For example, a Hip roof has a 15% waste factor, whereas a Gable only has a 5-7% waste factor.
What do Low-End, Mid-Range and High-End prices mean?
You have 3 prices there:
-Low end at $3853
-Mid Range at $4816
-High end at $6020
This corresponds to about $2.40, $3.00 and $3.75 per square foot. If we further break it down – let's take Mid Range $3 per sq.ft. corresponds to $2.45 for install (with materials and $0.55 for tear-off and disposal of old shingles.
Over the span of 10+ years of collecting and analyzing roof prices data, we came to a conclusion that $3 / square foot (or $300 / square) is the average of what people actually pay for installation of a 30 year / Lifetime architectural shingles.
In Metro Boston / Eastern Massachusetts area for example, the average cost is $350-380 / square – this is slightly with the regional price difference for New England which is 7.37% more than the National Average. But this can be explained by the fact that the cost of living around Boston is very high.
As a side note, you should understand that in over 98% of all residential roof installations, where the homeowner hires the roofer directly, the job is always a retrofit type, meaning it is on an existing house, and not new construction. Most homeowners never deal with building a house, but rather buy a new or "used" home.
What is Roof Value?
In principle, it means that you get the most value (bang for the buck) when you pay a Mid Range Price.
You get the LOWEST value when you pay the lowest price, and somewhere in the middle, when you pay a high price.
Unfortunately, this cannot be very scientific, because every contractor is different, and each individual homeowner will have their own perception of QUALITY and VALUE.
This is more of an abstract concept that we try to measure scientifically.
But let me elaborate further:
Sometimes, you can get EXCELLENT installation quality, paired with good materials for a very reasonable, and sometimes low price.

Sometimes you can get a VERY CRAPPY roof, for which you paid top dollar!
But most of the time, the "golden middle" is when you get Very Good installation, good materials, and pay somewhere in the middle of cheap and expensive (Mid Range price).
Mid Range Example: When I first became an independent contractor, I had good experience, but no reputation and not much as far as references and portfolio goes. So I had to compete more on price. At the same time, every roof I installed was done as if it was my own house (very good quality). This is when homeowners where getting a good deal from me.
As I gained reputation and references, I raised my prices a little, to be somewhere in the middle. At the same time my quality stayed on a very high level (at this point I was charging Mid Range pricing).
Could I go to High End pricing? Sure, I could. But how would I justify it?
On ALL of my sloped roofing installs, we used GAF DeckArmor breathable synthetic underlayment, which was very expensive compared to roofing felt – about $17 / square in 2006 vs $4 / square for #15 felt. Potentially, I could have switched to a $35 / square "green" breathable synthetic underlayment, which offered a few extra PERKS of breathability, but no real improvement over DeckArmor., and raised my prices.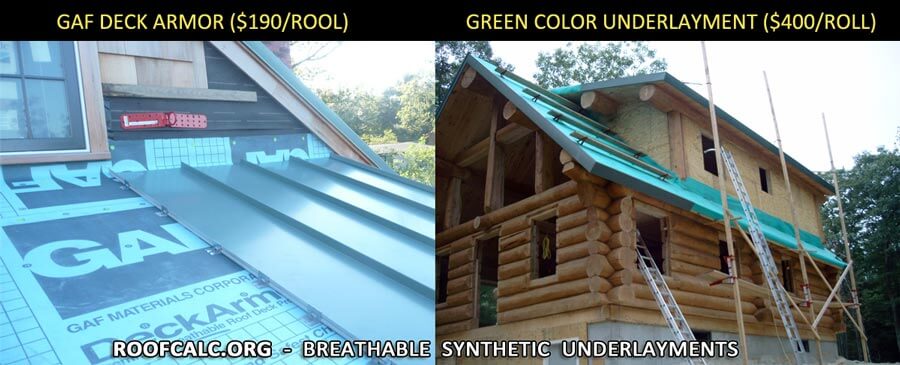 High End Example: Most "high end priced" roofing outfits are just overpriced to pay for high overhead, and to position themselves as "elite". However, they offer no real improvement in the quality of both installation and materials used on the job.
In fact, I know many examples when a High End roofer did sub-par work here in Massachusetts.
For example – when installing Metal Shingles over 1×6 boards substrate, you need to add a layer of continuous sheathing. This is because metal shingles are installed horizontally, and there will be instances when an entire row of shingles will align with a gap between boards, and fasteners will be nailed into the air (essentially). We always installed 3/8″ plywood to make the roof substrate continuous.
But I know a "premium priced" metal roofing contractor that did a job – installed metal shingles over old asphalt shingles, and many nails were not attached to the wood.
Another big metal roofing company here in MA had a whole roof blow off on Cape Cod, because half of the roof was not nailed at all!
Examples are numerous, and the point here is that when you pay a high price, you don't really get better quality vs the mid-range guy.
Low End Example: This is something I advise all homeowners to stay away from!
While "what you pay is what you get" isn't always right, in case of roofing, it is precisely on point. All roofers pay pretty much the same for materials, within the same geographic location.
Thus, lower cost ALWAYS comes at the expense of quality.
If you pay $250 / square for asphalt shingles, and materials cost $140, the roofer is left with $110 per square to cover all costs, overhead, and labor. And the roofer still needs to make money, so they cut corners – big time!
Not installing roof underlayment, not flashing chimneys, not installing ice and water barrier in the valleys, not replacing step flashing and pipe flashing, not fixing rotted wood, nails and trash all over your yard – these are all examples of cheap roofing.
Underpaid roofers have no desire to work extra hard to deliver a high quality service. These guys are usually paid $35-50 / square to rip and install a new roof. In case of our typical 16 squares (1600 s.f) roof that would be $560-800 to install your roof! Do you honestly expect good quality for this kind of money?
How we rank Cheap, Mid Range and Expensive roofing on our Roof Value chart:
Basically if we use a scale of 100 being the best score, I would rank Mid Range at 100, Low End at 20 and High End at 50 or 60.
As I mentioned before, this isn't exactly scientific, because sometimes you will have relatively inexpensive guys do pretty good work, while a very expensive company can do very bad work.
It's also your perception and knowledge of what quality roofing really is, your "rapport" with the contractor, and many other factors that can make your roof replacement project a breeze or a nightmare.
However 75-80% of the time, the Roof Value you get from a mid range priced roof will be the highest.
So how to choose the right roofer, and the right price point?
Of course most of us want to pay less, and a $1000 difference in a price quote may be very appealing.
After reading this you may think that most roofers will do bad work, and why should you pay more, if you can pay less. So I will tell you – I don't advise to pay more than you should, but don't try to squeeze out every penny either.
Here are a few things I recommend:
1) Choose a smaller, owner operated company. Preferably one where the owner installs or at least manages every job personally. An owner who is personally involved in installation is more likely to make sure you get a quality roof, than someone who subs work out.
2) Do not try to save a few bucks by buying materials yourself. In the end it will always cost you more because:
a) the roofers will waste more materials.
b) you will not know exactly what and how much to buy.
c) this will create logistical nightmares, which will end up costing you more in change orders and extra time a roofer wastes waiting for something you did not buy.
3) Avoid trying to calculate how much the roofer is making off of you – roofing is hard work and it is NOT properly compensated for because of steep competition.
4) Hire a contractor during OFF season – you will always get a better price, and even good roofers may and often will be available to work for you – see our "when to replace your roof" guide for more details.
Short vs Long-term Roof Value
When determining how much to pay for a new roof, it is important to keep your end goal in mind. Are you planning to live in this house for over 10 years? Are you planning to sell your home in the next 3-5 years? Are you putting the house up for sale now and need to quickly replace the roof because its old and damaged?
In general, a new roof can add at least 15% of value to your home price. If you are planning to live in your home, its worth it to invest more money (mid-range) vs low-range and get a roof that will be durable and long lasting. You don't want to bother with roof repairs and replacement every 5 years because you are trying to save money and hire the cheapest roofer for the job.
On the other hand, if you are planning to sell your home now or in the foreseeable future, you can consider doing a budget roof replacement. This will improve the curb appeal of your home, attract more buyers who will be happy there is a new roof on the house, and will increase your home resale value. If you have an expensive property and need to replace the roof, it is advisable to pay more for an experienced contractor and high quality materials, as you don't want to jeopardize the look and value of your home with a sub-par roof.
Leave this empty:
Refer
Your Estimated Roofing Cost
Roof Price:
Cost per sq. ft.
Roof Size:
Roofing Material:


See costs in your area Start Here - Enter Your Zip Code

This roofing guide is presented by Leo B.
Have a roofing question or issue? Ask me anything!