Leave this empty:
Refer
Your Estimated Roofing Cost
Roof Price:
Cost per sq. ft.
Roof Size:
Roofing Material:


See costs in your area Start Here - Enter Your Zip Code
Is your flat roof starting to leak again?
The truth is that most flat roofs are designed in such a way that leaks are a frequent and common problem, even if routine maintenance is preformed. Ponding water that stands on the roof for more than 48 hours is one of the top culprits of these leaks.
When the leak starts, figuring out the best course of action is not always straightforward.
The first question you should be asking is: should the roof be repaired or replaced?
We will walk you through the steps necessary to determine which option would be most appropriate, both in terms of cost effectiveness and proving long lasting protection for your home.
Do an Assessment First
To determine whether its best to repair or replace your leaking roof, hire a professional contractor to come in and assess the issue. Make sure that you hire a FLAT ROOFING EXPERT, because a general contractor or a residential (asphalt shingles roofer) will not know all the nitty-gritty details and complexities of flat roofing, and therefore will not give you accurate advice. Your roofer should have knowledge, experience and equipment for flat roofing.
During the inspection, your contractor should thoroughly examine every part of the roof, including: seams, flashings, attachment points. He should check for cracks at joints and corners, around chimneys and ventilation slits. He will also assess the roof for damage, deterioration, punctures, aging, leaks, ponding water, etc, and will most likely do a test-cut (cut through the roofing material to see what's under the surface layer).
Common Flat Roofing Problems
Most flat roofs leak at seams or flashings, and leaks are often due to ponding water. This is water that puddles on your roof for more than 48 hours, after the most recent rain. Other common leaks come from roof drains, chimneys, skylights, parapets and other penetrations. It is very rare to have leaks due to a puncture.
For EPDM rubber membranes, A common problem is material shrinkage. When a rubber membrane shrinks, it can pull off parapet walls, drip edge or a chimney.
Another common problem (especially for commercial roofs) is foot traffic: maintenance personnel (mainly HVAC contractors) and other random visitors going out on the roof, dropping tools, walking over fasteners, thus puncturing the membrane and causing other damages that need to be repaired.
Roof Replacement
Average Flat Roof Cost:
Low End

$6815

Mid Range

$8769

High End

$11211

See costs in your area Start Here - Enter Your Zip Code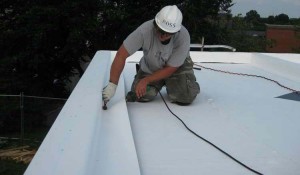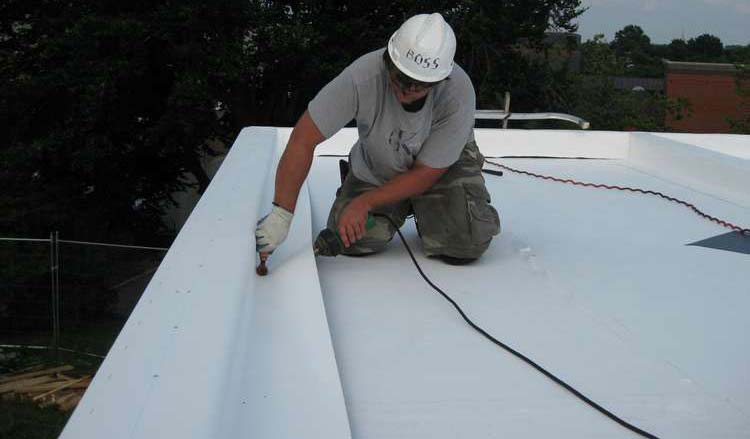 Just because your roof has had a few leaks does not necessarily mean it should be replaced. Replacing a roof is a costly and time consuming option, and it should really be your last resort.
So when should you consider replacing your flat roof?
There are really only two situations that warrant roof replacement. The first is when the original material installed has reached the end of its service life. Depending on the flat roof you have, this life-cycle may vary from as little as 5 years (Rolled Asphalt), 7-10 years (EPDM rubber) to as long as 30 plus years (PVC membrane).
The second situation (which unfortunately happens quite often) is when the original roof has not been properly installed, and as a result has been having on-going problems, including leaks.
If you have wet insulation under your roof, it cannot dry out on its own and can cause mold issues and structural damages, which are much more expensive to fix than putting on a new roof, or replacing a large section of the original one.
If you must replace your old roof and have the budget, opt for a premium material such as PVC. While it costs more, once you install a PVC membrane, you will not have to worry about leaks and other problems again. PVC roofs are designed to have hot air-welded seams that will never come apart and will remain impervious to moisture. It is also an Energy Star rated, cool roof, that will reflect the sun's heat, and will save you hundreds of dollars on energy costs.
Average Roof Replacement Cost in US:
Low End

$4793

Mid Range

$5752

High End

$7350

See costs in your area Start Here - Enter Your Zip Code
Roof Repair
If you have a roof system that has been properly installed and maintained on a regular basis, and it started to leak, your best solution is to repair it. There are a couple of options to consider:
1) If you are the DIY type and don't mind getting your hands dirty, you can purchase a flat roof DIY repair kit form your local home improvement store. The kit comes with an adhesive and tape for making localized repairs. This is also a quick and inexpensive option if you are not planning to keep the property for more than a year or two.
2) If you don't want to get yourself into an endless cycle of repairs every few months, get an EXPERT flat roofing contractor to do the job. You may pay a few hundred dollars more, but you will save yourself thousands of dollars, as well as avoid stress associated with roofing problems in the long run.
3) If you have a modified bitumen roof, you will most likely need a contractor, as it requires torching to repair.
4) If you have a leaking tar and gravel roof, finding the source of the leak is very difficult, and even the most skilled roofer will have a repair success rate of less than 50%. Consequently, this roof will most likely need to be replaced.
5) If you have a single-ply membrane, stay away from roof coatings. They are:
a. Expensive
b. Only last 2-3 years, after which point the coating starts to peel, chip and crack. If your roof still leaks, it becomes virtually non-repairable.
Regular Maintenance is KEY
Whether you have just replaced or repaired your roof, regular maintenance is the key to its longevity. Even the best, most expensive materials will not achieve optimal performance without proper care. Maintenance only takes a few easy steps:
As a rule of thumb, do maintenance once a year. You should also do the necessary maintenance on an as needed basis, for example after a major snow/rain/wind storm, freeze/thaw cycles, etc.
Remove loose and embedded debris, such as moss, sticks, etc.
Check seams and flashings for wear and tear.
Clean the drains.

This roofing guide is presented by Leo B.
Have a roofing question or issue? Ask me anything!