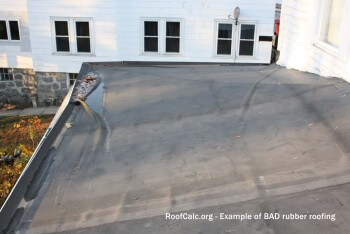 After getting huge interest in our Roofing Shingles Prices guide, we went on another undercover mission into the Home Depot.
This time, we bring you an in-depth look at EPDM (also known as Rubber) roofing prices.
All the prices below are what a homeowner can expect to pay for EPDM single ply membrane, and all the accessories needed to install or repair a rubber roof.
Please let us know what you think about this guide in the Comments below.
Since you can purchase EPDM yourself from a local home improvement store, you are not limited to hiring a roofer (this will cost you least $400-500). You can now buy $50-100 worth of rubber roof flashing and repair the membrane yourself!
Average Flat Roof Cost:
Low End

$6815

Mid Range

$8769

High End

$11211

See costs in your area Start Here - Enter Your Zip Code
The fact that DIY is an option is especially helpful given the nature of a rubber roof: it tends to leak!
Even newer membranes, which are not more than 5-8 years old, often have this issue. This happens because of the inherent design flaws in the membrane: its seams are highly susceptible to water penetration. Therefore, a typical EPDM roof will likely require frequent repairs.
If your membrane is already leaking, don't ignore it! The faster you take care of it, the less risk you are taking in incurring interior damages, which are a lot more costly and difficult to repair than the roof itself.
Before we dive into prices, I want to mention that installing or repairing a rubber roof is fairly complicated for most contractors, let alone novice DIY homeowners.
However, with enough research and PRACTICE, this can be done. You can save yourself a ton of money, if you do the job yourself!
All prices below are BEFORE sales tax, which differs from state to state. These are the retail prices from your friendly neighborhood home-improvement orange big-box – Home Depot. Prices were sourced from the store located in Watertown, MA.
UPDATE: If you go to the Home Depot's website, and change my "location" from Watertown MA to say Texas or California stores, you probably won't find any GenTite materials. This means that NOT ALL Home Depot stores carry EPDM roofing, and more likely than not you won't find it in most states (in part due to HAZMAT shipping issues). Check your local store.

Since most readers can't buy these materials at the Home Depot, here is the alternative – a DIY EPDM Rubber Roof Repair Kit. This kit will work for most rubber membranes and can be easily used by most handy homeowners.

Above is the contents of the kit: Peel & Stick flashing, primer, and tools needed to fix your roof.

The price for this is $239, which also includes Free Shipping in US (excluding Alaska and Hawaii).

The EPDM Roofing Kit can be purchased here.

And you can watch a video of how to use the kit below:

Leave this empty:
Refer
Your Estimated Roofing Cost
Roof Price:
Cost per sq. ft.
Roof Size:
Roofing Material:


See costs in your area Start Here - Enter Your Zip Code
Here is a link to the Home Depot's rubber roofing products – search for GENTITE to find and verify current prices for EPDM and/or buy them online.
NOTE: Any rubber roof should be installed in ambient temperatures above 40 degrees Fahrenheit. At the end of this article we will provide links to installation videos.
Material Costs
In the materials, we include the EPDM membrane itself, insulation and bonding adhesive, which glues rubber to the insulation board.
Note, that after reading the label on the product itself and product specs on the website, I still do not know the thickness of this rubber. However, I presume it is either 45 mil or 60 mil (more likely).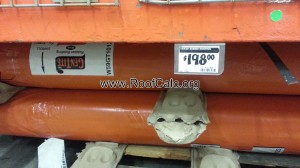 EPDM Rubber Membrane: the rubber roofing itself costs $0.792 per Square Foot. However, the rubber roof comes in rolls, which are 10×25′ and have a coverage (before overlaps) of 250 sq. ft. or 2.5 squares.
The cost of each 10×25′ roll of rubber is $198
Insulation: The fiber board "insulation" doesn't really provide much of insulating properties. This is merely a base for the rubber or other flat roof materials to be glued onto. The cost of a 4×8′ board is $9.94
Bonding Adhesive: This is basically a glue that will hold down the EPDM. It comes in a 3-gallon bucket and is applied by rolling it (just like paint) onto the fiber board and the underside of rubber material. Make sure you let the adhesive enough time to dry, until it's "tacky", before setting the membrane in place.
Cost of a 3-gallon bucket of bonding adhesive is $82.00 and is enough for 150 sq. ft. of roof area. (50 sf / gallon coverage).
Cost of EPDM Roofing Accessories and Flashing
Below are all the accessories that are sold along with GenTite Rubber Roof. These products can be VERY confusing if you do not know what they are, so I will include a brief description and purpose of each product.
NOTE – all GenTite flashing accessories are Peel-and-Stick type (which is a GOOD thing) and require "EPDM primer" to glue them to the roof.

3″ Peel and Stick Seam Tape
Seam tape is made to keep the seam overlaps watertight for a much longer time than a traditional seam, sealed with black glue. It is installed between rubber roof overlaps. The primer is applied on both plies of the membrane (the bottom and top piece) about 3.5″ in width. You need to wait until the primer cures and only then you can install the seam tape. The roll is 50′ long.
Price – $51.94

6″ Peel and Stick Cover TapeCover tape is installed over sealed overlaps (seams), and is made to provide additional leak protection for a longer time. The roll is 50′ long.

Price – $79.50

9″ Peel and Stick Flashing9″ flashing tape can be used over OLD seams (re-seaming) and in other flashing applications. The 9″ tape can be cut into pieces and used as corner flashing and in other applications. It is much less expensive to use the tape VS 8.5″ round corner flashing, if you need more than just a few of those. The roll is 25′ long.

Price – $157.00

6″ RPS Cover TapeRPS stands for Reinforced Perimeter Strip – this is essentially a Cover Tape to be installed when flashing Edge Metal, as it is more dimensionally stable (durable) than uncured Cover Tape. The roll is 50′ long.

Price – $88.00

8.5″ Round Peel and Stick Corner FlashingRound Flashing can be used on inside and outside corners or in-field. If you already have a roll of 9″ flashing tape, you don't need round patches. You can just cut them out of the tape.

Price – $8.98
[php]include (TEMPLATEPATH . '/ad-dfp-box1.php');[/php]

Peel and Stick Pipe Boot (Multi-Size)
The pipe flashing is designed to seal any pipe that is 2-6 (maybe 7) inches in diameter. For larger pipes you will need to use 9″ flashing tape (not a good solution) or order a lager boot from somewhere else.
Price – $39.00
1-Gallon Seam CleanerBefore installing any cover tapes or flashing, you need to thoroughly clean the surface with seam cleaner and let it dry. If you don't clean the surface, the bond will not last long.

Price – $35.94
EPDM Seam Primer (Seam Glue)Primer is the "glue" for Peel and Stick type of rubber flashing. Do not use "black glue" for peel and stick application – it will not work! When applying primer, make sure the area is clean. Brush on a layer of primer and let it dry for a minute or two, until it becomes "tacky". After that, apply flashing material slowly, making sure there are no bubbles. Roll in all flashing after it is applied, with a metal or silicon roller.






Price – $47.00

Lap SealantAfter you install seam or cover tape or any flashing, apply a bead of lap seallant on all edges of flashing material and press it in with your wet finger. This will extend the longevity of your roof.

Price – $9.36
Water Stop CaulkingWater Stop is used to seal between rubber an other materials – either and other roofing material or a house wall. Apply behind / under rubber, and fasten to the surface with termination bar and screws.

Price – $5.98

Membrane Screws and Plates (100 pcs)These are installed to hold down the membrane, for additional wind uplift resistance. All screws and plates must be overlapped by at least 3-5 inches of consecutive roll of membrane.

Price – $38.00

Insulation Screws and Plates (100 pcs)These are made to hold down the fiber board insulation.

Price – $34.50
Aluminum Termination BarThe termination bar is a 10 foot long piece of aluminum with pre-drilled holes spaced every 6″. The bar is used to attach the rubber to the wall or a chimney, or other curbs.

Price – $7.24
So now that you know the cost of ALL materials, how much material will you need and what is the total cost per sq. ft.?
Well, the answer is – it's complicated.
Install Roof Shingles

$4872


Average price

Install Metal Roof

$10253


Average price

Install Flat Roof

$8257


Average price

See costs in your area Start Here - Enter Your Zip Code
Let's look at an example:
Assume that we have a roof that is 24 x 48 feet – 1152 sq. ft. I used this size because we can fit exactly 5 rolls of Home Depot's rubber roofing in it, without much cutting – 1250 sq.ft.
Insulation – we will need exactly 36 pieces of fiber board insulation and 8 screws/plates per board (36 * 8 = 288) – 3 boxes of insulation screws and plates.
You will need 8 buckets of bonding adhesive.
So each roll will overlap the previous roll by 3″. This give us 4 infield seams, each 24 feet long. Total of 92′ of seam tape (2 rolls).
You will also need 24 + 48 x 2 feet of RPS cover tape (3 rolls).
You will need another 92 feet of regular cover tape (2 rolls).
You will also need about 150 feet or 15 pieces of drip edge (not listed in the list above, as Home Depot does not have specific Rubber Roof edge metal). These cost about $6 each.
You will need about 11-12 tubes of Lap Sealant.
If you have any penetrations, such as chimneys or skylights you will also need 1 or 2 rolls of 9″ flashing tape, and a pipe flashing for every pipe on the roof. Most roofs have 2 pipes and 1 chimney.
Average Roof Replacement Cost in US:
Low End

$4793

Mid Range

$5752

High End

$7350

See costs in your area Start Here - Enter Your Zip Code
So let's do the math:
5 rolls of rubber: $990
36 pcs of fiber board: $358
Bonding Adhesive: $656
Insulation screws and plates: $104
Seam tape: $104
Cover tape: $159
RPS Cover tape: $264
2 pipe boots: $78
Edge metal: $90-100
One 9″ flashing tape: $157
Seam lap sealant: $120
The total cost of materials with a 7% sales tax: $3011
Cost per square foot: $2.62
This gives us the following proportion: the TOTAL cost of all materials is approximately 3.25 times more than the cost of the membrane only.
So if your EPDM roof is 2000 sq. ft. and the cost of rubber is $0.792 / s.f., then your approximate cost of materials will be $5148.
More complex roofs will require more materials, and will cost more per sq. ft. Basically, the more flashing you have, the more expensive it gets.
NEXT: In the following days we are planning to publish a similar guide for Corrugated Metal Roofing panels for sloped roofs, which is already partially covered in our Metal Roofing Prices Guide.
Leave this empty:
Refer
Your Estimated Roofing Cost
Roof Price:
Cost per sq. ft.
Roof Size:
Roofing Material:


See costs in your area Start Here - Enter Your Zip Code

This roofing guide is presented by Leo B.
Have a roofing question or issue? Ask me anything!